Xiaomi's latest Mi 10T 5G series smartphones offer a more budget-conscious option in the mid-range market compared to the Chinese manufacturer's Mi 10, Mi 10 Pro, and Mi 10 Ultra full-fledged flagships. With three models in the 10T 5G line, the Mi 10T 5G nestles between the entry-level Mi 10T Lite 5G and the higher-end Mi 10T Pro 5G. For basic phone specs, the standard Mi 10T 5G model has a lot in common with the 10T Pro 5G, however, with both featuring a 6.67-inch 144 Hz LCD display and the high-end Snapdragon 865 chipset that runs Android 10 via the Xiaomi MIUI 12 skin. The Mi 10T is only available with 128 GB of internal storage, though, so if you feel you need 256 GB capacity, you'll need to opt for the Pro version.
The Mi 10T 5G and the Mi 10T Pro 5G also offer a very similar triple-camera setup for photography, but they're not exactly the same. Both share what look on paper to be the same ultra-wide camera module built around a 13 MP sensor and 13 mm-equivalent f/2.4-aperture lens with a 123° field of view. The Mi 10T 5G's third camera is also a macro option like on the Mi 10T Pro 5G, featuring a 5MP sensor and f/2.4-aperture lens. (Our current test protocol doesn't address image quality from the macro camera, however, so this module has no impact on its DXOMARK Camera score.)
Where the devices diverge is on the primary or standard-wide camera. Xiaomi has opted for a slightly smaller 1/1.73-inch sensor with a lower 64 MP resolution on the Mi 10T 5G, compared to the 1/1.33-inch 108 MP sensor on the Pro. Both sensors offer a resulting pixel size of 0.8µm and feature the same 2×2 pixel binning technologies, however. So it's just the final output that differs, with the Mi 10T 5G recording a 16 MP final image compared to 25 MP on the Mi 10T Pro 5G. There's a different lens, too, with the Mi 10T 5G's main camera linked to a slightly darker f/1.9-aperture optic, but both feature the same 26 mm-equivalent focal length lens and phase detection autofocus (PDAF).
Video specs are the same, too. The Mi 10T 5G shoots 8K video at 30 frames per second (fps), 4K at either 30/60 fps and 1080p at up to 960 fps and features gyroscope-enabled electronic stabilization to control motion effects. Read on to find out how the Xiaomi Mi 10T 5G camera compares against the competition.
Key camera specifications:
Triple-camera setup
Primary: 64 MP 1/1.73″ sensor with 0.8µm pixels and f/1.9-aperture 26 mm-equivalent lens with PDAF
Ultra-wide: 13 MP sensor with 1.12µm pixels and 13 mm-equivalent (123° FOV) f/2.4 lens
Macro: 5 MP sensor and f/2.4 autofocus lens (not tested)
LED flash
8K video at 30 fps, 4K at 30/60 fps, 1080p at up to 960 fps (tested at 4K 30fps)
About DXOMARK Camera tests: For scoring and analysis in our smartphone camera reviews, DXOMARK engineers capture and evaluate over 3000 test images and more than 2.5 hours of video both in controlled lab environments and in natural indoor and outdoor scenes, using the camera's default settings. This article is designed to highlight the most important results of our testing. For more information about the DXOMARK Camera test protocol, click here. More details on how we score smartphone cameras are available here.
Test summary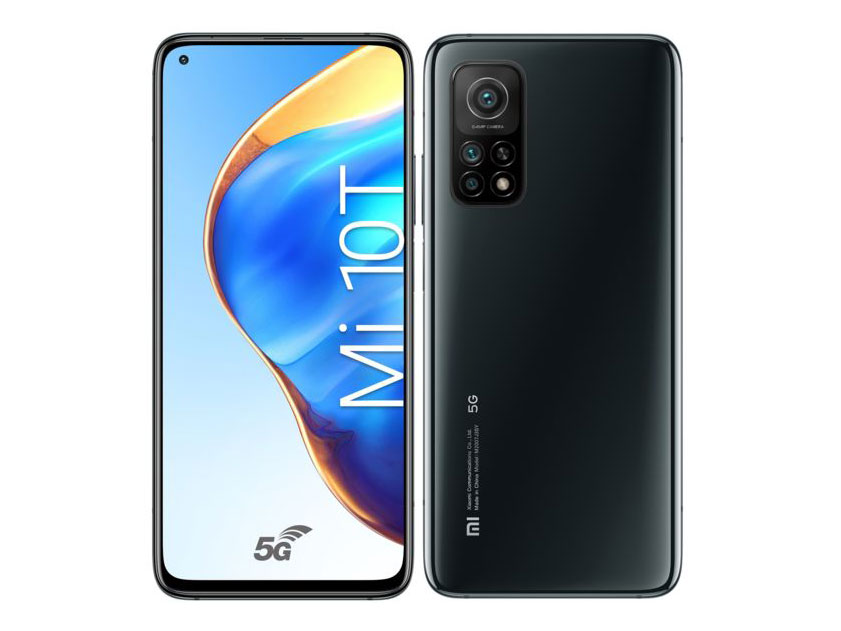 Xiaomi Mi 10T 5G
98
camera
With a DXOMARK Camera score of 98, the Xiaomi Mi 10T 5G ranks in the 2nd tier of our database, several places behind the Mi 10T Pro 5G and its comparatively good score of 118. The Mi 10T 5G fares better in comparison to mid-range competitors such as the similarly spec'd triple-camera Samsung Galaxy A71 5G at 88 points.
A low Photo sub score of 97 was mainly due to slightly disappointing results for exposure and color on the Mi 10T 5G. This impacted its overall score and resulted in a lower overall ranking to the Pixel 4a, despite the Google device's offering only a single-camera, with no additional ultra-wide capabilities.
The Mi 10T 5G's global score was also impacted by weaker results in our Zoom category, where it achieved a Zoom sub-score of 49. Ultra-wide photos are on par with the Mi 10T Pro 5G, but the standard model's lower-resolution output has implications for the quality and detail of its tele-lens zoom shots.
The same is broadly true for video, where the Mi 10T 5G doesn't quite live up to the standards of its Pro stablemate. Overall, video image quality is more of a strength when compared to competitors in the mid-range segment, however. The Mi 10T 5G Video sub-score of 95 is a small improvement over the Samsung A71 5G at 87, and only a few points behind the Google Pixel 4a at 98.
The Mi 10T 5G is certainly capable of some nice images, as shown in the image above. Target exposure is good and one of the device's main strengths is wide depth of field that ensures faces on different focal planes are in sharp focus. Autofocus isn't perfect, and our testers did observe occasional failures with the device missing focus on the front face, but for the most part the PDAF system performs well. The quality of the Mi 10T 5G's preview image is a strength, too, with good similarity between exposure and dynamic range. The latter is mainly due to the fact that HDR processing is rarely well applied in the final image, but still, what you see on screen while composing is often close to the final image.
Where the device really struggled in our analysis was for very limited dynamic range recorded in most photos. In the example below, the Mi 10T 5G failed to record any detail in the highlights, and results like these have a significant impact on its exposure and overall score. Target exposures are generally accurate both indoors and outdoors, but these serious HDR irregularities often lead to disappointing overall results. Color rendering inaccuracies are visible on the Mi 10T 5G, too. White balance is acceptable for the most part, but color rendering inaccuracies that alter the hue and tone of color is also a drawback for the device.
Shooting in portrait mode, the Mi 10T 5G offers similar results to the Pro variant and is another area in which results are acceptable. Depth estimation is often accurate, and the depth-of-field effect is pleasant with a strong blur intensity and nice shape to the spotlights. Occasional depth estimation errors and artifacts are visible, but the main problem is again dynamic range, with bright areas often completely overexposed. The main camera's 26 mm-equivalent lens doesn't lend itself well to portraits either, with subjects often distorted and suffering the dreaded "big nose effect" if you get too close for a bokeh shot.
Applying a digital crop to the main camera's images also means zoom shots on the Mi 10T 5G generally display low detail and visible noise. Results are acceptable at close range under indoor and outdoor lighting conditions, but in low light or when pushing the magnification further for medium- or long-range zoom shots, the loss of detail starts to become problematic. Applying such a crop to the lower-resolution 64 MP (16 MP output) on the Mi 10T 5G means that detail is a little softer compared to the higher-resolution 108 MP (25 MP output) Mi 10T Pro 5G. So while neither are amazing for zoom performance, those extra pixels on the Pro help when you need a little more zoom.
Noise is generally visible in both flat and textured areas in Mi 10T 5G photos, and especially so in low-light examples. In our night photography analysis using flash-auto mode, exposures in nightscapes were OK, but highlights were usually blown out, with low detail and very visible noise recorded. Things didn't improve in night portraits either, where often the subject was noticeably underexposed using flash, and the whole scene— including the portrait — was completely dark when we switched to flash-off mode.
The ultra-wide camera is another one of the Mi 10T 5G's strengths, with similar quality and results to the Pro model. Target exposures are often accurate and although dynamic range can be good, it's not repeatable, with large variations in highlight control visible between one shot and another in our tests. Detail is a little lower than we observed on the Pro, and common wide-angle artifacts such as color fringing and loss of sharpness in the field are often visible at close inspection, but the results can be satisfying when viewed on-screen.
An improvement in the overall score and ranking for the Mi 10T 5G's video performance is testament to improved results mainly for exposure and color when shooting moving images. Although exposure performance is similar to that for stills, with good target exposures on videos shot in indoor and outdoor conditions and slightly limited dynamic range, we didn't observe as many complete HDR failures in exposure. Low-light videos tend to be quite dark and steps in exposure adaptation under changing lighting conditions are visible, but for the most part exposure is a little more satisfying in the Mi 10T 5G's videos. The same is true for color, where improved rendering in videos ensures pleasant color indoors and outdoors, and accurate white balance indoors. Color is a little desaturated in low light and white balance casts are visible in outdoor and low-light videos, but neither are overly offensive.
Like with stills, noise is visible in most movies — even outdoors, where a slight noise effect can be seen in textured areas. The gyro-EIS stabilization system controls motion reasonably well overall, but differences in sharpness between frames are often evident in all lighting conditions, not just in low light like we observed on the Mi 10T Pro 5G. Video autofocus could be improved, too, as a lot of unnecessary refocusing occurs and the AF system often locks on to the wrong target.
Accurate target exposure and pleasant color rendering, but slight highlight clipping is evident and noise is visible in textured areas (such as areas with trees).
Conclusion
Bringing a range of more affordable mid-range models to market in the shape of the Xiaomi 10T series will be welcomed by the budget-conscious consumer looking for a bit more bang for their buck. A notch down from the top-end Mi 10T Pro in price, the standard Mi 10T 5G has a lot to offer, including a high-end processor, large screen, and triple camera.
Unfortunately, in our image quality analysis the Mi 10T 5G didn't live up to the same standards as the Pro. A change in sensor technologies between the two devices seemingly had a big impact on image quality, with inconsistent exposure and color, as well as low detail and high noise resulting in low scores in our tests. While it's not perfect, if photography performance is a key driver in your smartphone purchasing decision, and you're considering an Xiaomi Mi 10T-series model, we'd lean towards the Pro.
Pros
Accurate target exposure in indoor and outdoor photos and videos
Pleasant color in indoor and outdoor videos
Wide depth of field in photos
Generally repeatable white balance in photos
Accurate depth estimation and nice spotlights in bokeh photos
Good preview performance
Effective stabilization in videos
Cons
Limited dynamic range in most photos and videos
Visible noise in photos and videos
Autofocus failures in photos and videos
Low detail in zoom photos
Strong underexposure in night shots with the flash off
Inconsistent sharpness between frames in most videos