Unveiled in the summer of 2015, Yamaha's MusicCast series was one of the most prolific of all wireless multiroom ecosystems, with no fewer than 23 compatible audio devices — including traditional speakers, sound bars, subwoofers, amplifiers, and complete Hi-Fi systems. Almost three years later, the extended family welcomed two newborns: the MusicCast 20, and the MusicCast 50. The latter, equipped with two soft dome tweeters and two woofers, promises to "blow you away with explosive audio" for movies, and "room-filling, dynamic sound" for parties. Nothing less!
We put the Yamaha MusicCast 50 through our rigorous DXOMARK Wireless Speaker test suite. In this review, we will break down how it fared at audio playback in a variety of tests and several common use cases.
Key specifications include:
Two 30 mm (1-1/8″) soft dome tweeters, two 100 mm (3-7/8″) woofers
MusicCast, Bluetooth, AirPlay 2, Google Cast
Inputs: optical, 3.5 mm mini jack, RCA
Stereo pair capable and 5.1 configurable
Google Assistant, Alexa
400 x 123 x 200 mm (15-3/4″ x 4-7/8″ x 7-7/8″)
4.5 kg (9.9 lbs)
Available in black or white
Test conditions:
Tested with iPhone SE for music, Xiaomi Mi TV Box S for movies
Communication protocol used: AirPlay 2 for music, Optical for movies
Firmware version: 1.84 (0738)
About DXOMARK Wireless Speaker tests: For scoring and analysis in our wireless speaker reviews, DXOMARK engineers perform a variety of objective tests and undertake more than 20 hours of perceptual evaluation under controlled lab conditions. This article highlights the most important results of our testing. Note that we evaluate playback using only the device's built-in hardware. (For more details about our Speaker protocol, click here.) The Yamaha MusicCast 50 falls into the Advanced category of devices in the DXOMARK Speaker rankings.
Test summary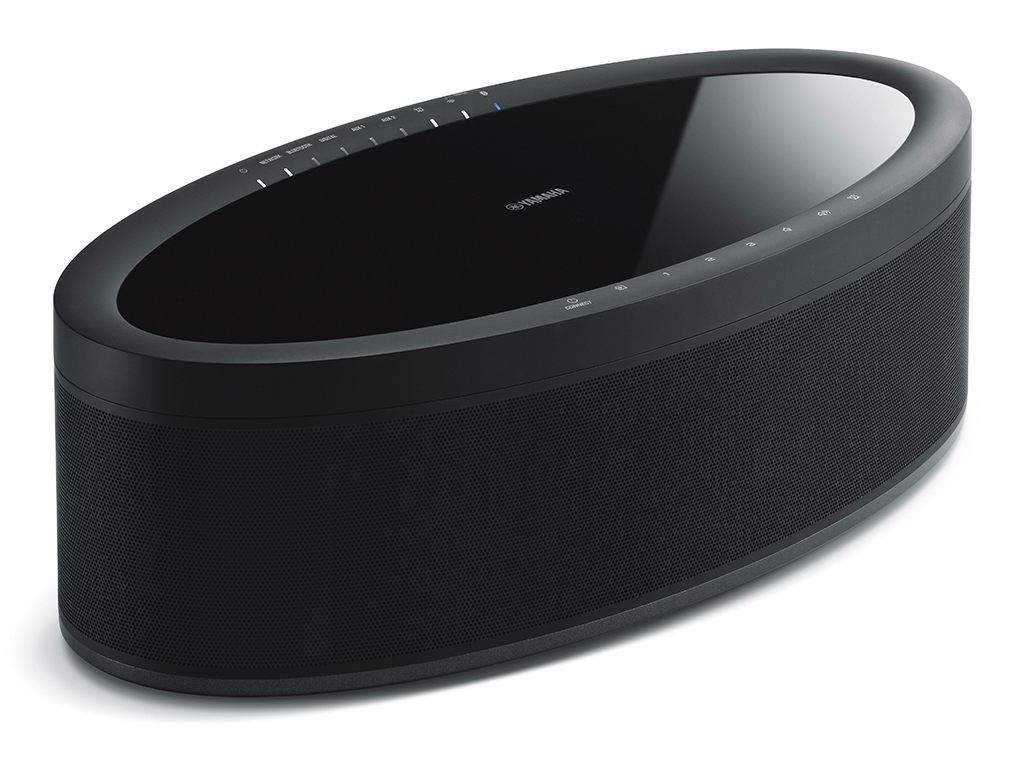 Yamaha MusicCast 50
136
speaker
With a global score of 136, the Yamaha MusicCast 50 secures a comfortable position among our speaker ranking, only 11 points away from the top-scoring device to date. The speaker offers good maximum volume, sharp attack and strong punch, consistent tonal balance, great bass precision, a wider sound field than other devices with similar specifications, and very few artifacts overall. All those attributes make it particularly useful for watching movies, partying, relaxing at home, and listening to podcasts or music before sleeping. The MusicCast 50 even proves quite efficient in complex acoustic environments, such as bathrooms or kitchens.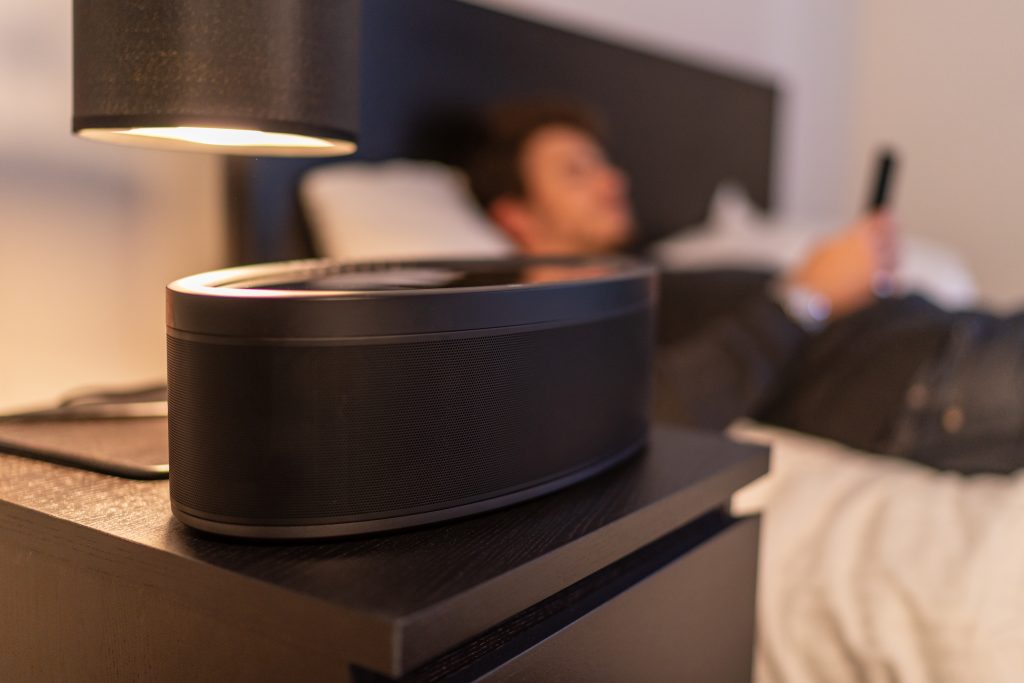 The Yamaha MusicCast 50 is as suited for listening to music or podcasts before falling asleep as it is for partying.
However, at loud volumes, midrange resonances and slight bass distortions occasionally appear. While high-end and low-end are slightly lacking, the excess of low-mids, although improving punch, can create a muddy feeling. Further, since the MusicCast 50 is a front-firing speaker, the sound — especially treble and upper mids — isn't evenly distributed at 360°. Consequently, the device is rather unsuited for outdoor use, or for a friendly gathering.
Sub-scores explained
The DXOMARK Speaker overall score of 136 for the Yamaha MusicCast 50 is derived from a range of sub-scores. In this section, we will take a closer look at these audio quality sub-scores and explain what they mean for the user, and we will show some comparison data from two of the Yamaha MusicCast 50's principal competitors in the Advanced category, the Google Home Max and the Bose Home Speaker 500.
Playback attribute comparisons
Timbre
133
Bowers & Wilkins Formation Wedge
DXOMARK timbre tests measure how well a speaker reproduces sound across the audible tonal range and takes into account bass, midrange, treble, tonal balance, and volume dependency.
Playback timbre comparison
The Yamaha MusicCast produces a very consistent tonal balance in most scenarios, especially when relaxing at home, entertaining friends, partying, and even in difficult acoustics such as a bathroom. Midrange frequencies (mids) are well reproduced in all use cases, except at loud volumes where low-mids prominence and resonances affect clarity and convey a muddy feeling.
Music playback frequency response
Compared to the Google Home Max, bass response could dig a little deeper, as shown in the graph above. High-end extension is also a little lacking, a shortcoming that can be perceived in our bedtime scenario. That all said, treble is particularly clear and precise in most use cases.
Dynamics
121
Bowers & Wilkins Formation Wedge
Our dynamics tests measure how well a device reproduces the energy level of a sound source, taking into account attack, bass precision and punch.
Playback dynamics comparison
In the dynamics category, the MusicCast 50's score is only six points away from the top-ranking speaker in this category, the Harman Kardon Citation 200. Attack is fairly sharp, especially when listening to classical music, jazz, Asian pop, and when watching movies. At loud volumes, however, the previously mentioned midrange resonances affect its precision.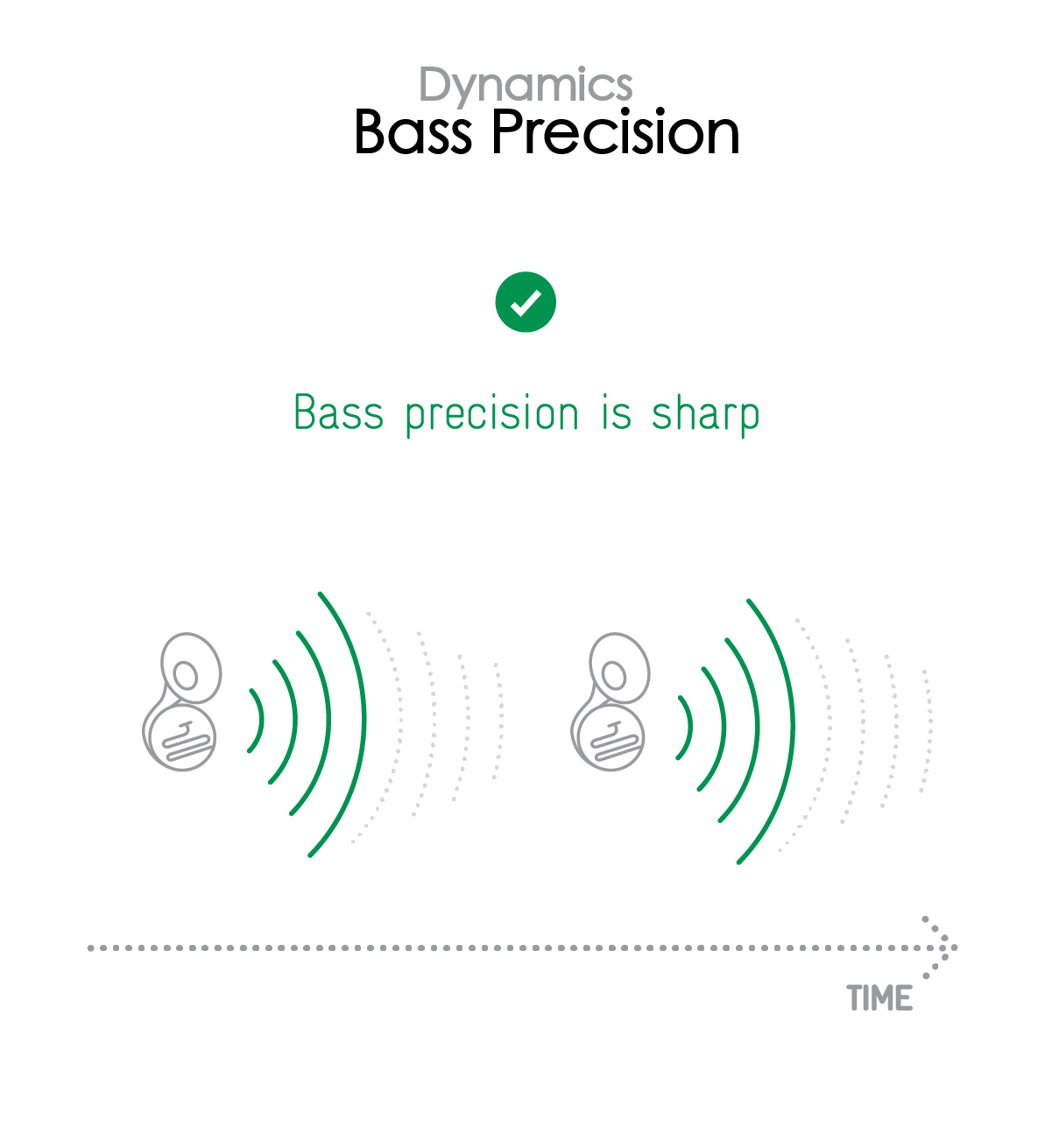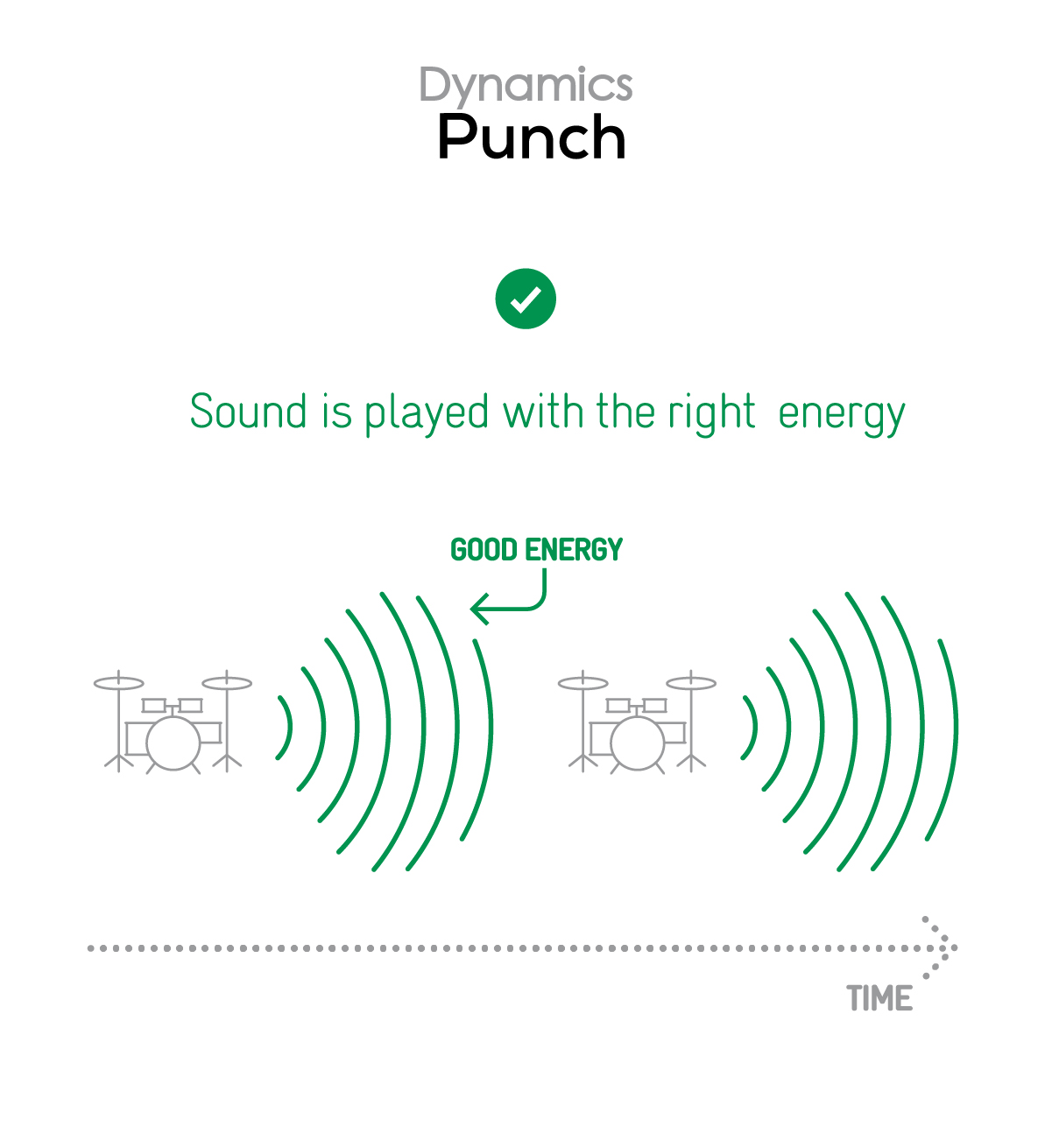 On the one hand, the prominence of low-mids makes for a strong punch, on the other hand, it impairs bass precision — which, that said, is still among the best sub-scores we've measured to date.
Spatial
92
Bowers & Wilkins Formation Wedge
Our spatial tests measure a speaker's ability to reproduce stereo sound in all directions, taking into account localizability, balance, wideness distance and directivity. Please note that wideness is 0 on mono speakers and speakers that cannot deliver a significant stereo effect.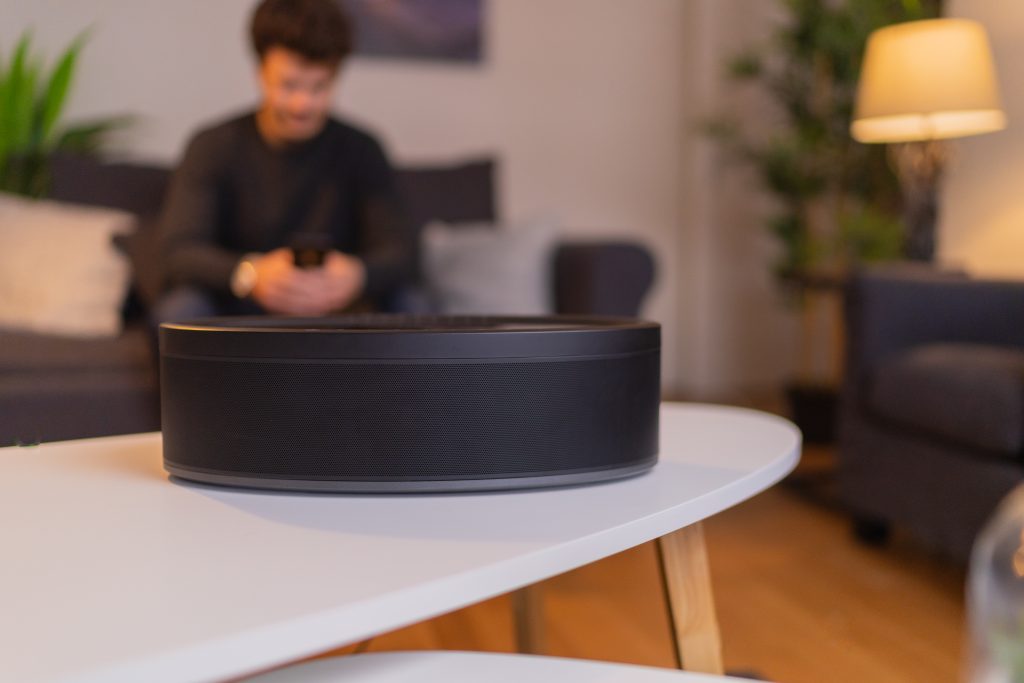 The Yamaha Music Cast 50 is a front-firing speaker.
Playback spatial comparison
The Yamaha MusicCast 50 delivers good spatial performance for a front-firing device. Thanks to clear treble, localizability of the various sound sources is average, but affected by excess of low-mids. Distance rendering is highly realistic across all music genres and in most use cases, but feels slightly less realistic for high-pitched voices due to the prominence of low-mids.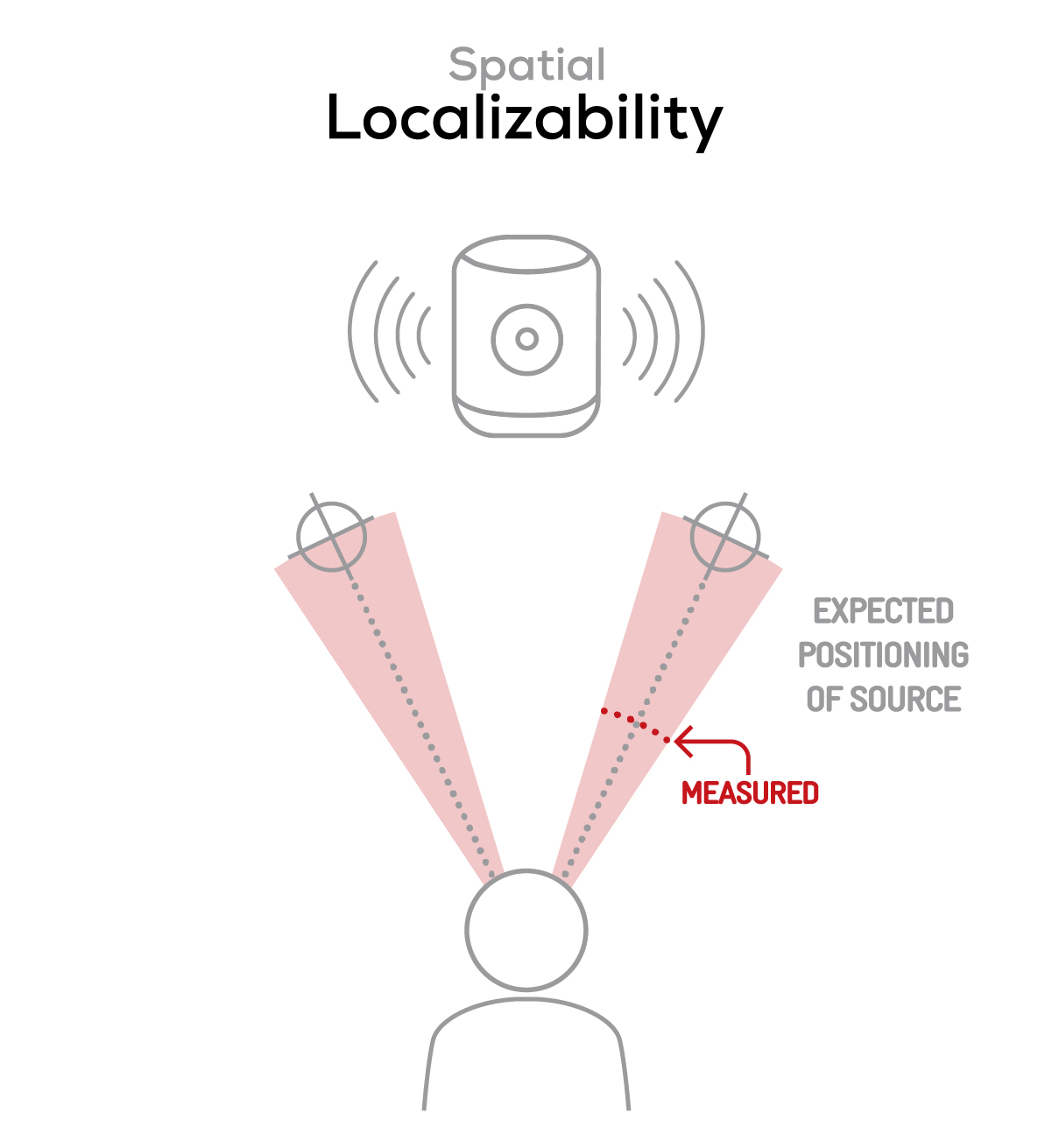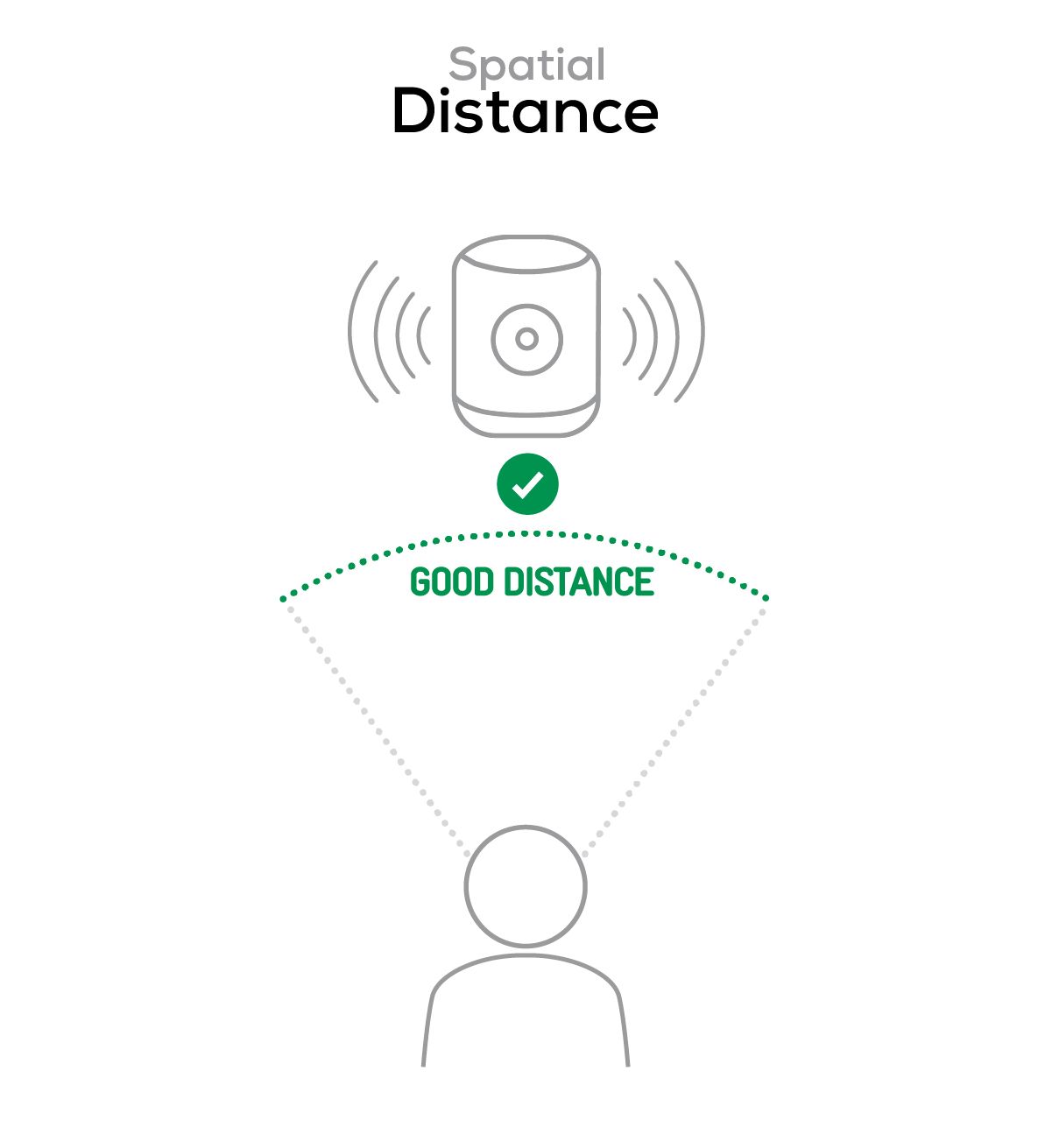 Compared to other stereo devices with comparable specifications (e.g., the Google Home Max), the speaker produces a wider soundstage. However, 2-3 meters away from the speaker (typical distance for watching movies), it feels slightly narrow.
That all said, the overall sub-score is heavily impaired by the speaker's front-firing configuration. Sound is unevenly distributed around the speaker, with considerable loss of treble and upper mids at the rear of the device.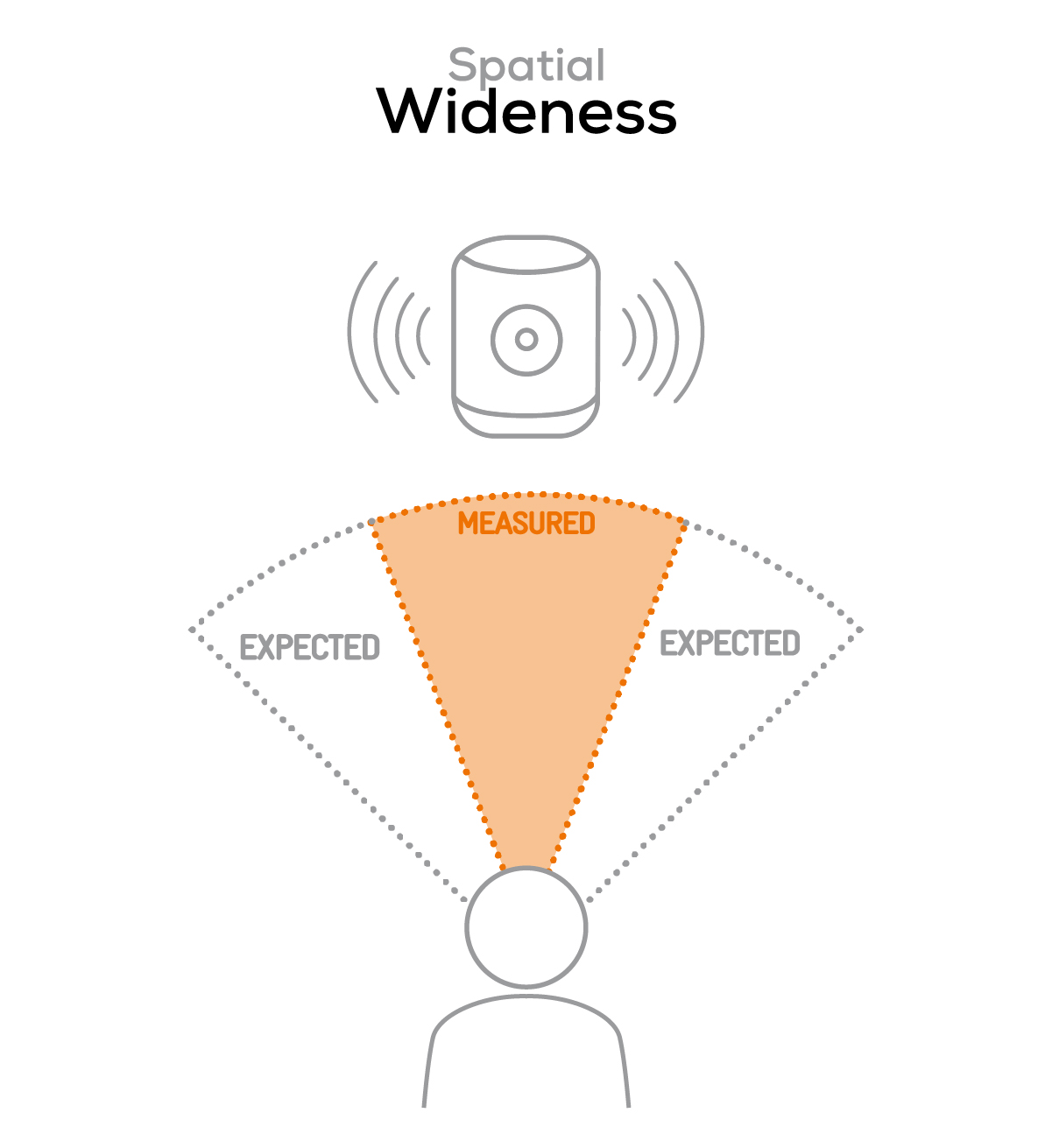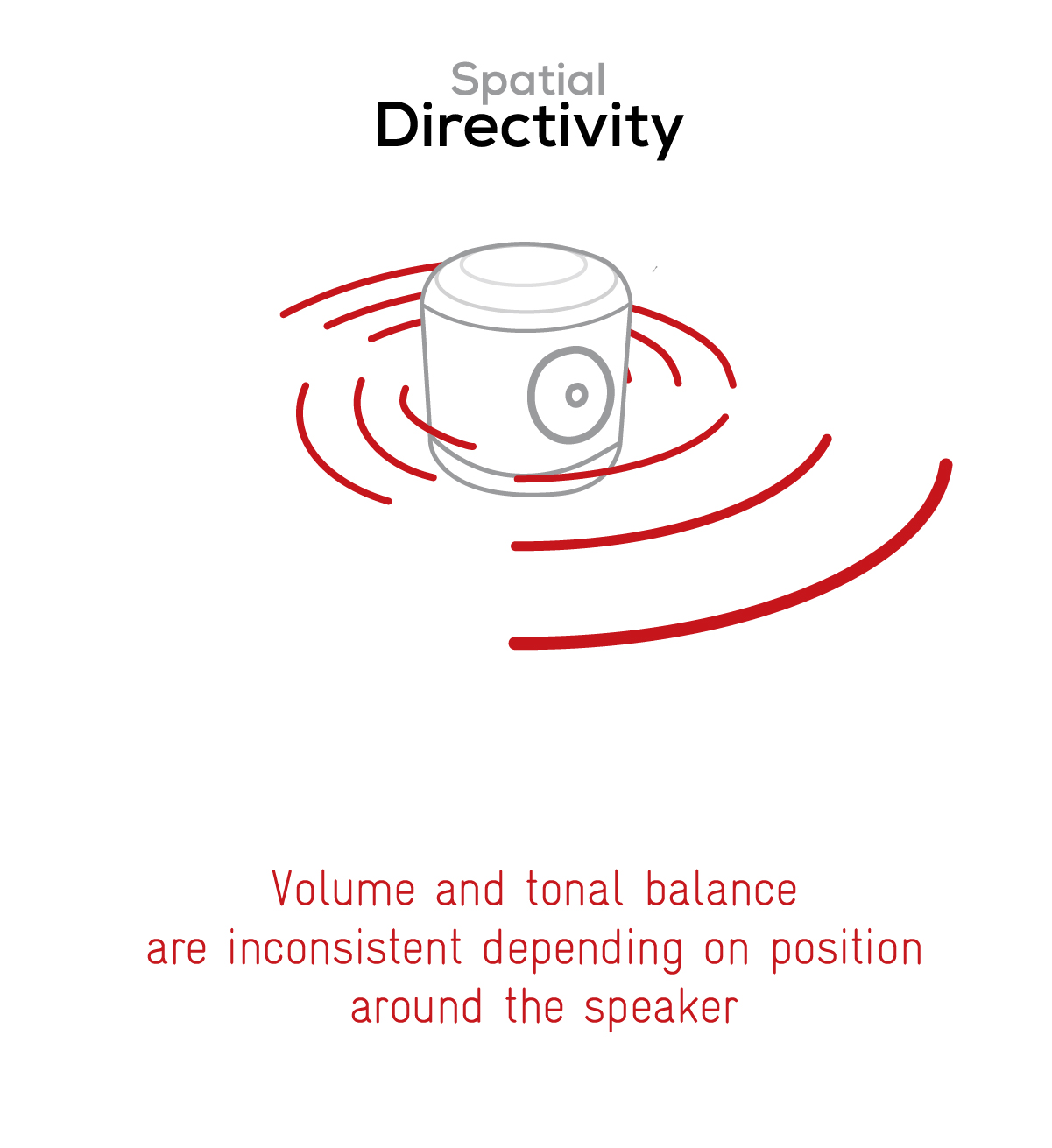 Volume
106
Bluesound Pulse Mini 2i
Our volume tests measure both the maximum loudness a speaker is able to produce and how smoothly volume increases and decreases based on user input.
Playback volume comparison
Playback volume consistency comparison
The Yamaha MusicCast 50 produces very satisfying maximum volume, loud enough for a typical party. The volume curve follows an exponential path at first, allowing fine-tuning for low volume use cases like bedtime, followed by a rapid volume increase. After that, it adopts a more linear approach, for smoother volume increments.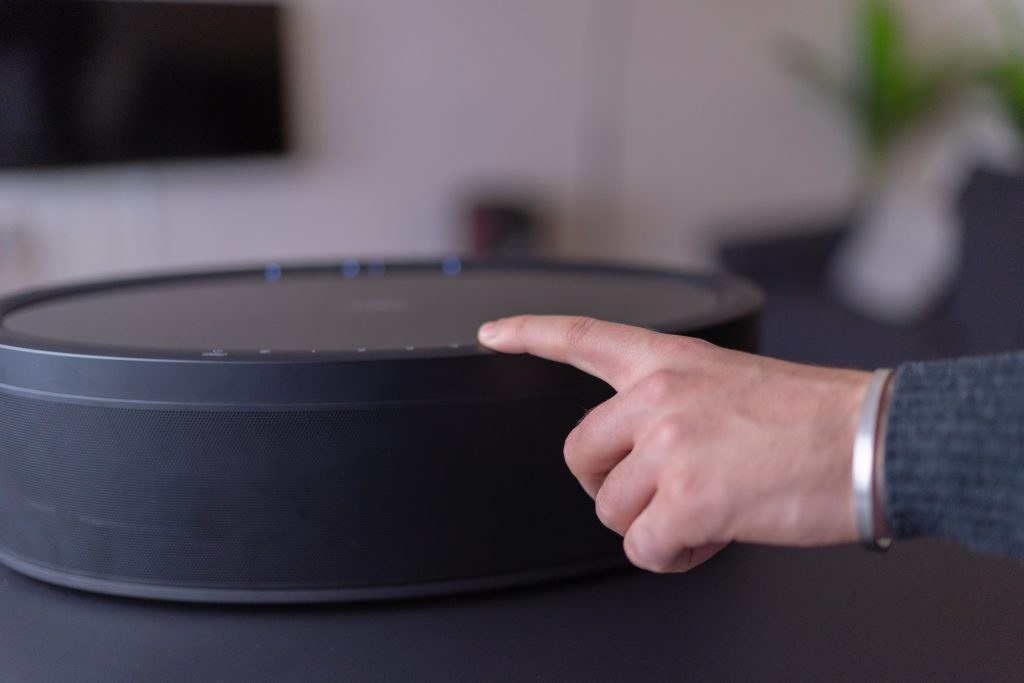 Maximum volume is loud enough for partying.
Here are a few sound pressure levels (SPL) measured when playing our sample recordings of hip-hop and classical music at maximum volume:
| | | | | | | |
| --- | --- | --- | --- | --- | --- | --- |
| | Correlated Pink Noise | Uncorrelated Pink Noise | Hip-Hop | Classical | Latin | Asian Pop |
| Yamaha MusicCast 50 | 86.5 dBA | 84.1 dBA | 83.9 dBA | 75 dBA | 85.9 dBA | 77.3 dBA |
| Google Home Max | 91.9 dBA | 88.9 dBA | 88.9 dBA | 81.9 dBA | 89.3 dBA | 82.4 dBA |
| Bose Home Speaker 500 | 84 dBA | 81.9 dBA | 82.3 dBA | 78.2 dBA | 83.2 dBA | 75.4 dBA |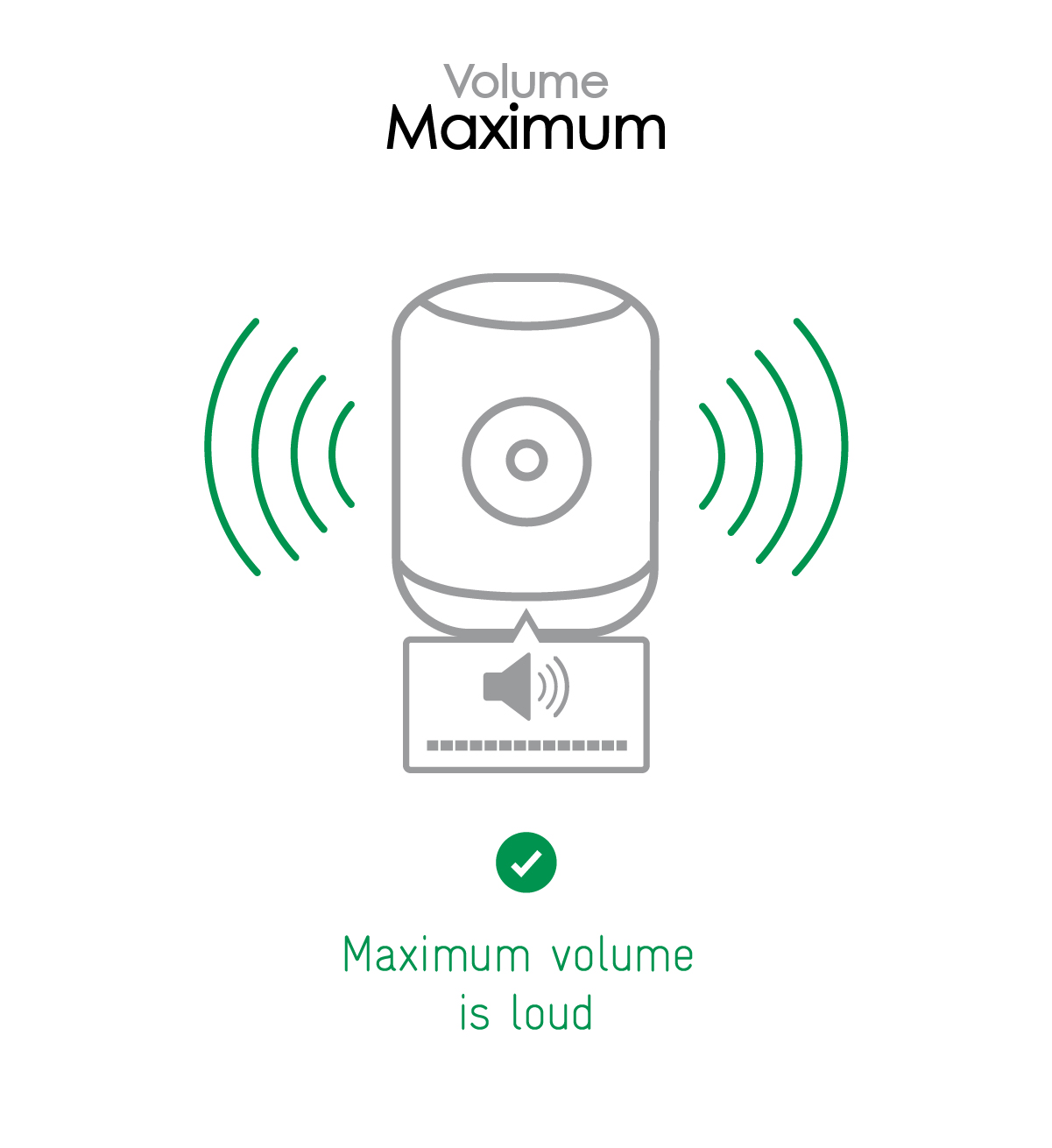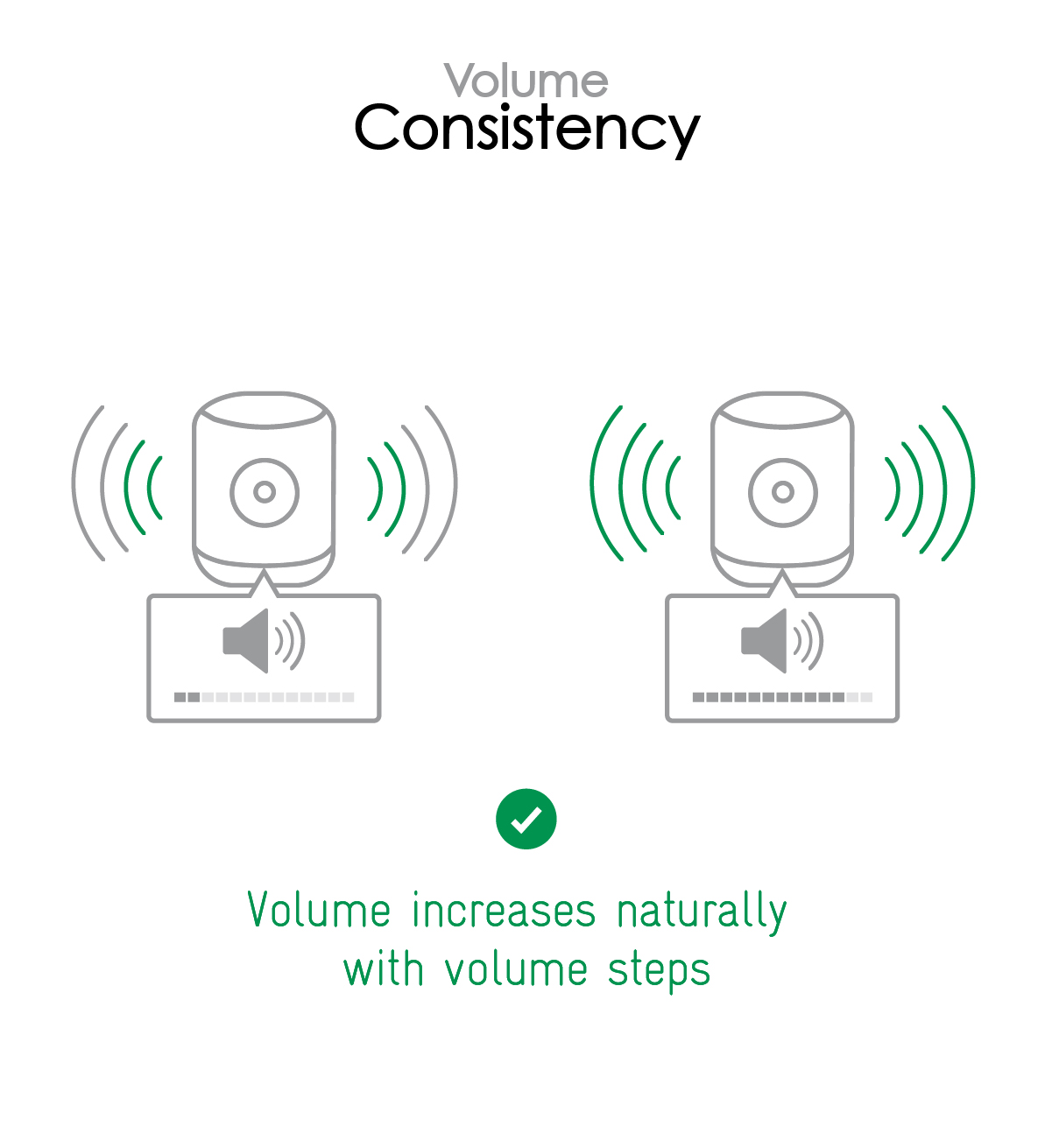 Artifacts
Our artifacts tests measure how much source audio is distorted when played back, along with such other sound artifacts as noise, pumping effects, and clipping. Distortion and other artifacts can occur both because of sound processing and because of the quality of the speakers.
Playback artifacts comparison
Apart from slight bass distortions and midrange resonances at maximum volume, the Yamaha MusicCast 50 exhibits no noticeable artifacts, whether temporal, such as aggressive compression, or spectral, such as perceivable distortion.
Playback total harmonic distortion
Since the Bluetooth connection induces a significant latency, we recommend using the optical input, the auxiliary input, or the AirPlay 2 protocol for watching videos, which do not generate any perceptible delay.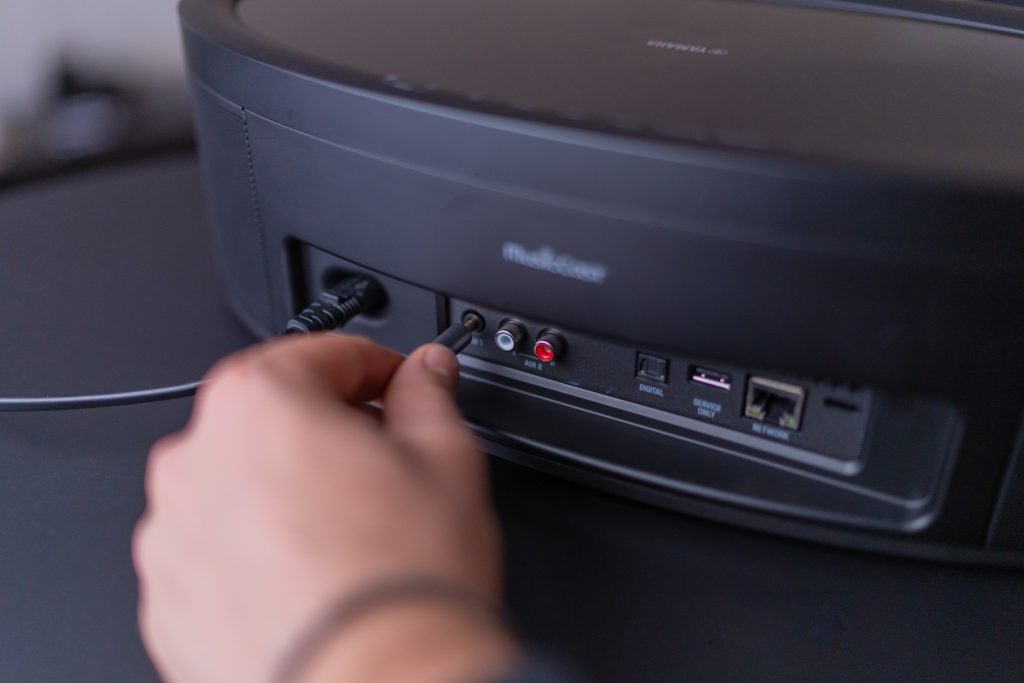 Multiple wired inputs are available for watching movies.
Conclusion
The Yamaha MusicCast 50 delivers balanced and loud dynamics and wider sound compared to the competition, with very few artifacts overall. Its strengths make it a useful speaker for partying, watching movies, listening to music or podcasts before sleeping, or simply when relaxing at home — even in complex acoustical settings such as a kitchen or a bathroom. On the other hand, at loud volumes, attack is not as sharp, slight bass distortion and midrange resonances appear, and lack of extension (both high and low) tamper with the sound reproduction. Also note that the MusicCast 50 is a front-firing speaker, which makes it unsuited for friendly gatherings or outdoor uses.
Pros
Very good tonal balance in most use cases, with clear treble and good bass rendering
Great bass precision
Midrange is consistent overall
Attack is fairly sharp
Strong punch thanks to generous low-mids
Good spatial performance for a front-firing device and good distance rendering
Few artifacts overall
Cons
At loud volumes, a slight lack of bass and excessive low-mids create a muddy feeling
In loud SPL scenarios, attack becomes less precise due to inconsistent midrange
Since it is a front-firing device, sound is unevenly distributed around the speaker
Slight bass distortion at maximum volume