Carl Zeiss Distagon T* Otus 1,4/55 ZE (Canon) mount lens review: Peerless Prime
By Kevin Carter -
Tuesday November 26 2013
Lens Review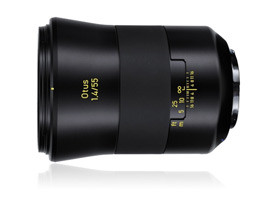 After analyzing the performance of the new Zeiss Otus 1,4/55 in Nikon mount we've had the opportunity to do the same with the ZE (EF) mount version. Read on to find out how well this fast standard lens performs.
The Zeiss Distagon T* Otus 1,4/55 is the first of a new series of high-grade lenses from the maker optimized for the next generation of high-resolution DSLRs. This fast standard adopts the firm's retrofocus Distagon type optical construction, a design previously only found on wide-angle models. It has a complex construction consisting of 12 elements in 10 groups, and features no less than six elements made from anomalous partial dispersion glass and one lens made with an aspherical surface. Although a manual focus design it has a 'floating elements' for close range correction and a minimum focus distance of 0.5m.
While the Canon mount (ZE) version lacks an aperture collar like that found on the Nikon (ZF.2) it has CPU contacts for data exchange and electronic aperture control. The result is a slightly longer (144mm vs 141mm) and heavier model (1030g vs 970g) than the Nikon mount version, although it measures the same 83mm at its widest point and retains the 77mm filter thread. The new 1,4/55 Otus is available for pre-order at $3,999 in Nikon and Canon mount only.
Further readings for the Carl Zeiss Distagon T* Otus 1,4/55 ZE (Canon) mount lens review: Peerless Prime
To provide photographers with a broader perspective about mobiles, lenses and cameras, here are links to articles, reviews, and analyses of photographic equipment produced by DxOMark, renown websites, magazines or blogs.
---
---