Carl Zeiss Distagon T* Otus 1,4/55 ZF.2 (Nikon) lens review: Outstanding Optical Performance
By Kevin Carter -
Thursday November 21 2013
Lens Review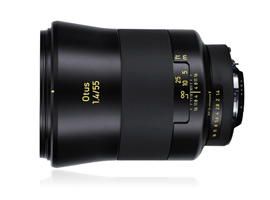 High-end lens maker Carl Zeiss has just released the first model in a series of high-grade DSLRs lenses in Nikon mount and we were more than curious to see if the performance of the new Otus 1,4/55 could match the hype. Read on to find out.
Zeiss already make a range of manual focus lenses for Canon and Nikon, but this new model is the first in a new range of high-end Otus lenses from the maker optimized for the next generation of full-frame high-resolution DSLRs. As with the Touits, the new naming of the series follows the maker's liking for adopting scientific names of birds for their lenses.
Unlike those earlier lenses designed for mirrorless cameras, this fast standard is a retrofocus full-frame (35mm format) model, but the 55mm focal length also works well on APS-C cameras, where it has a field of view equivalent to that of a 85mm.
The Otus 1,4/55 adopts the firm's Distagon-type optical design usually reserved for wide-angle models but it's used here in elongated form to reduce aberrations, especially field curvature, across the frame at the maximum aperture. In addition it's a manual focus design with automatic aperture coupling and CPU contacts.
The Nikon mount (ZF.2) version also retains a manual aperture collar and provides backwards compatibility with older Nikon SLRs as well as being a useful option for filmmakers.
At $3,999 and weighing 970g for the Nikon mount version, this large lens has a 77mm filter thread and measures 83mm at its widest and 141mm in length. The new Otus is available for pre-order in Nikon and Canon mount only.
Further readings for the Carl Zeiss Distagon T* Otus 1,4/55 ZF.2 (Nikon) lens review: Outstanding Optical Performance
To provide photographers with a broader perspective about mobiles, lenses and cameras, here are links to articles, reviews, and analyses of photographic equipment produced by DxOMark, renown websites, magazines or blogs.
---
---
Comments
Nikon 55mm 2.8 Ai-s micro ?

I'm wondering you guys are checking the hot new stuff of manual Zeiss and surely they are sharp but what about the Nikon 55mm 2.8 Ai-s micro ? this lens is still in production since 1979 and is very sharp on Film and digital .Please test it as it might surprise you. I'm really anxious to know how it performs in lab testing against Zeiss lenses on D8xx series cameras.
The lens can take 2 filters and still deliver outstanding results.


Reply
---
Added by

ag08025

| October 27 , 2015

Nikon vs Canon sensors

same lens, same score = sensor canon worst Nikon sensor????

http://www.dxomark.com/Lenses/Carl-Zeiss/Zeiss-Carl-Zeiss-Distagon-T-STAR-Otus-55mm-F14-ZE-Canon-mounted-on-Canon-EOS-1Dx__753

http://www.dxomark.com/Lenses/Carl-Zeiss/Zeiss-Carl-Zeiss-Distagon-T-STAR-Otus-55mm-F14-ZE-Canon-mounted-on-Canon-EOS-1Dx__753

mysteries of the method DXO.


Reply
---
Nervous and excited for this lens


It is my hope to add this lens to my assortment of glass before the next busy season. Wedding clients will love the photos taken with this lens.


I am curious how many lenses will be added to this series.






Reply
---
Added by

DanN1

| July 03 , 2014

otus review

Good review of Otus lens, but on ukrainian language)
http://kinomaster.org/obzor-ob-ektivov-carl-zeiss-video/

Why it's so expensive?


Reply
---
First replies for this comment
---
Zeiss 135 APO and other 135 and 150 mm lenses

In general, there are few tests on 135 and 150 mm lenses, my favorite length.


Reply
---
Added by

jtorral

| November 22 , 2013

Amazing Lens. More galleries here

Have a look at the growing gallery of Otus 55 images at http://zeissimages.com/standardgallery.php?lenstype=566&showall

Truly an amazing lens for all types of photography and not just 36MP cameras :)


Reply | Read all replies for this comment
First replies for this comment
---
First replies for this comment
---