Nikon AF-S Nikkor 500mm and 600mm f/4G ED VR lens reviews: legendary performers in the range
By Kevin Carter -
Wednesday July 10 2013
Lens Review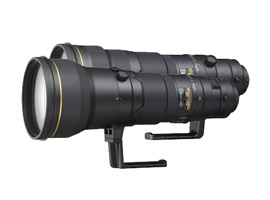 Super-telephoto lenses like these are indispensible for shooting action, sports and wildlife but their high price and limited versatility restricts accessibility to the average user. Most are to be found in the hands of photojournalists working on behalf of picture agencies, but it's also true to say that a fair number are used by wildlife photographers including working professionals and well-heeled enthusiasts. Read on to see if the current iterations deserve their celebrated status.
Unlike the Nikkor 600mm f/4, which as a manual focus lens at the time was first introduced in back in 1977, the manual focus 500mm f/4 was only introduced in 1988 after repeated requests to the maker to offer a smaller, lighter weight option as that made popular by arch-rival Canon. The current AF version was introduced in 2007, weighs 3880g, boasts 14 elements in 11 groups (including 3 ED glass elements), and a single Nano Crystal Coat. As well as an ultrasonic type AF motor, it focuses to 4.0m (3.85m in MF) also has the latest 4-stop VR II spec and a sticker price of $8,030 to match.
Until only recently the $9,999 AF-S Nikkor 600mm f/4G ED VR was Nikon's longest and most expensive super-telephoto (though that position is now reserved for the new $17,900 fluorite based AF-S Nikkor 800mm f/5.6E FL ED VR). Even so, the 600mm f/4 can still lay claim to being the heaviest at 5,060g (weighing 470g more than the 800mm f/5.6). As with the 500mm f/4, this lens has VR II, Nano Crystal Coat and one extra glass element, bringing the total to 15 in 12 groups (with 3 ED glass elements), an ultrasonic type AF motor and focuses to 5.0/4.8M depending on the focus mode selected.
Further readings for the Nikon AF-S Nikkor 500mm and 600mm f/4G ED VR lens reviews: legendary performers in the range
To provide photographers with a broader perspective about mobiles, lenses and cameras, here are links to articles, reviews, and analyses of photographic equipment produced by DxOMark, renown websites, magazines or blogs.
---
---
---
Comments
to know about best lens for d3300

<div id="linkdxomark">This a comment for <a href="http://www.dxomark.com/index.php/Lenses/Nikon/70-200
mm-F4G-ED-VR">this page on the website</a></div>hello sir im going to buy Nikon AF-S NIKKOR 70mm to 200 mm.
f/4G ED VR lens for d3300 model. is it will be good for me or shall i buy another one .. if yes than suggest me best for d3300 .. i had done my practice with 18-55mm. . you can vist on Instagram search for @bupinder_singh and can have look on my clicks .. plz suggest me for macro shots and good depth of field


Reply
---
Cannot reproduce

I tested both lenses on both cameras and can not reproduce this result in any way.

What am i doing wrong? No matter how hard i try, the D800 and A99 always outperforms the 5D Mark III sharpness (the D800 by far, the A99 a bit).

So how can the Canon here be the winner but when i take the lense and the camera and check myself the Canon is the worst?

I tested 3 days long, multiple times and i was not able to reproduce those results at all so i would just call them fake or very very bad and useless testing.

Please dont trust those scores, just rent the camera + lense for 1-3 days and test yourself and you'll see that those results are _not_, i recall _not_, reproducable in any way.


Reply
---
Added by

ct529

| July 16 , 2013

I do not understand

I do not understand: the Canon seems to outperform both the Nikon and the Sony at all levels, notwithstanding the fact that Nikon and Sony are tested on higher resolution camera with a more modern sensor. If you swap from the D800 to the D600 (which sensor wise is closer), the performance of the Nikon drops even further.


I do not understand the title and the conclusions, they seem to contradict the results of the tests and the results.

PS: I do not own a Canon, a Nikon or a Sony camera. I am looking for a good camera together with long lenses to take pictures of sea birds and other wildlife. We would need very clear interpretation of the results. I had a similar problem with your results when I had to chose a camera for street photography ....




Reply
---
Unexplained

since dynamic range and sensor noise are attributable to the lens? if inserting these values ​​in the evaluation, since the D800 is better than the 5d III, the end result should Nikon should be lower and then subtracted from the result of the lens


Reply | Read all replies for this comment
First replies for this comment
---
Lens sharpness score make no sense to me

I'm doing my best to understand the sharpness scores and falling way short. I've got a Ph.D. in a science discipline and know a thing or two about psychophysics and measurement, so just maybe the problem is with DxO rather than me. In any case I would like to understand these scores so if someone could help me out I would be appreciative.

Rather than mixing-up lenses and bodies as DxO does for these super-telephotos, let's take two Nikon lenses that DxO has tested on the D800, the 500mm f4G and the 85mm f1.4G. DxO gives the 500mm a sharpness score of 25 whereas the 85mm gets a score of 40. This is what appears to be a whopping difference favoring the 85mm. But when I got to NikonUSA and examine the MTF charts for these two lenses, the 500mm f4g is pretty much stuck at a perfect value of 1 (http://imaging.nikon.com/lineup/lens/singlefocal/Telephoto/af-s_500mmf_4g_vr/) whereas the 85mm f1.4g doesn't get higher than .9 (http://imaging.nikon.com/lineup/lens/singlefocal/normal/af-s_nikkor85mmf_18g/). I'm not sure how Nikon is measuring MTF, but presumably they do it the same way for both lenses, so according to Nikon the 500mm is sharper than the 85mm.

Okay, DxO is reporting sharpness in a unit they're calling Perceptual Megapixels, which they believe is intuitive (NOT) and bypasses the complexities of swooping curves on a graph that is inherent in a MTF chart. But DxO says that the P-Mpix starts with the MTF measurements.

So how can a lens for which the manufacturer reports higher MTF performance get a substantially lower P-Mpix sharpness score than a lens for which the same manufacturer reports lower MTF performance? A Nikon 85mm is nearly twice as sharp as a Nikon 500mm? They are both incredibly sharp lenses, but I use them and find the 500mm a bit sharper, consistent with Nikon's MTF charts.

So what's up here? I've read the DxO technical documents and still don't get it.




Reply | Read all replies for this comment
First replies for this comment
---
Sharpness question

I don't get the sharpness results on one hand you say that the nikon is slightly sharper and more even than the Sony, and than it scores worse in terms of sharpness on a body with more mpx. Can you please explain that?


Reply | Read all replies for this comment
First replies for this comment
---
First replies for this comment
---
"Significant Differences"

Hi DxO,

As a suggestion to help readers of this site, it would be great if you could explain what Road & Track magazine used to call "Significant Differences". Simply put, Road & Track says, "This is the amount that is meaningful." For 0-60mph it is 0.3mph, for braking 80-0mph it's 15ft, and for skidpad, it's 0.02g.

For DxOMark, when would sharpness between lenses be noticeable? 1P-MPix, 2, or what? The same applies to the other measurements like distortion, CA, etc. I realize there might be some challenges with this because they aren't uniform across the field, but it would be nice to know if the differences would really even be noticeable, especially in close tests like this one. For instance, on the 600mm lenses would anyone be able to see any difference in the sharpness or CA measurements? Maybe it could be tied to a print size, A3 or larger perhaps?

Just a suggestion, but one I've thought of for a while, and here's a sample of the Road & Track table from their website (forgive the crappy Google link):
http://www.google.com/url?sa=t&rct=j&q=&esrc=s&source=web&cd=1&cad=rja&ved=0CCsQFjAA&url=http%3A%2F%2Fwww.roadandtrack.com%2Fcm%2Froadandtrack%2Fdata%2FRoadTestSummary_Nov2012_data.pdf&ei=fN7eUeWONqjFywH6hYHQAw&usg=AFQjCNHRkeX1AnCCuaToOcuVHtzbKtK_0g&sig2=u_u1YyS1dXIVyLx0vMtESA&bvm=bv.48705608,d.aWc


Reply | Read all replies for this comment
First replies for this comment
---
Lenses scores calculation

Hello.
I have several questions about dxomark score for lenses. As I understand dxomark score calculates taking into account Sharpness in P-MPix, CA, Vignetting, Transmission, and in the same time vignetting and CA taken into account when you calculate sharpness. Does it mean that bad|good CA and vignetting affects final score twice?

Other question about sharpness of Nikon vs Canon lenses. In most cases Nikon lenses less sharp than Canon and according to tests of lenses made by Sigma\Tamron this caused not by lenses but because of some difference in sensor (may be AA filter). It means that canon lenses always tested on "sharper sensor" and nikon lenses on not so "sharp sensor". So intresting what results will show lenses if test them on body of other vendor (for example nikon`s 70-200 on MarkIII and canon`s 70-200 on D800).


Reply | Read all replies for this comment
First replies for this comment
---
unexplained

Sharpness = canon
Trasmission = canon = Nikon
Distorsion = canon
Vignetting = canon
Chr.. Aberratino = canon
Score = canon = Nikon
but how do you explain?


Reply | Read all replies for this comment
First replies for this comment
---