Announced alongside the pro-oriented Canon EOS R5 in the summer, the Canon EOS R6 is a more affordable mid-range model aimed at enthusiasts looking to get into the Canon EOS R mirrorless system.
Like the original EOS R, the R6 is a full-frame camera but with a newly developed 20 MP CMOS sensor, evidently the same or similar sensor that is used in the top-of-the-line EOS-1DX Mark III. It has one up on that camera, though: just like the R5, the R6 has in-body stabilization that can reduce camera shake by up to 5 stops, or up to 8 stops with an RF lens with optical stabilization.
Autofocus consists of the upgraded dual-pixel AF II system with 1053 AF points that cover the entire width and height of the frame, at least for stills.
With fast readout from the 20 MP sensor and a similar processor to that of the EOS-1DX Mark III, the R6 is capable of continuous shooting at up to 12 fps using the mechanical shutter. This can be expanded to 20 fps using the electronic shutter option, and both options support continuous AF.
The Canon EOS R6 has an OLED electronic viewfinder with 3.69 million dots, a magnification of 0.76x, and 23 mm eyepoint. At the rear, it has a 3-inch fully articulating touch-sensitive LCD with 1.62 million dots. It is solidly built with a mostly polycarbonate body, complete with weather sealing.
The R6 can capture close to full-width UHD 4K video at up to 60p, saved as either 10-bit 4:2:2 H.265, or 8-bit H.264 footage, and both C-Log and HDR PQ options are available. The camera also features dual SD memory card slots and has both Wi-Fi with Bluetooth for wireless camera control and image sharing.
Key specifications:
20 MP CMOS sensor
1053-point AF system with dual-pixel AF II
Native ISO 100–102,400, with expansion to ISO 50–204,800
12 fps mechanical shutter, or up to 20 fps electronic shutter
3-inch variable-angle LCD touchscreen
4K (UHD) 60p video, Full HD up to 120p
Wi-Fi, Bluetooth connectivity
Dual SD slots
Overall performance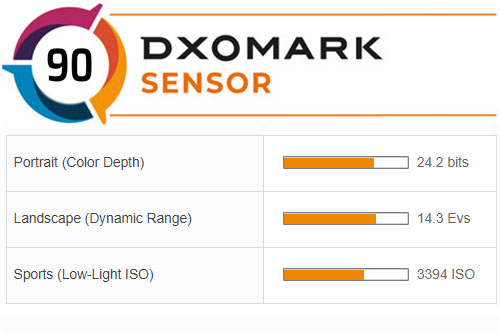 Click on the score chart above to open the Canon EOS R6 product page.
The Canon EOS R6 attained a relatively high DXOMARK sensor rating with a result of 90 points that places it in 31st place overall in our database of full-frame and MF sensors, in 29th place for full-frame 35mm, and in 3rd place for Canon sensors.
The R6 sensor achieves a relatively strong response in our Portrait (color depth) category, measured at 24.2 bits at its highest when set to ISO 100. It also has a very good maximum dynamic range of 13.4 EV when measured at base (ISO 100), and it remains very good throughout the mid and high ISO range.
While the Canon EOS R6 doesn't have a BSI-CMOS sensor like some rivals, it nevertheless performs very well in our low-light ISO (Sports) category, with a computed sensitivity value of 3394 ISO. Although this value can't be set in-camera, the nearest equivalent setting of ISO 3200 meets our low-light/high ISO image quality parameters, which is based on a combination of minimum dynamic range, color depth, and signal-to-noise (SNR) 18% values.
Image quality compared
Canon's choice of 20 MP sensor seems slightly at odds with rivals' 24 MP sensors in this mid-range category, but it is not that different in spatial resolution and helps with fast readout and with keeping noise levels manageable.
Be that as it may, BSI-tech used in sensors in the Sony A9 and A7 III models, the Nikon Z6, and the Panasonic Lumix DC-S1 keeps those models ahead in sensor dynamics, and indeed they occupy the highest rankings for sensors under 30 MP.
When comparing sensor performance using DXOMARK scores, however, it is important to keep in mind that a variation of five points equates to a 1/3 stop difference in sensitivity, so there's just over a 1/3 stop improvement in sensitivity between the Canon EOS R6 and Sony A7 III.
Against other models in Canon's lineup, the R6's sensor performance is very similar to that of the EOS-1D X Mark III. Further, the familiar pixel count of 20 MP suggests that Canon uses the same sensor or a variant of it in the EOS R6. The R6 has just 0.2 EV less dynamic range at ISO 400 or lower and gains just 0.06 EV in our computed low-light ISO (Sports) sensitivity value of 3394 ISO (vs 3248 ISO for the EOS-1D X Mark III, which is negligible).
Meanwhile, the overall sensor dynamics of the EOS R6 are comparable to the similar 30 MP sensors in the EOS R and the Canon EOS 5D Mark IV. While not class-leading just yet, improvements in Canon's sensor tech of late is delivering solid advances in dynamic range, noise levels, and color accuracy.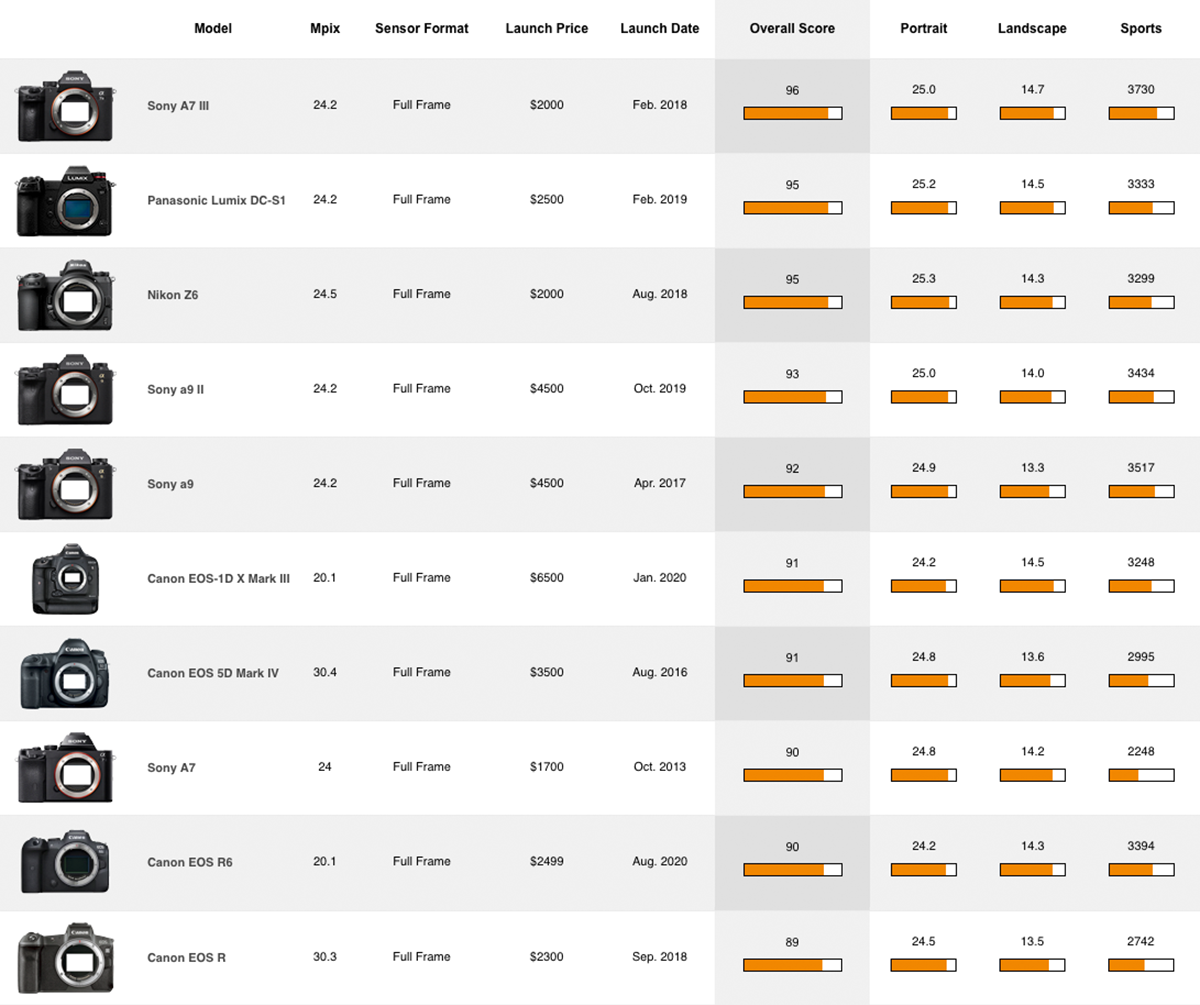 Click here to open our interactive DXOMARK image sensor ranking tool.
In-depth comparisons
As a mid-range model, the Canon EOS R6 is pitched at the same enthusiasts' market as the 24 MP Panasonic Lumix S1 and Nikon Z 6 models, even if the pixel count of 20 MP looks a little on the low side by today's standards. That said, it is evidently more than enough for most applications, such as weddings and portraiture, still lifes and press work, not to mention sports and action. The DXOMARK overall score and sub-scores give only an outline, though, so we'll take a look at each sub-score in turn to see where the EOS R6 sensor's strengths lie.
Portrait (color depth)
Maximum color depth is over 24 bits at ISO 50 and ISO 100 (the results overlap on our graph), and it continues to stay above 22 bits up to ISO 800, which is excellent. However, color depth is persistently around 1 bit less than the Lumix DC-S1 and the Nikon Z6 from ISO 50 to 1600. Technically, that means the two rivals can distinguish nuances between colors more readily, but it's very unlikely you would notice a difference between images. At least that's the case when normalized to a 8×12" print at 300 dpi; when comparing measurements derived from RAW files displayed on a computer screen at 100% magnification, the difference is even less. And in either case, the gap only narrows beyond ISO 3200.
Both the Lumix DC-S1 and Nikon Z6 are very close throughout their sensitivity ranges, but their lower measured ISO sensitivity values from ISO 3200 upwards favors a better color response anyway.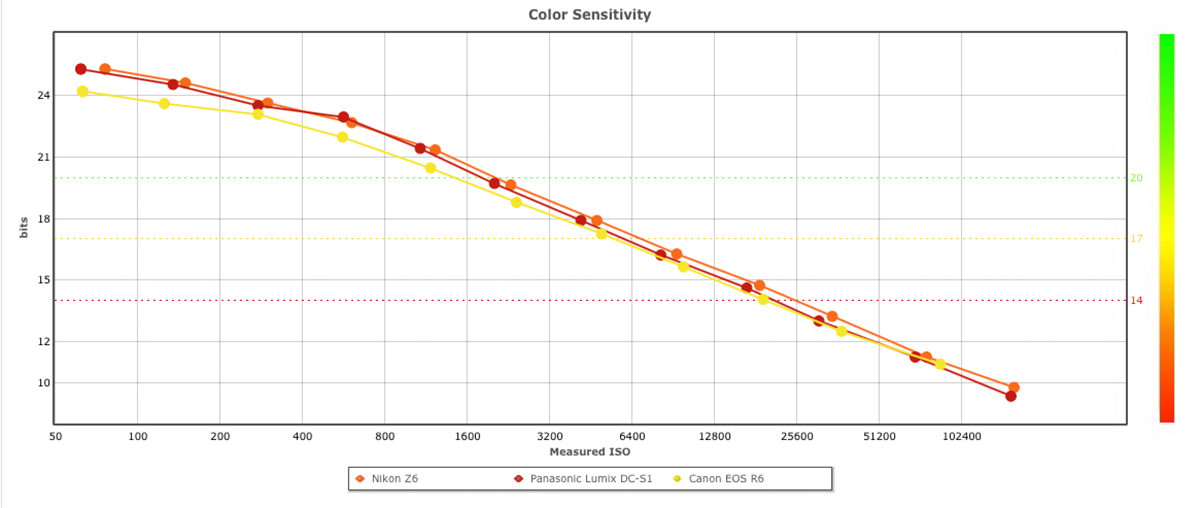 All three cameras in this comparison drop just beneath our 20-bit measurement threshold for good image quality (green dotted line on the graph, above) when set to ISO 3200, while the trio all fall beneath our 14-bit threshold at ISO 25,600. Below that point image quality is considered poor, but that applies to all three.
While the lower color sensitivity hints at slightly higher noise levels in the Canon EOS R6, manufacturers have some leeway when it comes to optimizing one parameter over another.
Landscape (dynamic range)
Measuring over 14 EV at its peak at ISO 100 and below, the Canon EOS R6 has excellent dynamic range. That makes the Canon competitive with the class-leading sensors in the Panasonic Lumix DC-S1 and the Nikon Z6.
Dynamic range is an important metric in sensor performance, however, and the maximum dynamic range is quoted at base, where noise levels are lowest. If you're a sports or action photographer, then the dynamic range is just as important at higher ISOs — perhaps more so, as most modern sensors perform well at low ISOs.
Above base ISO (100 ISO), the Canon EOS R6 sensor continues to offer competitive dynamic range up to and including ISO 400, where it even has a slight (+0.5 EV) advantage over its rivals. Moving above that, the Lumix DC-S1 and the Nikon Z6 have the slightly better response up to ISO 3200, but there's hardly anything in it. And in the ultra-high range of ISO settings there's nothing to differentiate them from one another.
All three in this comparison maintain a dynamic range in excess of 10 EV up to ISO 6400 and stay within our 6 EV minimum at ISO 102,400.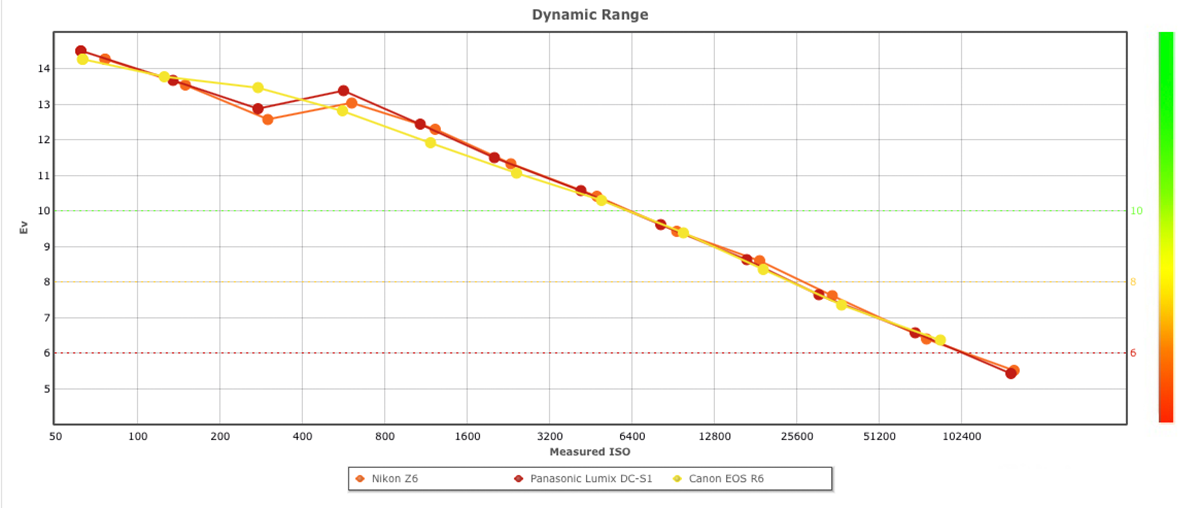 Sports (low-light ISO)
Noise levels are very well controlled on the Canon EOS R6 at mid and high ISOs, where it has a near-identical SNR to the Lumix DC-S1 and the Nikon Z6. From our test results, there's nothing to separate these rivals based on measurement data alone. At lower ISOs below ISO 400, it's more noticeable and the two rivals have the slight edge, at least when normalized to a standard 8×12" inch print at 300 dpi (shown on the graph below). If we compare data derived from RAW files displayed on a computer screen at 100x magnification, then the differences are even less noticeable.
We compute the Sports (low-light ISO) score by taking the highest ISO value at 30 dB, while also maintaining a minimum dynamic range of 9 EV and a minimum color depth of 18 bits. In all this, the Canon EOS R6 sensor is every bit the equal of the sensors in the Nikon Z6 and the Lumix DC-S1.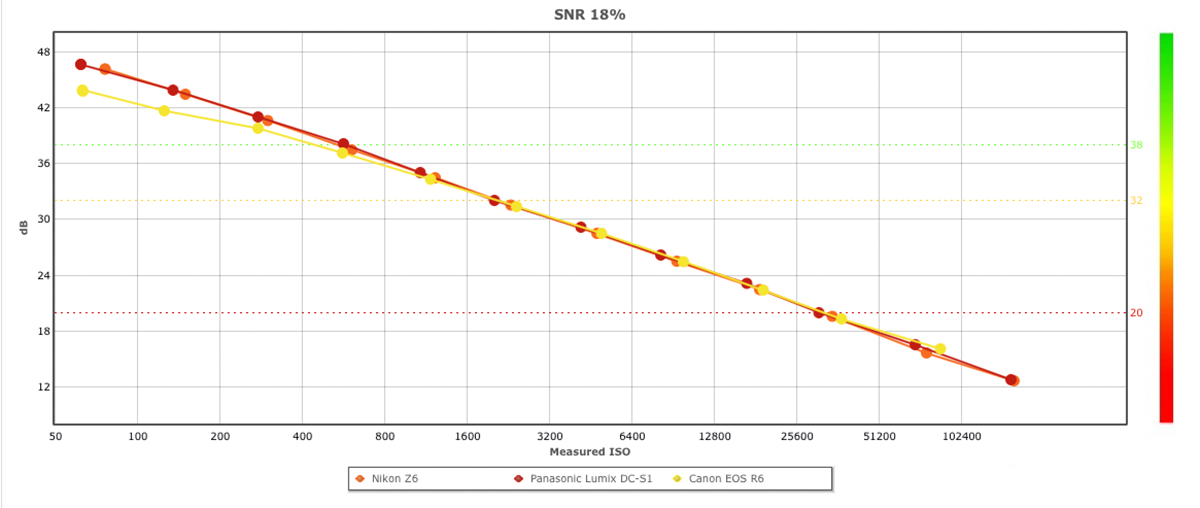 Conclusion
Canon's decision to launch the EOS R6 alongside the more intriguing EOS R5 may have kept the former out of the limelight somewhat, but it's a highly capable camera with competitive specifications. Its body stabilization, super-fast burst rates, solid video specs, and useful dual-pixel AF II all add up to a very well-rounded offering.
While the 20 MP sensor may seem an odd choice, this is a variant of the one found in the flagship EOS-1D X Mark III, and the results are practically identical. It performs well across the board with excellent dynamic range at all ISOs. Add to that the sensor's good color and low noise, and the Canon EOS R6 looks set to be a firm favorite among a wide range of photographers who work across many different genres.
In this review, we have compared the Canon EOS R6 to its most relevant rivals from other brands. As usual, you can create your own comparisons and in-depth analyses using our interactive image sensor ranking tool.