After its first foray into the speaker market with the Sound X,  the Chinese electronics maker Huawei renewed its collaboration with the trendy French audio tech company Devialet to design the Sound Joy.
Huawei's second Bluetooth speaker can count on a rugged design, an IP67 certification (dust-tight and waterproof), and up to 26 hours of battery life. On the audio side of things, the Huawei-Devialet duo promises to "fill every corner of the party" with "powerful bass and singing treble" thanks to a dual "push-push" passive radiator architecture, a silk dome tweeter, and a full-range driver.
We put the Huawei Sound Joy through our rigorous DXOMARK  Speaker test suite. In this review, we will break down how it fared at audio playback in a variety of tests and several common use cases.
Key specifications include:
Speakers: one 50 mm full-range speaker, one 19 mm tweeter, two passive radiators
Weight: 680 g (1.5 lbs)
Dimensions: 7.3 cm (2,9″) x 20.2 cm (8″) x 7.3 cm (2,9″)
Connectivity: Bluetooth (no 3.5 mm jack)
Three microphones
IP67
Up to 26 hours of battery life
Test conditions:
Tested with Motorola for music, Xiaomi Mi TV Box S for movies
Communication protocol used: Bluetooth for both music and movies
About DXOMARK Wireless Speaker tests: For scoring and analysis in our wireless speaker reviews, DXOMARK engineers perform a variety of objective tests and undertake more than 20 hours of perceptual evaluation under controlled lab conditions. This article highlights the most important results of our testing. Note that we evaluate playback using only the device's built-in hardware. (For more details about our Speaker protocol, click here.) The Huawei Sound Joy falls into the Essential category of devices in the DXOMARK Speaker rankings.
Test summary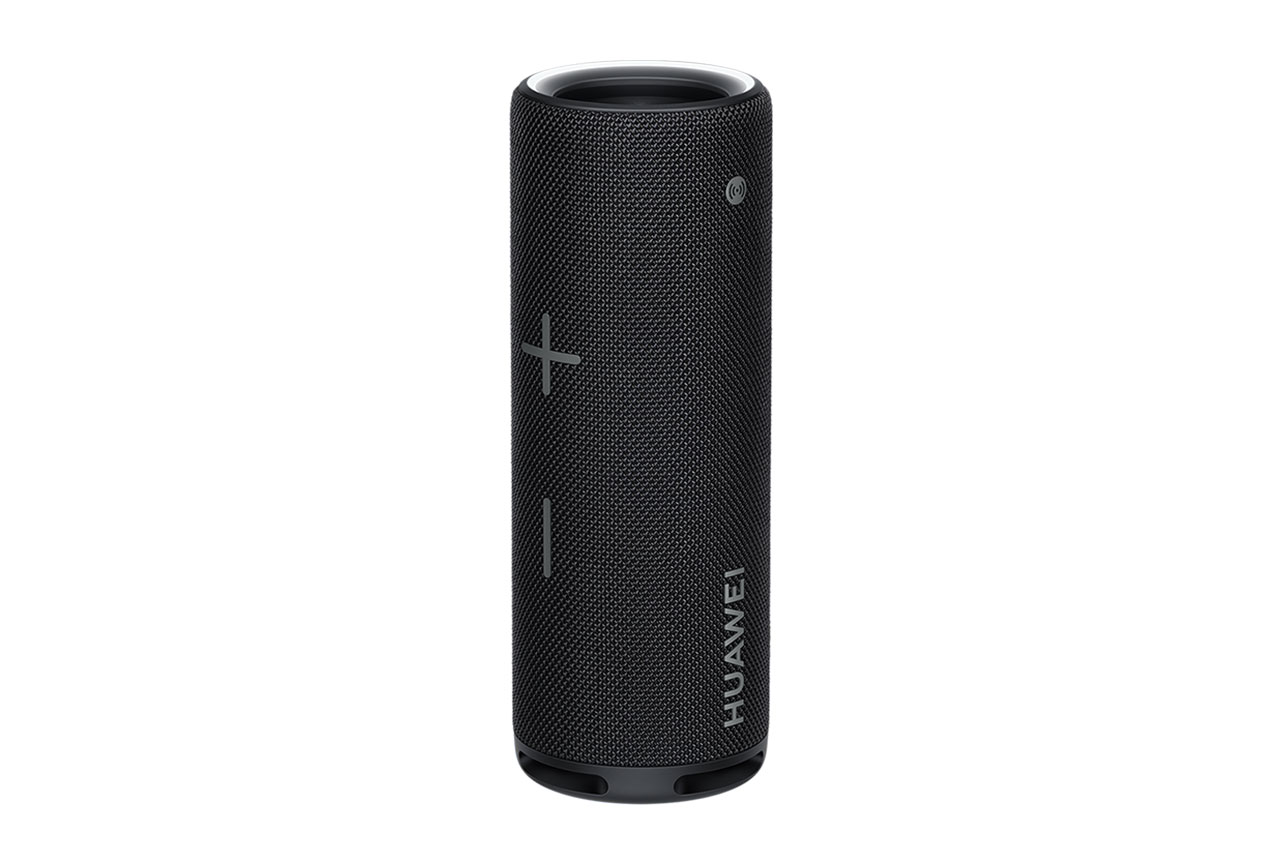 Huawei Sound Joy
103
speaker
Pros
Good high-midrange rendition in movie, offering clarity and presence for voice-based content
Pretty sharp attack at nominal and soft volumes
Decent distance performance
Cons
Boomy and aggressive tonal balance
Monophonic rendering
Maximum volume step is not loud enough compared to similar size devices.
Volume steps are too spaced out
Significant distortion across all use cases and listening levels
The global score of 103 earned by the Huawei Sound Joy puts it toward the bottom in the database of all the speakers tested to date, yet still significantly better than the Baidu Xiaodu Smart Speaker Ultimate Edition at 48, or even the HomePod Mini at 98.
Its performance is mainly hamstrung by severe inconsistencies in the frequency response, such as excessive upper bass and treble on one hand, and recessed low-end and low midrange on the other. The result can also often sound aggressive, even at low volumes. Additionally, the maximum volume isn't on target for its size, and heavy distortion is noticeable on bass frequencies, which also impairs dynamic attributes (punch and bass precision). Finally, note that the Sound Joy is a monophonic speaker. However, Huawei's second speaker is capable of delivering fairly sharp attack and good upper midrange reproduction, allowing voices to cut through the background, thus remaining quite intelligible.
In terms of use cases, its shortcomings prevent the speaker from being a viable choice for partying, friendly gatherings, listening to podcasts before going to bed, or watching movies. On the other hand, thanks to its IP67 certification, its ruggedness, its battery life and the good vocal intelligibility it ensures, it can be an option for a kitchen, a bathroom or an outdoor use.
Sub-scores explained
The DXOMARK Speaker overall score of 103 for the Huawei Sound Joy is derived from a range of sub-scores. In this section, we will take a closer look at these audio quality sub-scores and explain what they mean for the user, and we will show some comparison data from two of the device's competitors, the Sonos Roam and the Sony SRS-XB33.
Timbre
110
Bowers & Wilkins Formation Wedge
DXOMARK timbre tests measure how well a speaker reproduces sound across the audible tonal range and take into account bass, midrange, treble, tonal balance, and volume dependency.
Playback timbre comparison
In most use cases, the Huawei Sound Joy exhibits a fairly unbalanced frequency response: low-end extension and low midrange are both lacking, whereas upper bass and treble are prominent. The emphasis put on the upper bass results in a fairly "boxy" sound, and the exacerbated treble induces an aggressive tone. Additionally, a substantial loss of upper frequencies is noticeable when listening to the device from the sides, which, on the other hand, softens the overall harshness of the sound.
When watching movies, if the speaker lacks both high- and low-end extension, it ensures a reliable midrange reproduction allowing voices to stand out from the background. That said, the excess of upper bass and the amount of bass distortion still impair the overall performance in this use case by making low-frequency sound effects sound blurry and quite unpleasant.
Music playback frequency response
At low volumes, not only does the sonority remain aggressive despite a slight lack of high-end extension, it also becomes nasal due to a lack of bass and low-midrange. Finally, when listening to music at louder volumes, due to the contrast between the excessive treble and the lacking midrange, the device sounds even more aggressive and unnatural.
Dynamics
97
Bowers & Wilkins Formation Wedge
Our dynamics tests measure how well a device reproduces the energy level of a sound source, taking into account attack, bass precision, and punch.
Playback dynamics comparison
From soft to nominal volumes, attack remains fairly sharp. Bass precision and punch, on the other hand, are severely affected by the heavy bass distortion, making all lower-frequency contents sound blurry and unnatural. At louder volumes, sustain is impaired by both dynamic compression and distortion. This makes attack feels disproportionate in comparison to sustain, which makes the sound envelope as a whole sound unrealistic.
Spatial
67
Bowers & Wilkins Formation Wedge
Our spatial tests measure a speaker's ability to reproduce stereo sound in all directions, taking into account localizability, balance, wideness, distance, and directivity. Please note that wideness is 0 on mono speakers and on speakers that cannot deliver a significant stereo effect.
Playback spatial comparison
In the spatial category, the Huawei Sound Joy mainly suffers from the device's monophonic rendering. Localizability is expectedly quite poor, although it gets better if the listener stands closer to the speaker.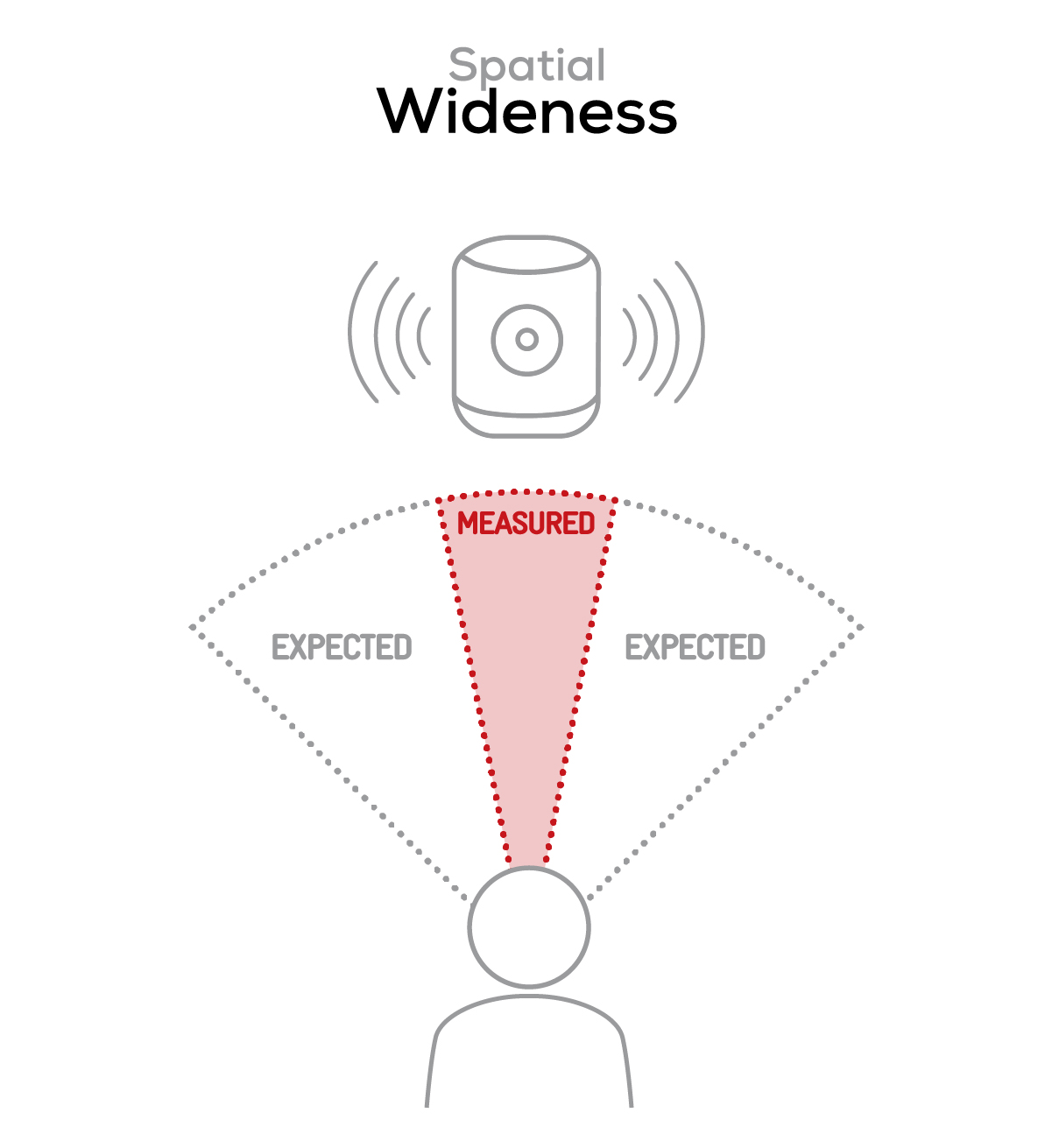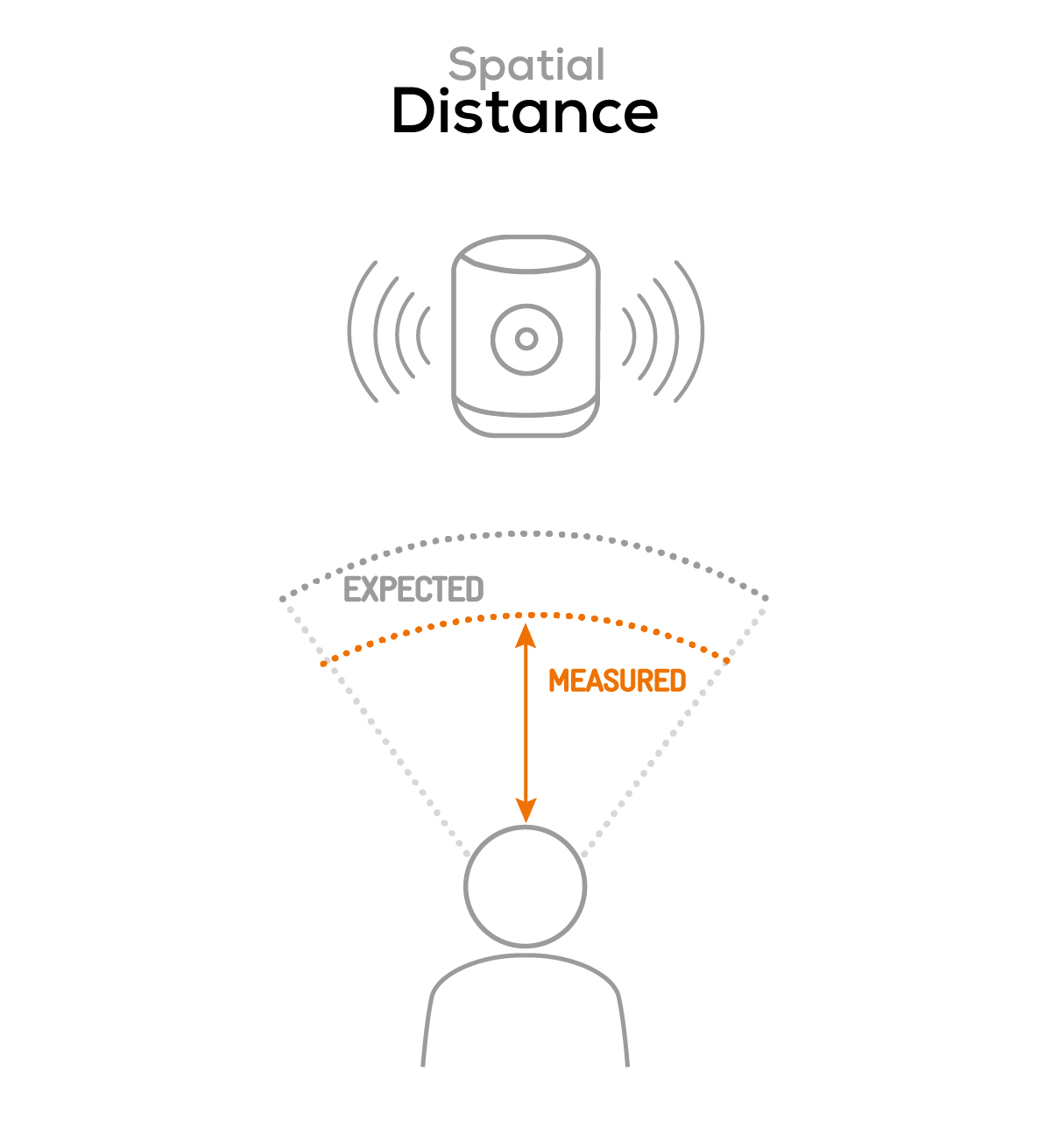 Distance rendering and directivity (the device's ability to evenly distribute sound at 360°) are average. All in all the speaker's spatial sub-scores make it a valid option for kitchen and bathroom use, but not for a friendly gathering or watching movies.
Volume
84
Bluesound Pulse Mini 2i
Our volume tests measure both the maximum loudness a speaker is able to produce and how smoothly volume increases and decreases based on user input.
Playback volume comparison
The Huawei Sound Joy's maximum volume isn't up to par with other devices of similar size and construction. Here are a few sound pressure levels (SPL) we measured when playing our sample recordings of hip-hop and classical music at maximum volume:
| | | | | | | |
| --- | --- | --- | --- | --- | --- | --- |
| | Correlated Pink Noise | Uncorrelated Pink Noise | Hip-Hop | Classical | Latin | Asian Pop |
| Huawei Sound Joy | 85.2 dBA | 84.5 dBA | 80.7 dBA | 78.8 dBA | 81.9 dBA | 74.2 dBA |
| Sony SRS-XB33 | 84.2 dBA | 81.1 dBA | 81.9 dBA | 74.1 dBA | 82.3 dBA | 75.8 dBA |
| Sonos Roam | 80.7 dBA | 78 dBA | 75 dBA | 70.3 dBA | 77.5 dBA | 69.9 dBA |
On another note, incrementation steps aren't consistently distributed across the volume scale: as shown in the graph below, the two uppermost volume steps are capped.
Playback volume consistency comparison
Artifacts
Our artifacts tests measure how much source audio is distorted when played back, along with such other sound artifacts as noise, pumping effects, and clipping. Distortion and other artifacts can occur both because of sound processing and because of the quality of the speakers.
Playback artifacts comparison
In the artifacts domain, the Huawei Sound Joy earns one of the lowest sub-scores of all the speakers we've tested to date, only one point higher than the lowest-scoring device in the category, the Apple HomePod. This is essentially due to the excessive distortion the speaker generates on bass frequencies across all use cases and listening levels. Additionally, at louder volumes, treble distortion also rears its ugly head, inducing a particularly aggressive sonority.
Playback total harmonic distortion
While they aren't as bad, temporal artifacts are also problematic in that at loud volume, punch and attack are both impaired by excessive compression.
Conclusion
The collaboration with Devialet was more fruitful on the Sound Joy's predecessor, the Sound X. This time around, sound reproduction is impaired by excessive bass distortion, significant lack of tonal balance, underwhelming volume performances, and a monophonic rendering. That all said, with its dust-tight and waterproof build along with its sharp frequency response allowing vocal content to cut through the background noise surrounding the listener, the Sound Joy can be a good companion for your everyday activities, whether for singing along in the shower, checking out cooking podcasts, or listening to a talk-show on the go.