The Oppo Find X5 Lite competes in the High-End segment against competition like the Samsung A72, Xiaomi 11T or Redmi K40 Pro+ and offers a 6.43-inch AMOLED display with Full-HD resolution, 8GB of RAM and a MediaTek Dimensity 900 chipset.
The rear camera combines a 64MP primary shooter with an 8MP ultra-wide and a dedicated 8MP macro camera for close-ups. In video mode the camera is capable of recording 4K footage at 30 frames per second.
Let's see how the Oppo Find X5 Lite did in our DXOMARK Camera test.
Key camera specifications:
Primary: 64MP sensor, 24mm equivalent focal length, f/1.7-aperture lens, AF
Ultra-wide: 8MP sensor, 15mm equivalent focal length, f/2.25-aperture lens
Macro: 8MP sensor, f/2.4-aperture lens
4K at 30fps, 1080P at 60fps/30fps (1080p/30fps tested)
About DXOMARK Camera tests: For scoring and analysis in our smartphone camera reviews, DXOMARK engineers capture and evaluate over 3000 test images and more than 2.5 hours of video both in controlled lab environments and in natural indoor and outdoor scenes, using the camera's default settings. This article is designed to highlight the most important results of our testing. For more information about the DXOMARK Camera test protocol, click here. More details on how we score smartphone cameras are available here.
Test summary
Scoring
Sub-scores and attributes included in the calculations of the global score.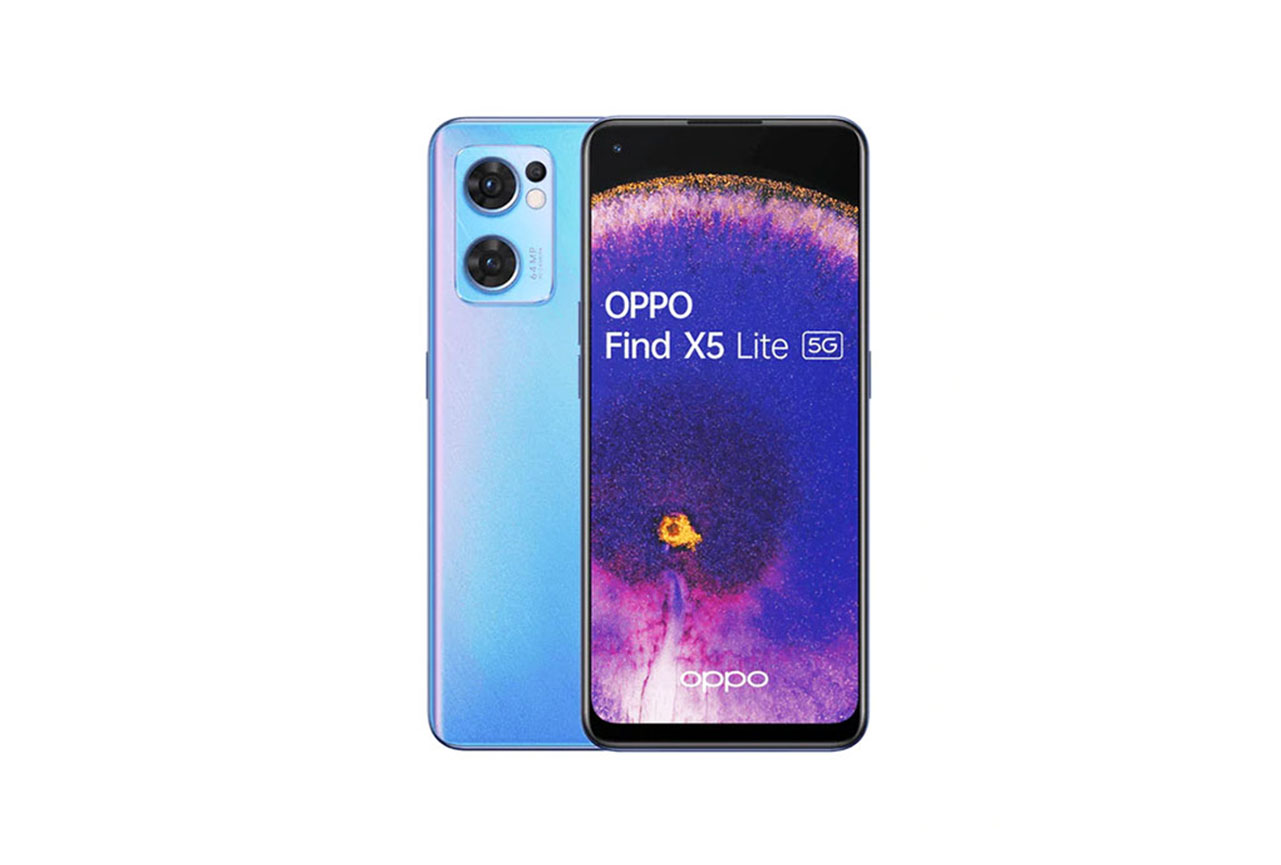 Oppo Find X5 Lite
95
camera
Use cases
Use case scores indicate the product performance in specific situations. They are not included in the overall score calculations.
Outdoor
Photos & videos shot in bright light conditions (≥1000 lux)
Indoor
Photos & videos shot in good lighting conditions (≥100lux)
Lowlight
Photos & videos shot in low lighting conditions (<100 lux)
Please be aware that beyond this point, we have not modified the initial test results. While data and products remain fully comparable, you might encounter mentions and references to the previous scores.
Position in Global Ranking
55
th
3. Apple iPhone 13 Pro Max
141
8. Samsung Galaxy S22 Ultra (Snapdragon)
135
12. Apple iPhone 12 Pro Max
131
12. Samsung Galaxy S22 Ultra (Exynos)
131
19. Asus Smartphone for Snapdragon Insiders
127
21. Vivo X70 Pro (MediaTek)
126
31. Samsung Galaxy Z Fold3 5G
120
31. Samsung Galaxy S22 (Exynos)
120
33. Samsung Galaxy S21 Ultra 5G (Snapdragon)
117
33. Samsung Galaxy S21 FE 5G (Snapdragon)
117
33. Samsung Galaxy S21 5G (Snapdragon)
117
38. Vivo X60 Pro 5G (Snapdragon)
116
44. Samsung Galaxy Z Flip3 5G
111
44. Samsung Galaxy S21+ 5G (Exynos)
111
44. Samsung Galaxy S21 5G (Exynos)
111
48. Vivo X60 Pro 5G (Exynos)
108
53. Apple iPhone SE (2022)
100
59. Samsung Galaxy A52s 5G
88
59. Samsung Galaxy A52 5G
88
64. Xiaomi Redmi Note 11S 5G
65
70. Samsung Galaxy A22 5G
48
Position in High-End Ranking
4
th
3. Apple iPhone SE (2022)
100
7. Samsung Galaxy A52s 5G
88
Pros
Good exposure in bright light on primary camera
Wide dynamic range in bright light and indoors for photo and video
Good exposure at all tele ranges
Preview image on display close to final capture
Fairly neutral white balance in video
Cons
Lack of saturation results in unnatural skin tones
Exposure instabilities in bright light and indoors
Lack of detail in photo and video
High noise levels in low light video
Moving texture artifacts in video
Ineffective video stabilization when walking or running
With a DXOMARK Camera score of 106 the Oppo Find X5 Lite delivers an average performance for a device in the High End segment. The camera produces well exposed images when the light conditions are not too challenging. However, photos suffer from a lack of saturation and detail as well as exposure instabilities across consecutive shots and some image artifacts. Overall results are quite similar to previous Oppo phones in this class, for example the Find X3 Lite or Reno 6.
Still images tend to be well exposed in bright outdoor light and indoors but in low light exposure drops quickly. A fairly wide dynamic range ensures good detail in highlights and shadows but instabilities are visible across consecutive shots. Images also lack saturation which results in unnatural skin tones, and we also observed a lack of detail in most captures. Ghosting and fusion artifacts can be noticeable, too, and in low light using the flash will typically get you better results than flash-off mode.
In this graph you can see that exposure is good in bright light and under indoor conditions but drops off in low light.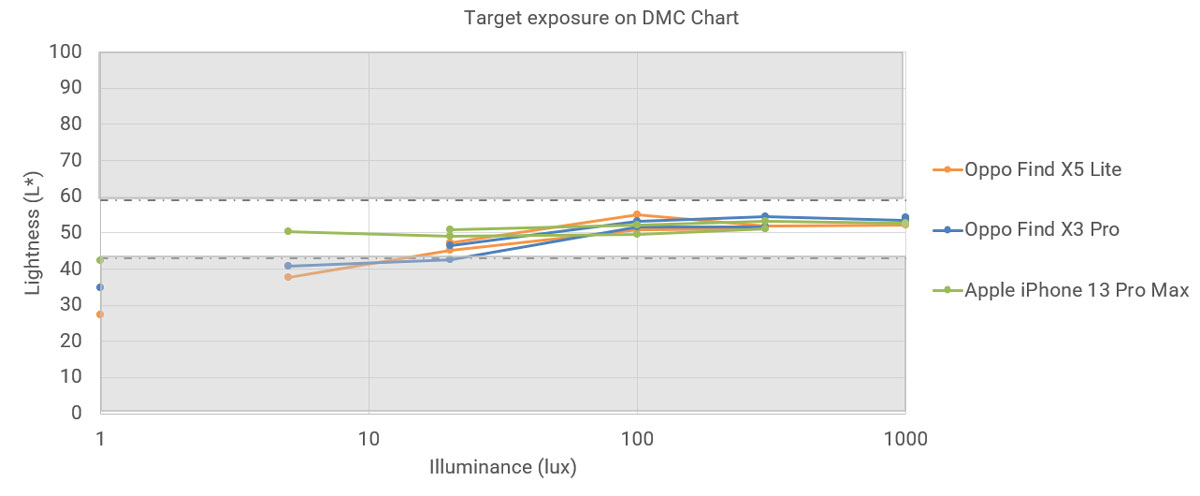 This graph shows lightness measured on the portrait crop of the DMC chart against the light level (in lux). The white area represents the region where the lightness is considered correct.
At 16mmThe Oppo's ultra-wide camera offers a narrower field of view than many competitors. We also found dynamic range to be more limited and texture levels to be lower than on many devices in its class. On the plus side target exposure is generally accurate and image noise is fairly well under control.
When zooming in at close range detail is decent and on a similar level as the competition. However, at medium and long range settings we can see a noticeable loss of detail, especially in low light. The camera does well for tele exposure as long as you don't shoot in low light but again dynamic range is more limited than on some competitors. Our testers also observed some white balance casts in low light and inaccurate color rendering.
When recording video the resulting footage shows a fairly wide dynamic range under outdoor and indoor condition. Exposure is pretty accurate as well but we did observe some instabilities. Video clips lack fine detail and under indoor lighting noise becomes noticeable, too. Our testers also observed autofocus convergence issues and instabilities in indoor and outdoor conditions. When walking or running while recording video stabilization is not doing a good job and a lot of camera motion is still noticeable.
In low light video performance is very poor and video footage shows a strong lack of detail and noise. The dynamic range is limited, resulting in highlight and shadow clipping, and the autofocus can lock on the wrong target and is generally unstable, especially in high-contrast scenes.
This sample clip shows good exposure and accurate white balance. However, we can also see exposure adaptation and autofocus issues. More fine detail is lost on the subject's face than on the comparison devices while the level of noise is similar. There are also some moving texture artifacts in the clouds.
Oppo Find X5 Lite, good color but exposure and and autofocus adaptation issues, noise on face
Oppo Find X3 Pro, wise dynamic range and nice color, noise well under control
Apple iPhone 13 Pro Max, limited dynamic range, noise on face