The Oppo Reno6 Pro 5G is (in most regions) the top model in Oppo's Reno6 series and comes with high-end specs in most areas. The Android operating system is powered by a Qualcomm Snapdragon 870 chipset and 12GB of RAM. Image and video files can be stored on 256GB of internal memory and pictures can be viewed on a 6,5-inch AMOLED display with FHD+ resolution.
In the rear camera the primary module uses a 50 MP sensor that sits behind a stabilized lens. For zooming in or out, there are a 13 MP tele camera and a 16 MP ultra-wide. Video mode allows recording of 4K footage at up to 60 frames per second, and there is also a dedicated macro camera for close-ups that is not covered by our test protocol. Let's see how the Reno6 Pro 5G does in our DXOMARK Camera tests.
Key camera specifications:
Ultra-wide: 16 MP sensor, f/2.2-aperture, fixed focus
Tele: 13 MP sensor, f/2.4-aperture, AF
Macro: 2 MP sensor, f/2.4-aperture lens, fixed focus
LED flash
Video: 4K at 30/60 fps, 1080p at 30/60 fps
About DXOMARK Camera tests: For scoring and analysis in our smartphone camera reviews, DXOMARK engineers capture and evaluate over 3000 test images and more than 2.5 hours of video both in controlled lab environments and in natural indoor and outdoor scenes, using the camera's default settings. This article is designed to highlight the most important results of our testing. For more information about the DXOMARK Camera test protocol, click here. More details on how we score smartphone cameras are available here.
Test summary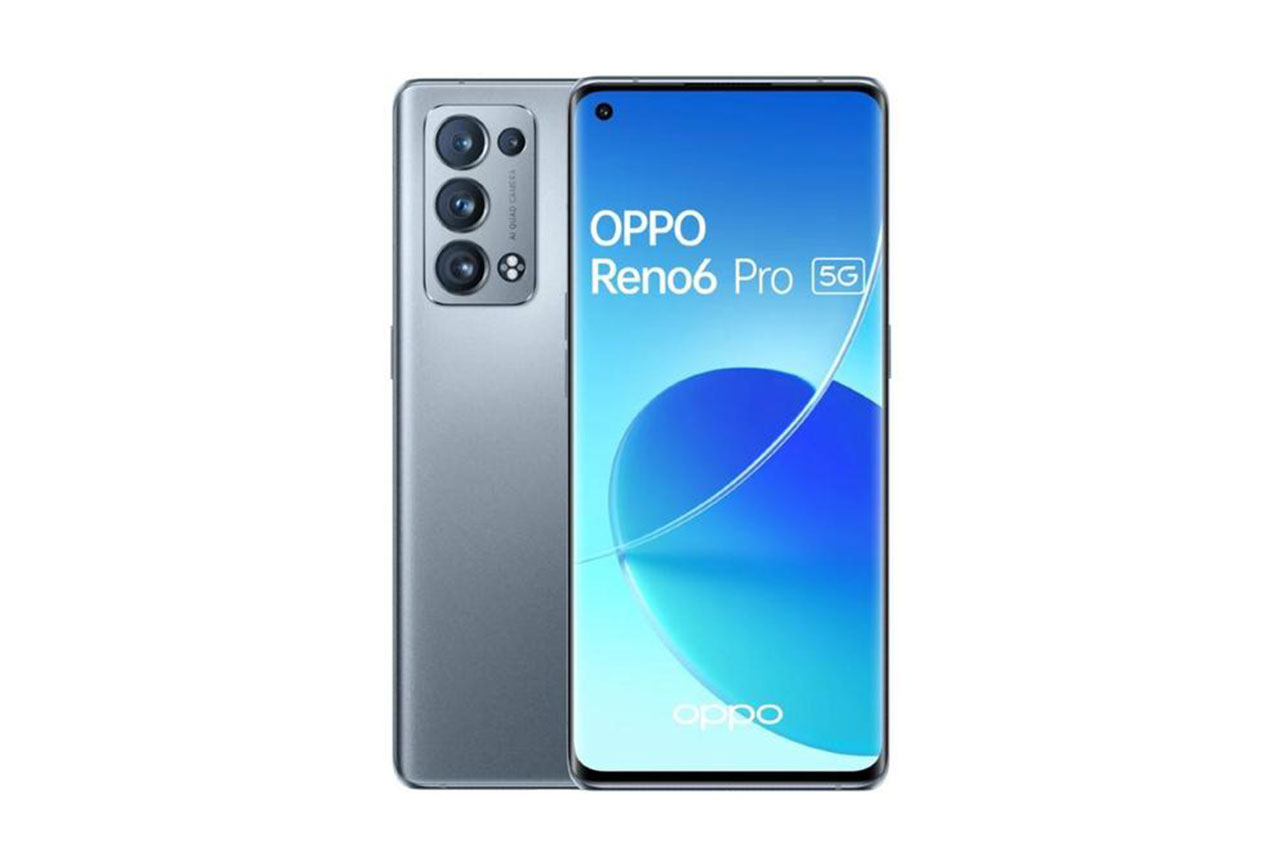 Oppo Reno6 Pro 5G
121
camera
Pros
Good detail in photo and video, especially in bright light and indoor conditions
Accurate and repeatable autofocus
Good exposure in bright light and indoor conditions for photo and video
Nice bokeh simulation effect
Stable video white balance
Video autofocus reacts and converges swiftly
Cons
Limited dynamic range for photo and video, exposure instabilities for photo
Image noise at all light levels for photo and video
Noise and loss of fine detail at all tele photo settings
Ineffective video stabilization
With a DXOMARK Camera overall score of 121 the Oppo Reno6 Pro 5G makes it into the upper regions of the Premium segment ($600-$799), sandwiched between the Google Pixel 5 and iPhone 12 mini. Overall camera performance is very close to the China-exclusive Reno6 Pro+ 5G, which has very similar hardware and which we tested previously.
When shooting still images, the Oppo Reno6 Pro 5G usually delivers good exposures in bright light and under indoor conditions, but dynamic range can be limited, resulting in clipping of the brightest and/or darkest areas of the frame. The autofocus tends to work reliably, but depth of field is pretty narrow, so subjects in the background can be slightly out of focus in group images. When things are in focus, the level of detail is high, but on the downside, noise becomes a little intrusive in indoor shots and in low light.
Our testers also found some image artifacts, including ringing and ghosting, and while the simulated bokeh effect in portrait mode is overall quite natural, some depth estimation artifacts are usually visible around the subject.
The device drops off a little in the Zoom category. It's by no means bad, but some competitors offer better results in this area. On the ultra-wide camera, our testers found some loss of detail, noise, and anamorphosis (perspective distortion towards the edges of the frame). The tele lens is capable of good exposures, but images lack detail, and noise is quite intrusive. Overall results are again very similar to the Oppo Reno6 Pro+ 5G.
When recording video, the resulting clips show good exposure but, like for stills, dynamic range is limited and clipping can occur. We also often found hue shifts close to clipped areas, for example, blue skies turning cyan. The camera captures good detail as long as you don't shoot in low light but noise is also quite intrusive. Clips show nice color with stable white balance and the autofocus performs fast and accurately in video mode. Stabilization has room for improvement, with camera shake quite noticeable when walking while recording.
The image stabilization system cannot eliminate all camera shake when walking while recording.