The Panasonic Lumix DC-GH5 II (GH5M2) is the update to the original DC-GH5. It adds a new processor, improves autofocus, and expands on the range of video features its predecessor was known for. It adopts a familiar body and it has a 20.3 MP Four Thirds Live MOS sensor similar to that of the GH5, though with a new anti-reflective (AR) coating to reduce flare and ghosting, and to minimize light loss from reflection.
With a strong leaning towards video like the original, the GH5 II can now capture full-width cinema 4K/4K UHD 4:2:0 10-bit up to 60p and simultaneously output 4K 4:2:2 10-bit over HDMI. In addition there's C4K/4K UHD 4:2:2 10-bit up to 30p recording internally, pre-installed V-log L for easier grading and no recording time restrictions.
Further tweaked features include 5-axis dual image stabilization (I.S.2) up to 6.5-stops (from 5 stops), a 3.68 M-dot OLED display, a 0.76x (equiv.) viewfinder with a higher refresh rate of up to 120 fps and a new tilting 3.0", 1.84 M-dot touch-sensitive LCD with improved color and luminosity when used outdoors. Another welcome addition is a new high-capacity 2200 mAh battery, which can be charged via USB-C.
The camera has two SD UHS-II card slots. There's also full-size HDMI and USB 3.1 Type C with external charging, plus Wi-Fi and Bluetooth for camera control and image sharing including wireless live streaming (using the RTMP/RTMPS protocol).
Key specifications
20.3 MP Four Thirds Live MOS sensor
5-axis image stabilization, now up 6.5 stops
225-point DFD AF, Advanced Subject Detection
Native ISO 200-25,600, with expansion to ISO 100
Overall performance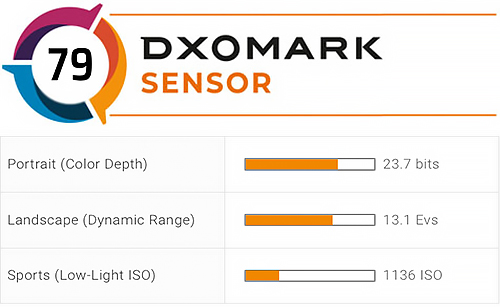 Click on the score chart above to open the Panasonic Lumix DC-GH5 II product page.
The Panasonic Lumix GH5 II achieved an overall sensor score of 79, which puts it in 102nd position in our overall sensitivity ranking (which includes medium format, full format, APS-C, and Four Thirds sensors). The GH5 II comes in 2nd place for Four Thirds cameras currently in our database, just fractionally behind the Olympus OM-D E-M1 Mark II (we've not yet tested the newer Mark III).
The Lumix GH5 II sensor has excellent though not class-leading maximum color depth for a Four Thirds size sensor, and is especially impressive at high ISO settings. Dynamic range is also excellent at its native base of ISO 200, plus there's an impressive uplift in DR at high ISOs. High color sensitivity and wide DR at high ISOs has a knock-on effect in our computed low-light ISO (Sports) category, helping the Lumix GH5 II achieve a relatively high (but still not quite class-leading) score for a Four Thirds sensor of ISO 1136.
In-depth comparisons
As previously mentioned, the Panasonic Lumix GH5 II has a similar 20.3 MP sensor to the outgoing GH5, so this makes for an obvious comparison. We've also chosen to compare it to the Olympus OM-D E-M1 Mark II, which has a similar 20 MP sensor.
Portrait (color depth)
The Panasonic Lumix GH5 II outperforms the original GH5 for color sensitivity at every ISO value except at the extended ISO 100 setting. While it's practically identical at ISO 100, it is slightly less (23.7 bits vs 23.9 bits) than the original. However, the GH5 II has the advantage of a slightly higher ISO sensitivity at ISO 100, measured at ISO 76 vs ISO 60, and by having the same result (23.7 bits) at ISO 200. Most impressive is the response after ISO 400 through to ISO 12800, where it ranges from an impressive 2 bits of better color sensitivity at ISO 800 to an astonishing 4 bits higher at ISO 6400.
From ISO 100 to ISO 800, the Olympus more or less matches the Lumix GH5 II, but after that the OM-D E-M1 Mark II's color sensitivity follows the same trajectory as the original GH5's, albeit with a slight edge — but still far short of the new Lumix GH5 II's.
The Lumix GH5 II images just dip beneath our high quality range when set at ISO 3200 (measured 1801 ISO), and they stay well above the 14-bit threshold — just under 17 bits at ISO 1280 (measured ISO 7622).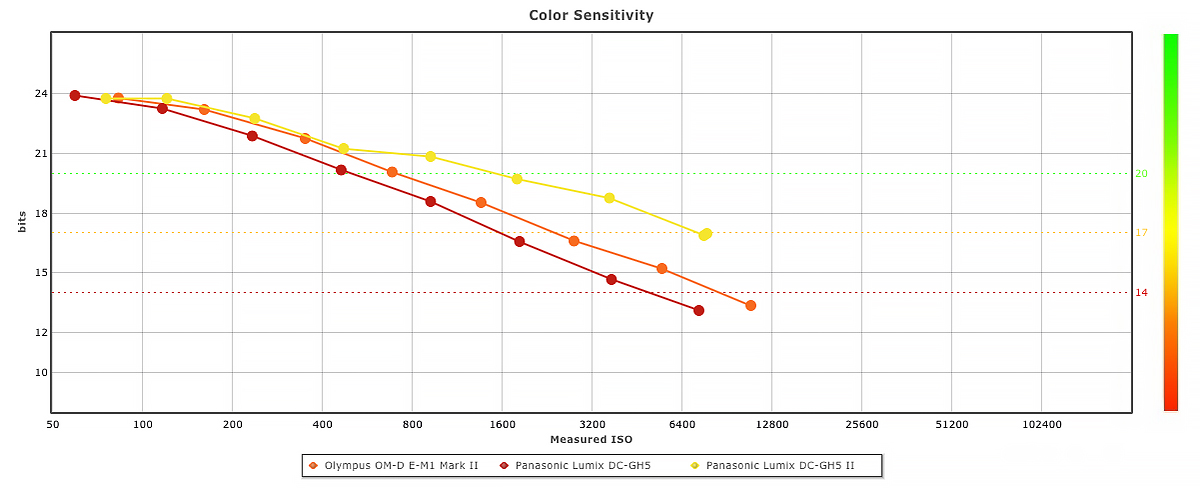 Landscape (dynamic range)
At its lowest (extended) ISO setting, the Lumix GH5 II captures just slightly less dynamic range than its older sibling (12.83 vs 13.00 EV). However, it does so with the theoretical benefit of around a 1/3 stop increase in sensor sensitivity (ISO 76 vs ISO 60 — but this is at ISO 100 only; the two have practically the same measured sensitivities at higher native ISOs).
More relevant of course is the difference between the extended ISO 100 setting and ISO 200, where the dynamic range increases by 1/4 of a stop over the extended setting to 13.09 EV, which shows there's a small advantage to keeping to the native ISO 200 setting. What's more, this equates to a 1/3 stop over the original GH5 (at ISO 200). Between ISO 800 and ISO 1600 (manufacturer's settings), a second gain results in a significant widening of mostly one stop in dynamic range over the original GH5 at every ISO setting thereafter (and pushes nearly 1.5 EV or one and a half stops at ISO 6400).
Compared to the aging but still current Olympus OM-D E-M1 Mark II, the improvement in DR is less at these high ISOs. Even so, the Lumix GH5 II maintains a comfortable advantage of around 1/3 stop at ISO 1600 to 3200, rising to 2/3 of a stop (0.6 EV) at ISO 6400.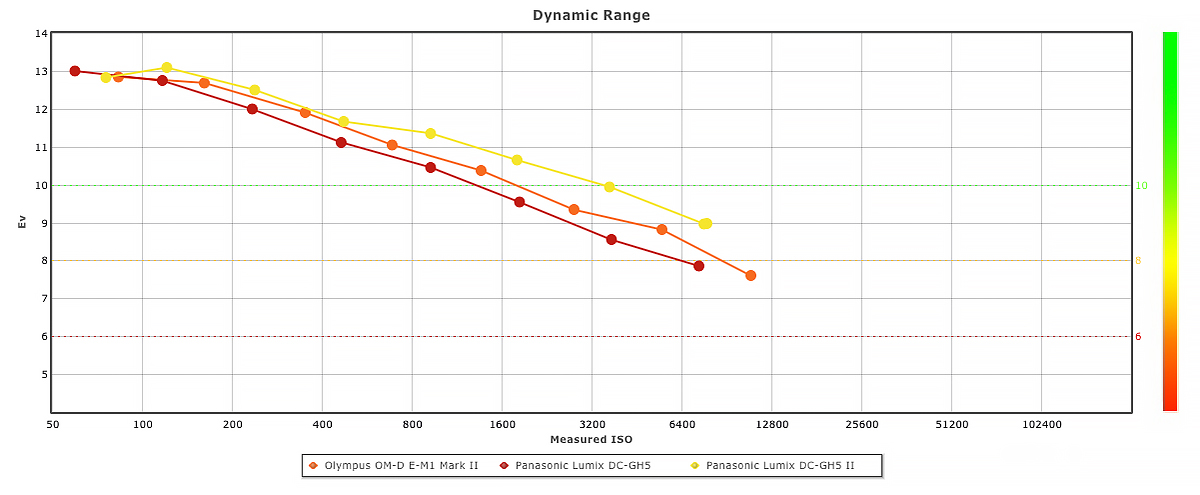 Sports (low-light ISO)
With better color sensitivity and dynamic range at high ISOs, you would expect the Lumix GH5 II to see this reflected in its Sports score, and it is indeed higher than the original GH5. The new updated model has a little over a +0.3 EV advantage at 30 dB (where we compute the low-light ISO score) over the original. However, it is the Olympus OM-D E-M1 Mark II that has the slightly better result here, equating to an advantage of just over +0.2 EV, thanks to its lower measured ISO throughout the sensitivity range. While it's a relatively small difference at each setting, this typically translates into lower noise and is the reason why the Olympus is slightly ahead in our rating.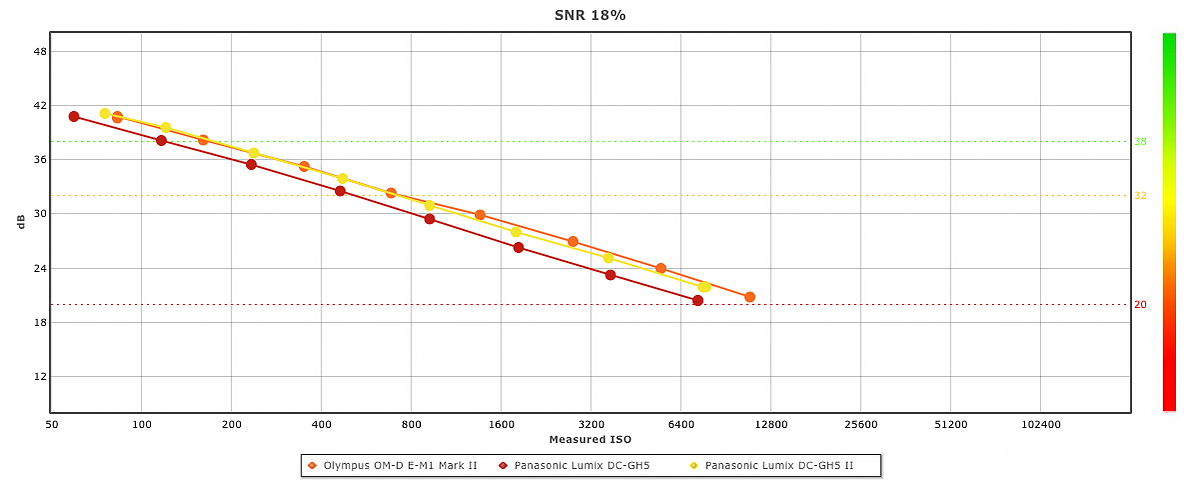 Conclusion
The original GH5 had been showing its age lately, and while the launch of the GH5 II was overshadowed somewhat by the announcement of the GH6, the GH5 II as an interim model sees some welcome updates — and not just to its video specs. Although the sensor appears to be similar to the original, the addition of an AR coating has resulted in enhanced transmission by reducing reflection. This in turn appears to have improved the overall sensor SNR, leading to welcome gains in color sensitivity and dynamic range, notably at high ISO settings. Couple that with a lower list price at the time of announcement compared to the original model and the GH5 II seems like a highly compelling update, and that's regardless of the incoming, more pro-oriented GH6, which is sure to be much more expensive.
In this review, we have mentioned the Panasonic Lumix DC-GH5 II's most relevant rivals from other brands. As usual, you can compare it with these and with other models and create your own comparisons and in-depth analyses using our interactive image sensor ranking tool.