Designed for Panasonic's Lumix S series of full-frame mirrorless cameras featuring the L mount, the Lumix S 85mm F1.8 is a medium-speed fixed focal length lens for portraiture and indoor events such as sports or press calls.
The optical design features 9 elements arranged in 8 groups, including two ED (extra-low dispersion) elements to help control chromatic aberration.
With the idea of also appealing to videographers, the 85mm is the first of four f/1.8 primes from Panasonic that will share a number features, such as physical and filter size and control placement. In addition, the lens has a mechanism to mitigate focus breathing.
This Lumix S-series prime also features a dust- and moisture-resistant design and is relatively compact and lightweight.
You can view the results for all tested lenses and create your own comparisons and in-depth analyses using our interactive image lens comparison tool.
Key specifications:
Nine elements in 8 groups
Two ED elements
Nine-bladed rounded aperture
Linear AF motor
Dust- and moisture-resistant
67 mm filter thread
Minimum focus distance: 0.8 m (2.62 ft)
Weight: 335 grams (12.5 oz)
Test results
We tested the Lumix S 85mm F1.8 on the high-resolution Panasonic Lumix S1R; the camera with its 47 MP sensor and the lens together achieved a DXOMARK score of 41. This new lens has very high sharpness at almost all apertures, especially wide open at f/1.8.
Short telephoto lenses like this rarely display distortion and this isn't so very different, with relatively low levels measuring -0.2% — in other words, some slight barrel distortion.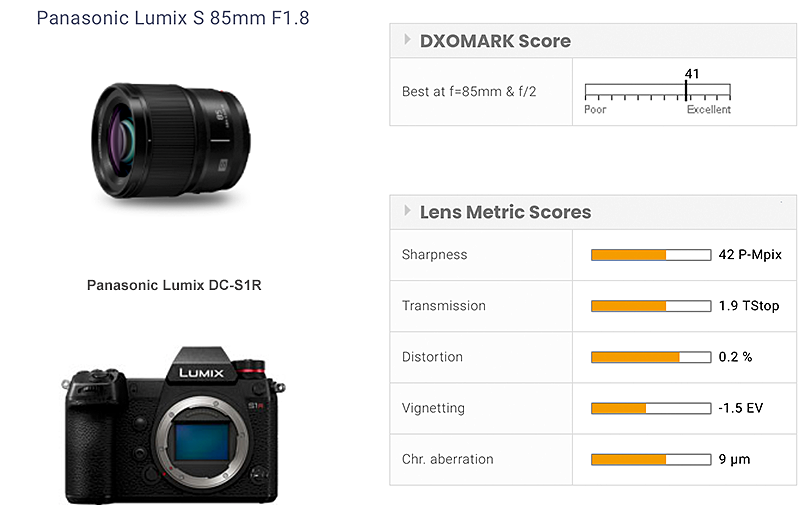 Vignetting generally is well controlled throughout, albeit with a maximum of -1.5 EV at the initial aperture in the extreme corners. It also has excellent transmission, measured at just 1.9 TStop. Where this lens is a little weak is in its control of lateral chromatic aberration, especially over the f/5.6 to f/22 range, where the fringing measured up to 9 µm on average.
Overall this lens is a a very good performer. As always, though, it's worth looking through the more detailed data to see how the lens performs at different aperture settings.
In-depth comparisons
In this review we've compared the Panasonic Lumix S 85mm F1.8 with rival model Sony FE 85mm F1.8 on the 47 MP Sony A7R II, an older model but akin to the Panasonic Lumix S1R in pixel count. The Sony is competitively priced and includes a customizable button which is a useful feature found mostly on higher-end models. We've also compared the Panasonic lens with the Nikkor Z 85mm F1.8 S on the 47 MP Nikon Z 7, which is priced at around the same level as the Panasonic.
You can see an overview of this comparison in our database.
Sharpness
On the high-resolution Lumix DC-S1R, the Panasonic Lumix S 85mm F1.8 performed very well in our sharpness (acutance) testing. It has excellent sharpness at virtually every aperture and has very high sharpness at the initial aperture of f/1.8, achieving just over 80% acutance in the center, falling to just under 75% out to the corners. However in the outer field, starting at the 70% field position (shown in the graph below), some astigmatism-like behavior is noticeable. At that aperture it's similar in sharpness to the Nikkor and the Sony in the center. At the edges it's sharper than the Sony, though still not quite at the Nikkor's level there.
Stopping down to f/2.8-f/4 sees the Panasonic's sharpness improve slightly to its peak. It's also more uniform in sharpness across the field, albeit with the astigmatism-like behavior still visible. Stopping down further sees the uniformity improve, though with a slight incremental decrease in sharpness (acutance) at each aperture. It's mostly on par with its rivals in this comparison, though the Sony's slightly higher central sharpness persists through the aperture range all the way to f/22.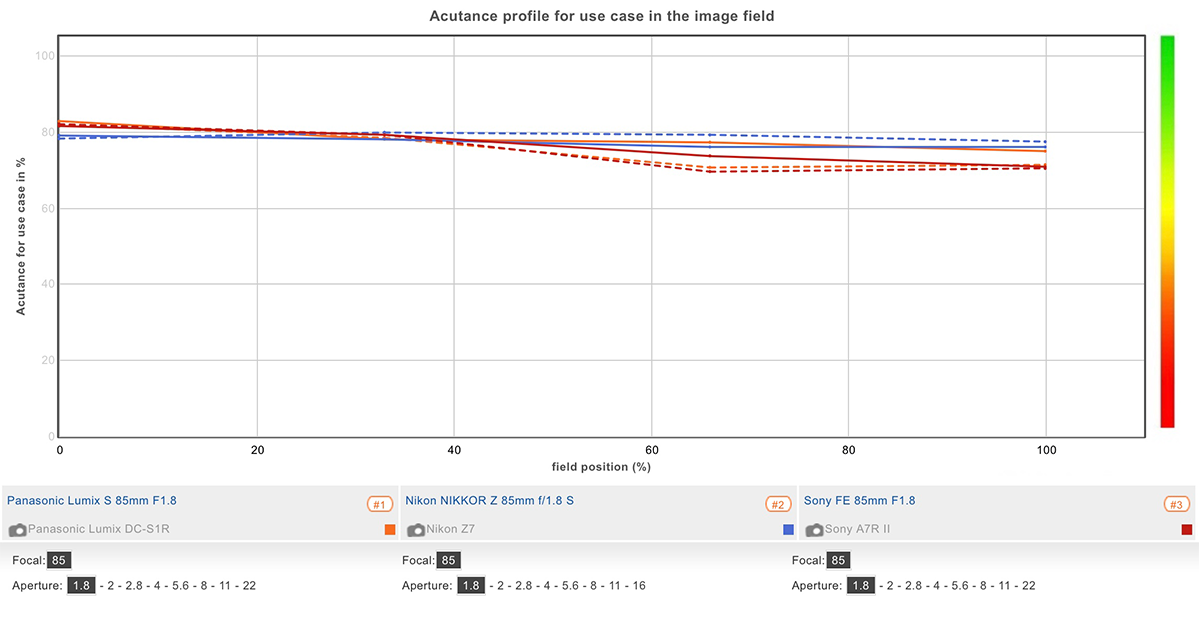 Chromatic aberration
Lateral chromatic aberration (LaCA) appears in the image plane usually starting mid-field (around the 60% field position in our graph) and progressively widens in the outer field and corners. In this regard the Panasonic is generally well controlled, with LaCA more noticeable from the 80% field position and outwards. In our tests this fringing becomes noticeable at around f/5.6, but is easily corrected via software. The best of the three is the Nikkor, but even the Sony with its single ED element is somewhat better controlled than the Panasonic.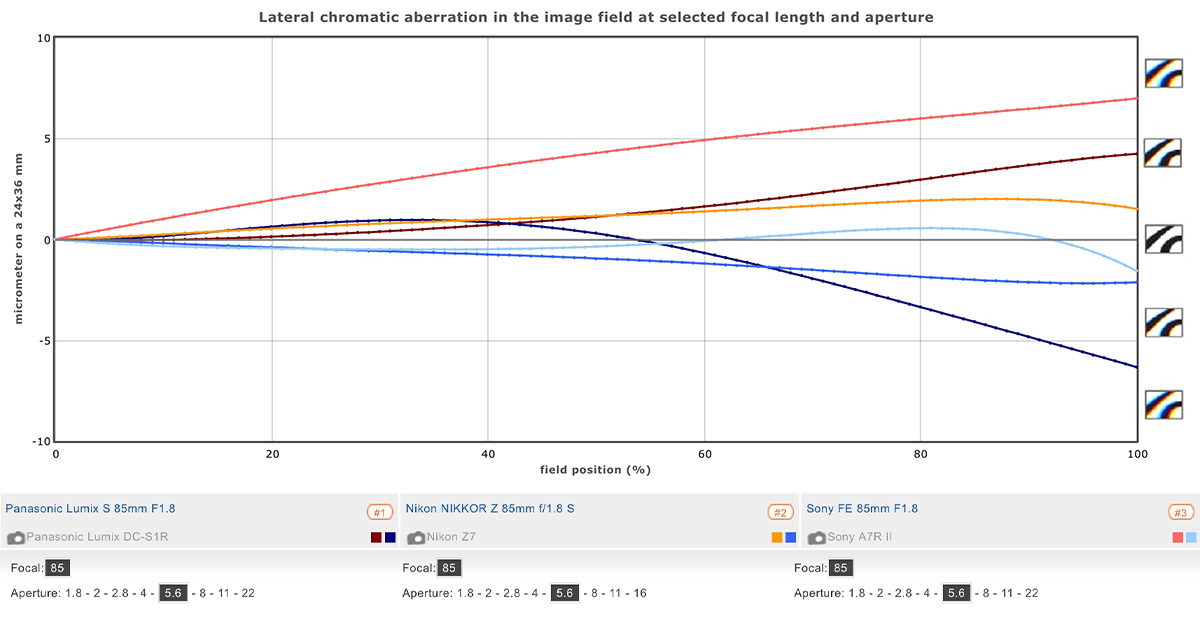 Geometric distortion
Correcting geometric distortion in-camera or via software can stretch an image and affect the sharpness, so it's best to have a well-corrected lens in the first place rather than rely on a correction profile. The Panasonic Lumix S 85mm F1.8 keeps distortion well under control with just slight barrel (-0.2%). With some slight pincushion distortion, the Nikkor is lower still, which goes to show how well corrected this lens is. And even though the Sony is a little higher than the others in this comparison, all three still exhibit very low levels.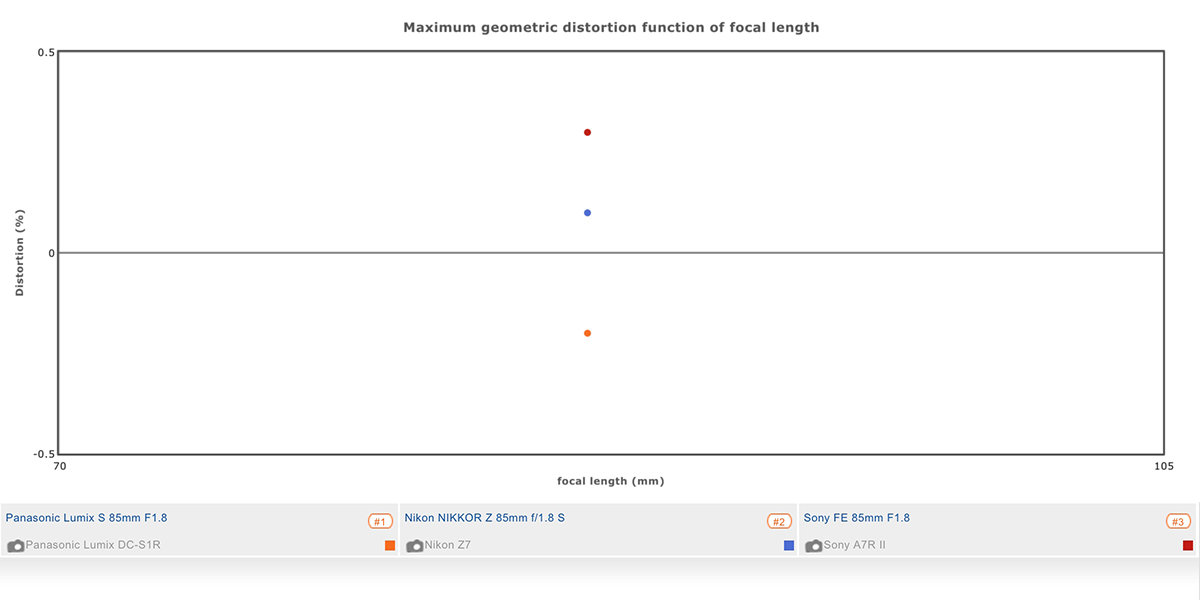 Vignetting (corner shading)
While seemingly innocuous, vignetting can be troublesome to correct, especially at high ISOs, with large adjustments leaving unwelcome noise. Shading in the Panasonic peaks in the corners at -1.5 EV wide open, though that's in the extreme corners — at around the 80% field position it's just -1 EV. Visually, the effect is similar to the Nikkor Z 85mm and Nikon Z7 combination, though the Nikkor's maximum shading is lower at just -1.1 EV in the corners. The Sony exhibits the heaviest vignetting with up to -2 EV into the corners, and with a usually less desirable, smaller central core left unaffected by shading.
By f/4, all shading is mitigated compared to the Nikon at f/2.8, however, it never really clears up at all in the Sony.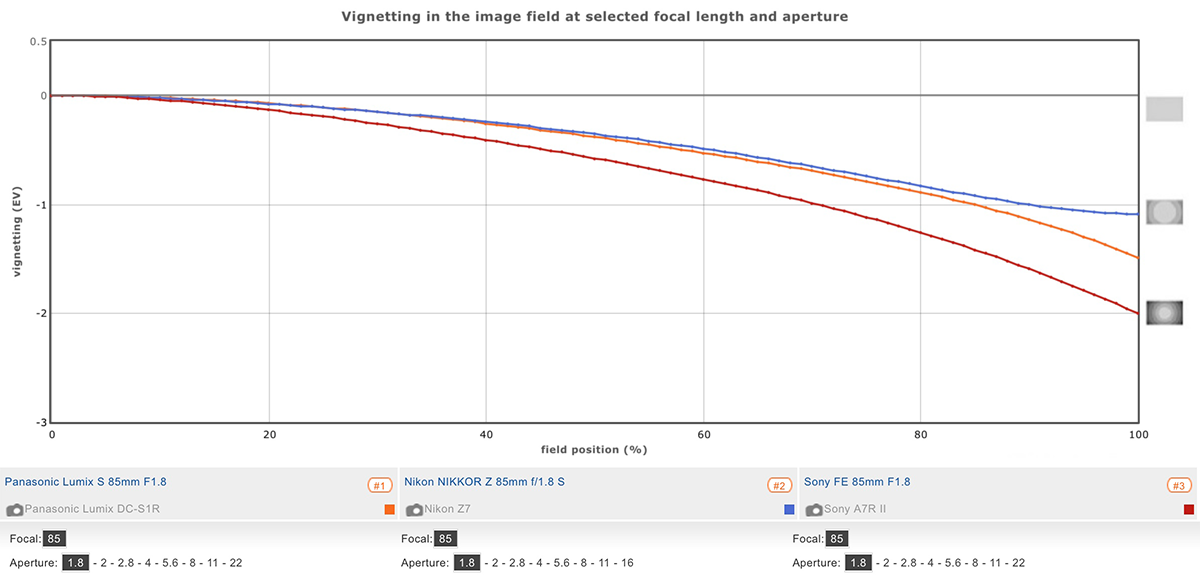 Transmission
This is useful to know if you're using your lenses for videography, but knowing the transmission isn't much of a concern for photographers. Even so, it's interesting to know how effective the coatings are, and it may even impact how a lens handles flare and ghosting. The Panasonic lens has good transmission and is at the same level as the Nikkor on the Z7 at T1.9. However, the best performer of the three here is the Sony, measured at T1.8 on the A7R II.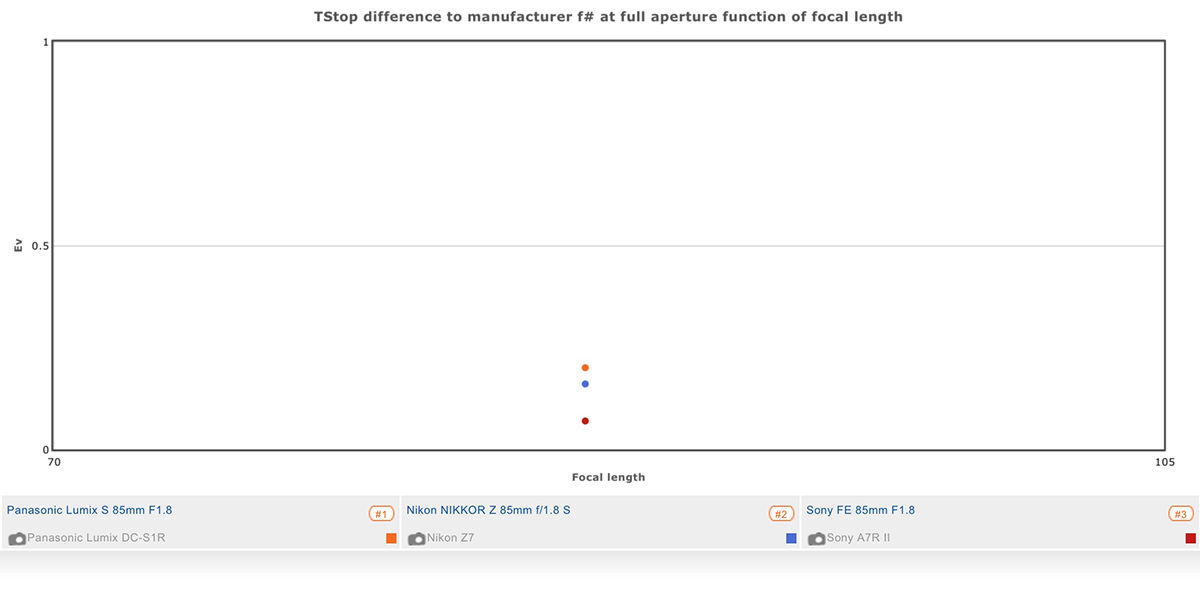 Conclusion
Panasonic is well known for its Micro Four-Thirds system but less so for its full-frame models. It will take time to become established, but introducing a range of relatively affordable f/1.8 lenses seems sound. As for the optical quality, this 85mm F1.8 model is notable for its high sharpness at most apertures, especially the initial aperture. But there's more to optical quality than that. In our tests we found it's not quite as well-corrected as some of its closest rivals — it has high levels of lateral fringing, for example. Still, it's a reasonably priced lens and a solid performer overall.
In this review, we have compared the Panasonic Lumix S 85mm F1.8 mounted on a Panasonic Lumix DC-S1R to its closest rivals from other brands. Remember that those lenses may be used on different cameras, or in some cases on different camera systems using different mounts, so those comparisons are not strictly applicable.
As usual, you can create your own comparisons and in-depth analyses using our interactive image lens comparison tool.