Featuring a Snapdragon 8 Gen 1 chipset, up to 12GB of RAM and a 6.7-inch display with WQHD+ resolution, the Realme GT 2 Pro competes against the strongest competitors in the Premium segment. In the camera department, the Realme lacks a dedicated tele shooter but offers 50MP sensors in both the primary module and the ultra-wide. In addition, there is a macro camera for close-up photography.
Let's have a closer look at the test results and see how the Realme GT 2 Pro shapes up in DXOMARK Camera tests.
Key camera specifications:
Ultra-wide: 50MP sensor, 15mm equivalent focal length, f/2.2-aperture lens
Microscope module: f/3.3-aperture lens
LED flash
About DXOMARK Camera tests: For scoring and analysis in our smartphone camera reviews, DXOMARK engineers capture and evaluate over 3000 test images and more than 2.5 hours of video both in controlled lab environments and in natural indoor and outdoor scenes, using the camera's default settings. This article is designed to highlight the most important results of our testing. For more information about the DXOMARK Camera test protocol, click here. More details on how we score smartphone cameras are available here.
Test summary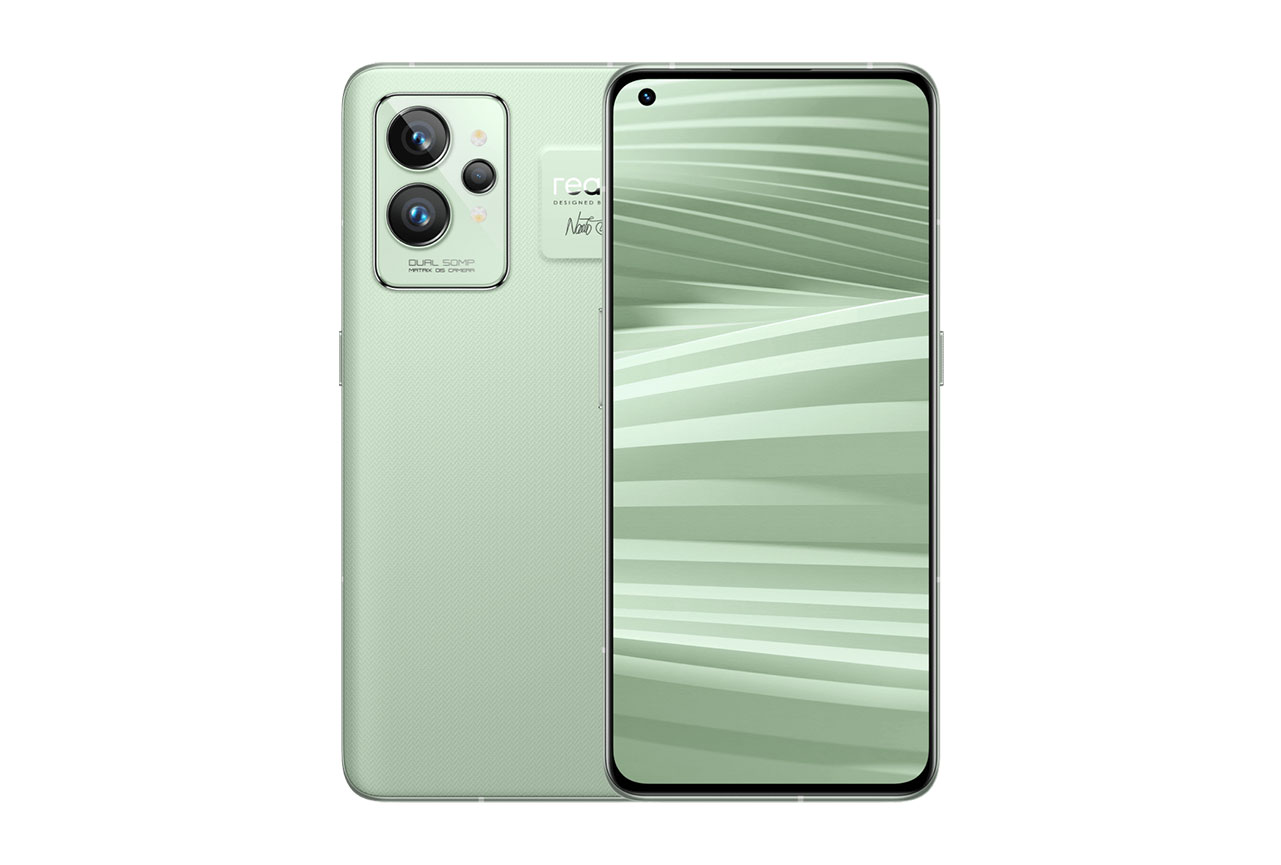 Realme GT 2 Pro
120
camera
Pros
Good exposure and wide dynamic range
Smooth zooming in preview display
Good video exposure down to low light
Low video noise and stabilization in bright light and indoors
Fairly accurate color in video
Cons
Variation in exposure across multiple shots, tone compression
No zero-shutter-lag means slower capture than competitors
Some color casts and inaccuracies\
Low level of detail and lack of dynamic range at tele zoom
Unnatural face rendering in night portraits with flash
Noticeable exposure adaptation and instabilities in video
Lack of fine detail and autofocus instabilities in video
Noise in low light video
With a DXOMARK Camera score of 120, the Realme GT 2 Pro does not compete with the very best devices in the DXOMARK Camera ranking and occupies a mid-table position in the Premium segment.
When shooting still images the camera offers a fairly wide dynamic range and an average texture/noise trade-off across all light conditions. In terms of exposure or testers observed some variation across consecutive shots and the lack of zero-shutter-lag technology means that the Realme is not quite as quick to capture as some competitors. Tone compression is noticeable in quite a few image, as are fusion, ghosting and color quantization artifacts.
Our lab measurements show that the Realme is not using zero-shutter-lag technology when it comes to autofocus. This means the GT 2 Pro is a little slower than some competitors at capturing after the shutter button is pressed.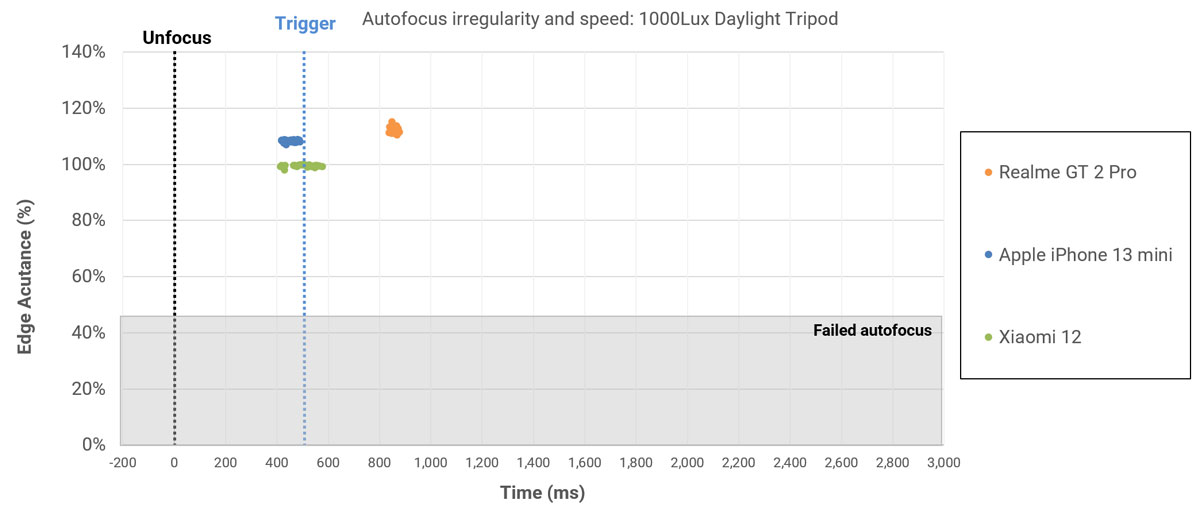 This graph shows edge acutance against shooting time measured on the AFHDR setup on a series of images. Images were captured 500ms after defocusing the target, at 1000 lux with the camera mounted on a tripod.
In this outdoor scene, the Realme produces a good target exposure and wide dynamic range, but tone compression is visible in the background, and fusion artifacts are noticeable on the subject's trousers.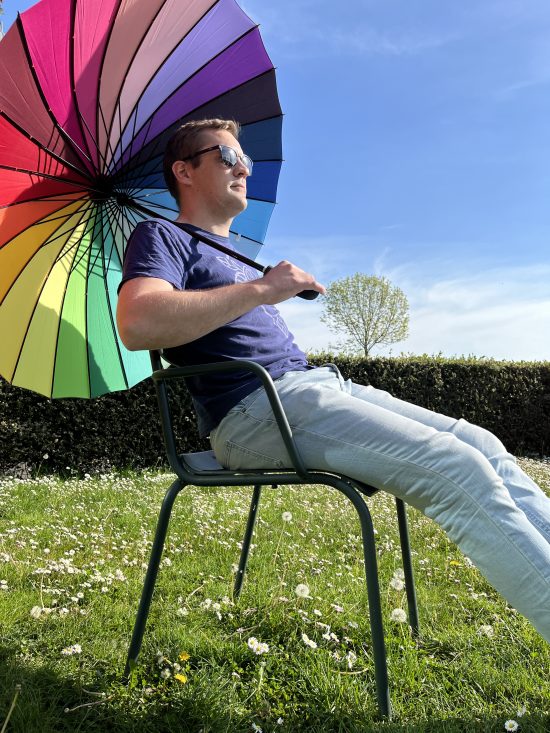 Apple iPhone 13 mini, good exposure and fairly wide dynamic range but some shadow
clipping
, moiré is visible on the subject's trousers
The GT 2 Pro does not come with a dedicated tele camera and uses digital zoom for tele images instead. As a result, zoom performance is fairly poor. Image resolution is low at all tele zoom settings, and there does not appear to be any HD processing, resulting in highlight and shadow clipping in challenging high-contrast scenes.
In video mode, target exposure is fairly accurate down to low light, but exposure adaptations and instabilities are often noticeable. Video noise is well under control in bright light and when recording indoors, but we observed a loss of fine detail. In low light, noise becomes more intrusive. Color rendering is fairly accurate and the stabilization system works effectively in bright light and under indoor conditions. On the downside, autofocus can be unstable in video.
Realme GT 2 Pro, slight autofocus instabilities, abrupt exposure transition, low noise, lack of detail
Apple iPhone 13 mini, reliable autofocus, smooth exposure transition, wide dynamic range, good, texture/noise trade-off
Xiaomi 12, good exposure but clipping in sky, visible exposure transition, good texture/noise trade-off