Samsung's Galaxy A51 5G sits near the top of the company's mid-range A series. It's slightly smaller and cheaper than the A71 5G, which we reviewed recently. It has a 6.5-inch Super AMOLED display and is built around Samsung's Exynos 980 chipset, with 6 GB of memory and 128 GB of storage plus a microSD slot for expansion.
There are four cameras on the back, with three used for direct imaging. The main wide camera has a 48 MP sensor behind a 26 mm-equivalent f/2.0 lens. Its resolution is lower than the A71 5G's primary camera, but the rest of the imaging specs look very similar. The ultra-wide module has a 12 MP sensor paired with a 14 mm-equivalent f/2.2 lens. There's a dedicated macro camera with a 5 MP sensor and f/2.2 lens for getting really close to subjects (macro cameras are not factored into the DXOMARK score). Samsung also includes a 5 MP depth-sensing camera to help with simulated-bokeh portrait mode. Notably absent are a tele module or any optical image stabilization, concessions to the A51 5G's affordability.
The Galaxy 51 5G shoots 4K video at 30 fps, and can also record slow-motion 1080p clips at 240 or 480 frames per second. Electronic image stabilization helps keeps things steady. Read on to find out how this budget mid-ranger does in our tests.
Key camera specifications:
Standard-wide: 48 MP sensor and 26 mm-equivalent f/2.0, AF
Ultra-wide: 12 MP sensor and 14 mm-equivalent f/2.2 lens
Macro: 5 MP sensor and f/2.2 lens
Depth: 5 MP sensor and f/2.4 lens
LED flash
4K at 30 fps (tested), 1080p at 240, 480 fps (slow motion), EIS
About DXOMARK Camera tests: For scoring and analysis in our smartphone camera reviews, DXOMARK engineers capture and evaluate over 3000 test images and more than 2.5 hours of video both in controlled lab environments and in natural indoor and outdoor scenes, using the camera's default settings. This article is designed to highlight the most important results of our testing. For more information about the DXOMARK Camera test protocol, click here. More details on how we score smartphone cameras are available here.
Test summary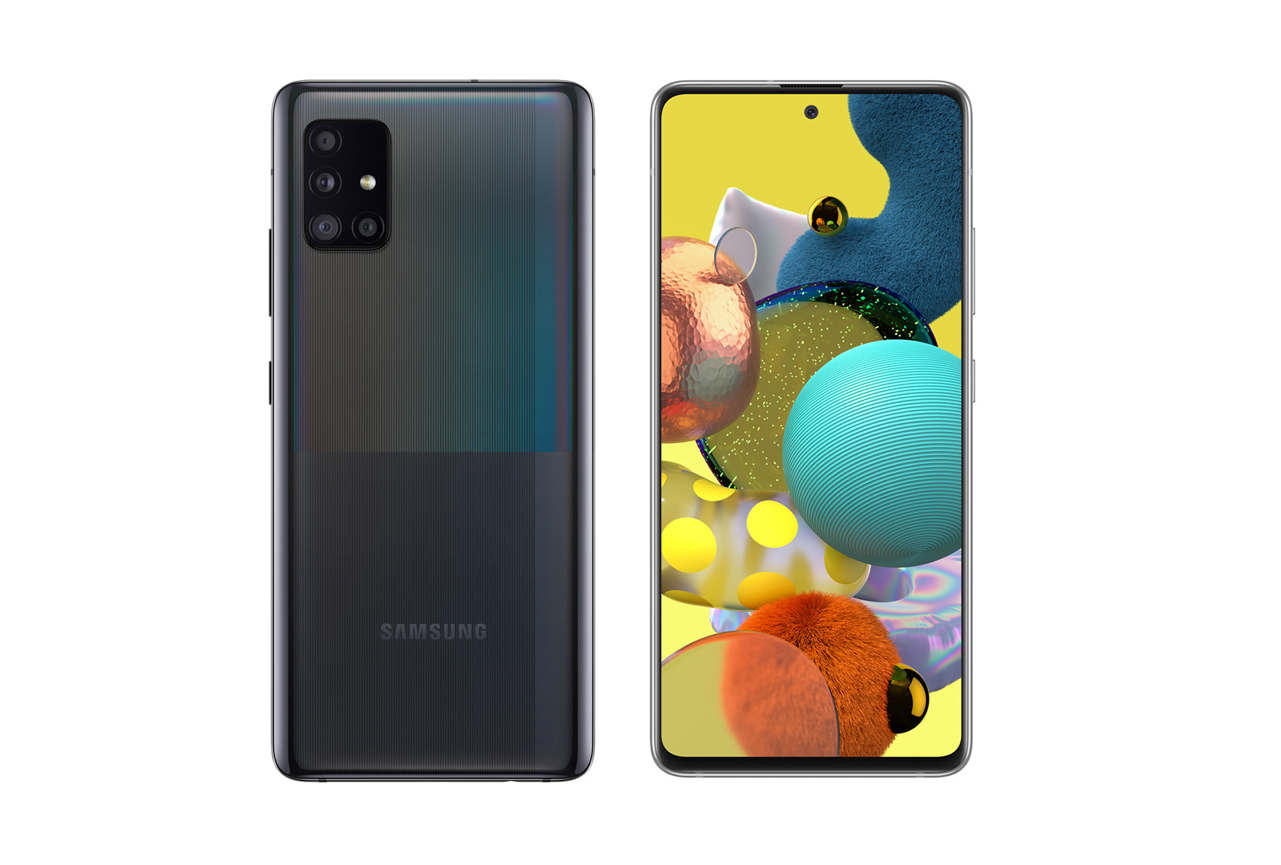 Samsung Galaxy A51 5G
87
camera
With an overall Camera score of 87, the Samsung Galaxy A51 5G is among the lower-scoring devices that we've tested under our latest protocol, though most of the phones we've tested so far are higher-end. Its Photo score ties its larger sibling, the A71 5G, with generally middling performance and a few more serious missteps.
The composite Zoom score of 32 is dragged down by poor tele performance, which was almost inevitable, given the lack of a dedicated tele module. On the plus side, ultra-wide performance is quite good.
The Video score of 86 is one point behind the A71 5G, held down by one of the lowest autofocus scores we've recorded and a couple of other weak categories. Exposure is generally accurate, though, and color looks better than in still images.
The Galaxy A51 5G generally exposes accurately, and dynamic range is quite good: the phone holds onto highlight detail that some competitors would blow out.
White balance is generally not accurate and color casts are almost always visible, though the A51 5G handles color much better than its predecessor, the Galaxy A50, improving on this sub-score by 12 points.
Noise is a weakness, recording the second-lowest score so far under the latest version of our protocol. Noise is often visible, especially towards the edge of the frame, and detail is also quite low. Preview accuracy drops substantially in low light, but preview performance is better than both the A50 and A71 5G.
Autofocus is slower than many competitors, even in bright light, and becomes very slow and unreliable in low light. The A51 5G's artifact sub-score is lowered by color quantization, ringing, and hue shift.
Like the A50 and A71 5G, night shooting is not a strength for the A51 5G. In low light, the phone underexposes, and noise is high while detail is low. White balance is often inaccurate and colors are undersaturated.
The A51 5G's ultra-wide camera captures an impressively wide field of view, opening the door for dramatic compositions, and detail is slightly improved over the A71. Exposure is sometimes a bit low and the phone's color issues, such as inaccuracies in white balance and color rendering, continue here, but ultra-wide performance is satisfying overall.
Without a dedicated tele-camera, performance at the long end of the zoom is disappointing. Detail is low and noise is high even at low zoom ratios, and things get worse as you zoom in more.
The dedicated depth-sensing camera does not seem to help much with the A51 5G's portrait mode: depth-sensing artifacts are sometimes distracting and detail is lower than ideal overall.
The Samsung Galaxy A51 5G's Video score is among the lowest recorded under the latest test protocol, landing one point behind the A71 5G and tying the Nokia 8.3 5G. It's not all bad, though: exposure is generally accurate, and the A51 handles video color much better than for stills, with generally accurate white balance (though colors get a bit undersaturated in low light) and nicely-rendered skin tones. Color-wise, the A51 5G's videos can compete with flagship phones.
The biggest problem in videos is unreliable autofocus: the only phone with a lower video autofocus score is the Galaxy A50. Focus is all over the place, with our testers noting errors and unnecessary refocusing under all lighting conditions.
Noise is high in general and intrusive in low light, while detail is low (in part due to focusing errors). Stabilization is not very effective, with residual motion visible in clips taken while walking. Our testers also noted heavy ringing artifacts from oversharpening.
Samsung Galaxy A51 5G, low-light video
Conclusion
With the Galaxy A51 5G, Samsung has pushed the price of a capable 5G phone into impressively affordable territory. However, it appears that affordability comes at the cost of imaging performance — to a degree. In the fiercely competitive mid-range segment, the A51 5G finds itself up against phones with superior cameras, and for a very modest increase in budget, there are options with substantially better imaging capabilities. However, buyers who are particularly attracted to Samsung's approach or who want 5G speed on a strict budget will be able to wring acceptable photos out of the A51 5G. Heavy video shooters, on the other hand, should be wary of the autofocus issues our testers found. For stills shooters on a tight budget, the A51 5G may be worth a look.
Pros
Generally accurate exposure
Wide dynamic range in stills
Wide maximum field of view
Accurate video white balance
Nicely rendered skin tones in video
Cons
Stills white balance often inaccurate
High noise, low detail
Color quantization, ringing, hue shift artifacts in stills
High noise and low detail when zoomed in
Underexposure and high noise in night shots
Depth estimation errors and low detail in portrait mode
Frequent video autofocus failures
High noise in videos, especially in low light
Residual motion artifacts in videos
Ringing visible in videos