Samsung's Galaxy S21 5G is the smaller, less expensive option in the company's high-end S21 line. It has a 120 Hz 6.2-inch AMOLED display, with a lower resolution (2400 x 1080) than the Galaxy S20. Here we're reviewing the global version based on Samsung's own Exynos 2100 chipset, but a variant built on Qualcomm's Snapdragon 888 is sold in the US and China. Both versions have 8 GB of RAM and 128 or 256 GB of storage (with no expansion slot). There's a triple camera on the back, but a single camera up front with a 10 MP sensor behind an f/2.2 autofocus lens that looks through a top-centered hole punch in the screen. Read on to find out how it fares in our testing.
Key front camera specifications:
Primary 10 MP sensor, 1.22µm pixels
F/2.2-aperture lens with 80° field of view
Dual-pixel AF
Display flash
About DXOMARK Selfie tests: For scoring and analysis in our smartphone front camera reviews, DXOMARK engineers capture and evaluate over 1500 test images and more than 2 hours of video both in controlled lab environments and in natural indoor and outdoor scenes, using the camera's default settings. This article is designed to highlight the most important results of our testing. For more information about the DXOMARK Selfie test protocol, click here.
Test summary
Scoring
Sub-scores and attributes included in the calculations of the global score.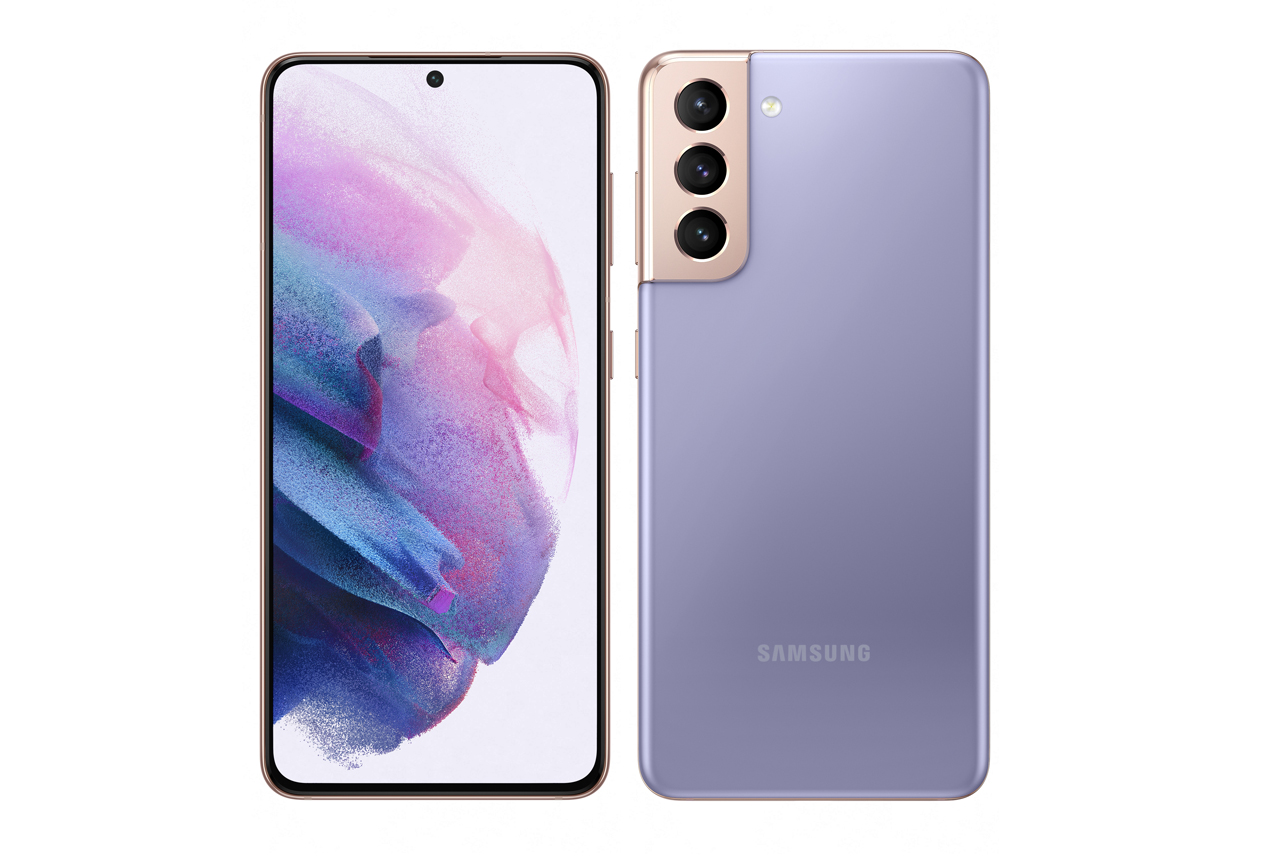 Samsung Galaxy S21 5G (Exynos)
132
selfie
Please be aware that beyond this point, we have not modified the initial test results. While data and products remain fully comparable, you might encounter mentions and references to the previous scores.
With a DXOMARK Selfie score of 98, the Galaxy S21 5G (Exynos) lands in the top tier of our database, tying Apple's iPhone 12 Pro and Pro Max. It's a respectable performance but is a bit below several Samsung 20-series devices we've tested, and below even both versions of the Galaxy Note 10+ 5G. That said, overall performance is satisfying, with wide dynamic range and high detail in both stills and video.
The Samsung Galaxy S21 5G (Exynos) usually captures properly exposed selfies, though it sometimes underexposes, especially when faced with wide brightness range scenes. Dynamic range is quite wide, so you don't have to worry too much about blown highlights. Color could be better, with a slight cast frequently showing up and some missteps in handling skin tones.
The S21's front camera has autofocus so the design doesn't have to make the compromises that fixed-focus cameras face. Autofocus is generally accurate in bright to moderate light, though sometimes in low light the camera does not pick the closest face to focus on in a group selfie.
Detail levels are high, but noise is visible under all tested conditions. Every digital camera must balance these two image characteristics, and the S21 (Exynos) prioritizes texture preservation over noise suppression.
Artifacts in selfies are well controlled, with the S21 (Exynos) earning a category high score. Our testers still noted occasional hue shift, flare, and color quantization.
The S21's display doubles as a flash in low light, but the results are less impressive than with most high-end phones we've tested, with heavy vignetting and visible noise.
The phone's portrait mode for simulating shallow depth of field is in line with the better offerings currently available, but this functionality has further to go on front cameras than main cameras (which themselves remain imperfect). The S21 makes the usual depth detection errors around the subject. The blur shape and intensity look good, but there's almost no gradient as the scene recedes from the simulated focal point, which hampers the effect.
Tested at 4K and 30 fps, the S21 (Exynos) earns a Video score just one point shy of the highest recorded to date. However, it's worth noting that it also ties several Exynos-powered Samsung 20-series phones we tested: performance is good, but not generally a significant improvement over Samsung's previous-generation devices.
Exposure is accurate, though it's a bit slow to adjust to changes in lighting. Dynamic range is wide. Color rendering, including skin tones, is generally pleasant, though white balance casts do sometimes appear, especially in low light.
Detail is fairly high, but as in stills, there's more noise than we like to see. Autofocus is reliable, with enough depth of field to keep most of the shot in focus at reasonable subject distances. Artifacts are well controlled. Stabilization is acceptable but leaves some room for improvement, with quite a bit of residual motion in videos.
Samsung Galaxy S21 5G (Exynos), front camera video
Conclusion
Samsung's Galaxy S21 5G (Exynos) is a capable selfie shooter, doing well overall with both stills and videos. Images and videos have plenty of detail with wide dynamic range, and although there's more noise than ideal and color in stills could be better, performance is generally very satisfying. It's worth noting that this phone scores largely on par with (or even slightly below) Samsung's last-generation devices, but that doesn't change the fact that the S21's selfie performance is competitive with the market overall.
Pros
Wide dynamic range in stills in bright to moderate light
Good detail levels in stills and videos
Accurate stills focus in bright to moderate light
Accurate video exposure, with wide dynamic range
Pleasant video color rendering and skin tones
Reliable video autofocus, wide depth of field
Cons
Noise visible in stills and videos in most conditions
Exposure on faces in stills sometimes low
Slight color cast in stills often visible, skin tones sometimes inaccurate
Stills AF sometimes picks wrong face in low light
Depth-sensing errors sometimes visible in portrait mode
Stabilization could be more effective