Samsung's Galaxy S21 5G (Exynos) is the least expensive of the company's current high-end S21 series. It sports a 120 Hz 6.2-inch AMOLED screen with a hole punch for the selfie camera, and has a lower resolution (2400 x 1080) than the Galaxy S20. Here we are testing the global version based on Samsung's Exynos octa-core 2100 chipset; a variant built around Qualcomm's Snapdragon 888 is sold in the US and China. Both have 8 GB of memory with either 128 or 256 GB of storage (no expansion slot, so choose wisely).
There are three cameras on the back, with specs that will look very familiar to anyone who owns an S20. The main wide camera has a 12 MP sensor behind a 26 mm-equivalent optically stabilized lens. The ultra-wide module is also 12 MP and has a 13 mm-equivalent lens. The tele camera starts wide (29 mm-equivalent) but ups the sensor resolution to 64 MP, which gets binned down to 12 MP output: the extra resolution should in theory keep detail higher when cropping to zoom.
The Galaxy S21 5G shoots video at up to 8K resolution at 24 fps. However, output is actually better overall at 4K and 60 fps, which we used for testing. Lower resolutions and higher frame rates are also available for slow-motion fun.
Read on to find out how the least expensive of Samsung's top-end devices fares in our tests.
Key camera specifications:
Standard-wide: 12 MP 1/1.76-inch sensor with 1.8μm pixels, 26 mm-equivalent f/1.8 lens, dual-pixel PDAF, OIS
Ultra-wide: 12 MP sensor with 1.4μm pixels, 13 mm-equivalent f/2.2 lens
Tele: 64 MP 1/1.72-inch sensor with 0.8μm pixels, 29 mm-equivalent f/2.0 lens
LED flash
8K at 24 fps, 4K at 60 fps (tested), HDR10+
About DXOMARK Camera tests: For scoring and analysis in our smartphone camera reviews, DXOMARK engineers capture and evaluate over 3000 test images and more than 2.5 hours of video both in controlled lab environments and in natural indoor and outdoor scenes, using the camera's default settings. This article is designed to highlight the most important results of our testing. For more information about the DXOMARK Camera test protocol, click here. More details on how we score smartphone cameras are available here.
Test summary
Scoring
Sub-scores and attributes included in the calculations of the global score.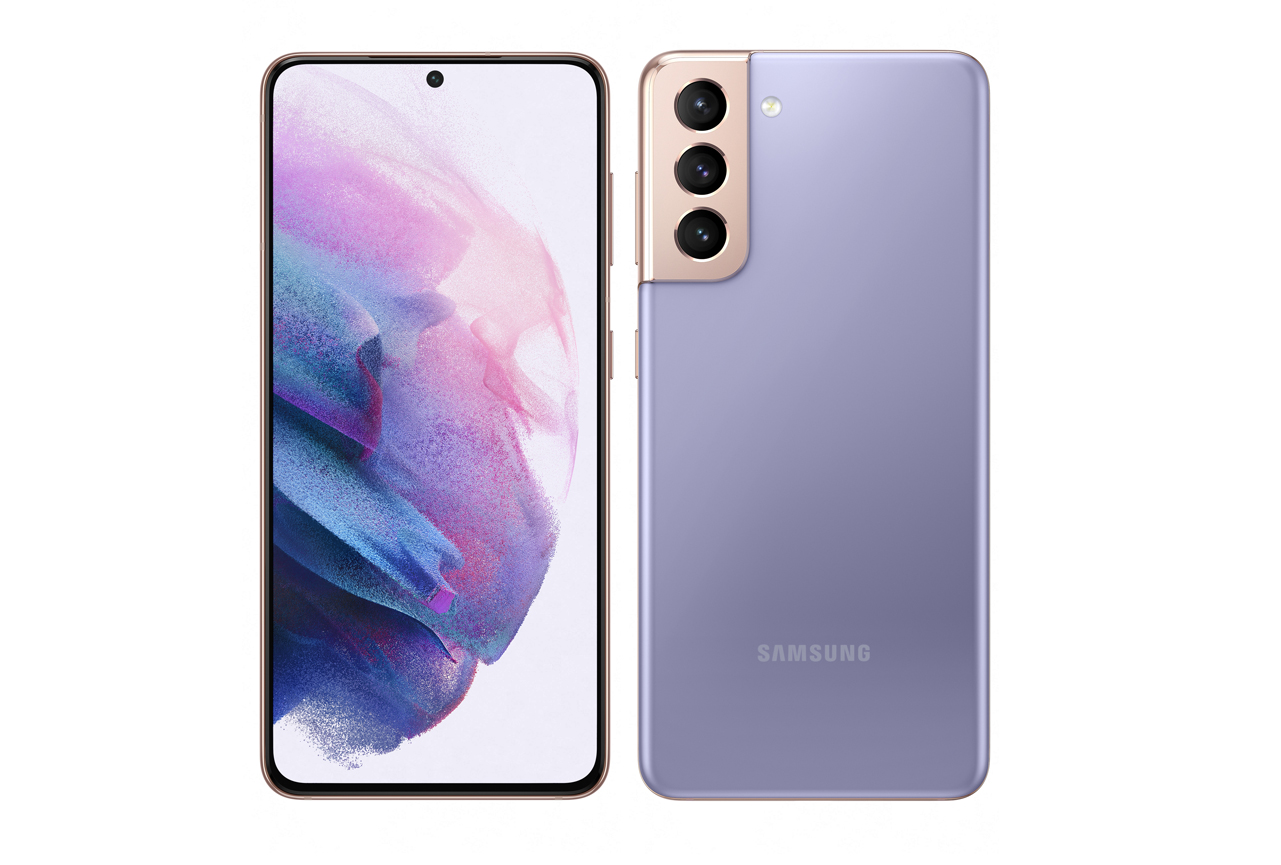 Samsung Galaxy S21 5G (Exynos)
111
camera
Use cases & Conditions
Use case scores indicate the product performance in specific situations. They are not included in the overall score calculations.
Outdoor
Photos & videos shot in bright light conditions (≥1000 lux)
Indoor
Photos & videos shot in good lighting conditions (≥100lux)
Lowlight
Photos & videos shot in low lighting conditions (<100 lux)
Friends & Family
Portrait and group photo & videos
Please be aware that beyond this point, we have not modified the initial test results. While data and products remain fully comparable, you might encounter mentions and references to the previous scores.
With an overall Camera score of 116, the Galaxy S21 5G is a solid performer, but it's not a big step forward compared to its predecessors: its Photo score of 123 ties the Samsung Galaxy Note20, for example. Some areas have improved, but they're balanced out by some slippage in texture and noise performance.
The composite Zoom score of 77 lands in the top ten, which is quite impressive considering the S21's price point. Tele performance is solid and comes with a very good ultra-wide showing (a historic strength for Samsung).
The Video score of 93 is a little lower than expected, though, landing behind the previous-generation S20-series devices we've tested. This is due in large part to room for improvement in noise and texture handling.
The S21 5G exposes very accurately, though our testers noticed some instability in exposures and that dynamic range could be a bit wider: the phone appears to be optimized for accurate target exposures and saving shadows at the expense of highlights, which often blow out in backlit scenes.
Color performance in stills is among the best we've measured — only three points off the category high. White balance is very accurate across different lighting conditions and a variety of skin tones are nicely rendered. Color handling for green foliage is also a standout.
Detail levels are acceptable but on the low side for a phone of this caliber, and portraits in particular sometimes show disappointingly low detail. Unfortunately noise is also higher than one would expect, with images showing more than most recent flagships.
Autofocus is reasonably fast and accurate, with our testers noting just a few failures in low light. Depth of field is quite wide, so it's usually easy to get most of the scene in focus. Artifacts are not particularly well controlled (something we've seen in several other Samsung devices): the S21 takes penalties for color quantization, hue shift, ringing, and fusion artifacts.
The S21's ultra-wide camera is indeed ultra wide, with a measured focal length shorter than most of the competition, so you can fit a lot of any scene into a single frame. The phone lands just outside the top five in our database for this sub-score, and it's worth noting that three of those five are also Samsungs. On the downside, noise is visible in anything but bright outdoor lighting.
Tele performance is pretty good, especially when considering the S21 is not a flagship device and doesn't come with the latter's long optical tele-lenses. The high native resolution of the tele ensures good detail at close-range zoom. Some loss is noticeable at medium range and more so at longer settings, however.
Somewhat surprisingly given the specifications, the S21 5G (Exynos) offers a slightly better overall tele-zoom performance than the S21 Ultra 5G (Exynos). As you can see in this example, it is noticeably better at close range. It's still slightly better at medium and long range, and only for extra long-range shots (approximately 10x and longer) is the top-end Ultra model the better choice.
The S21 has a capable portrait mode for simulating shallow depth of field. It is tied for second place in this category, though to be fair, there are six phones above it tied for the top spot. The usual segmentation errors where the subject meets the background are fairly minor, and the blur effect is strong, with a natural gradient as distance from the point of focus increases.
The Samsung Galaxy S21 5G's Video score puts it in the lower regions of the database, on a similar level as devices like the Xiaomi Mi 10T 5G and the OnePlus Nord. The main areas for improvement are noise and detail. Noise is quite visible in all shooting conditions, including bright outdoor light. Meanwhile, texture remains low even in bright light.
Exposure is accurate, and highlights are well preserved, although sometimes at the expense of clipped shadows. White balance is generally accurate but colors are undersaturated. Light skin tones are rendered accurately, but dark skin tones are often inaccurate and can also suffer from lost shadow detail. Autofocus is fairly fast and accurate, though.
Stabilization leaves room for improvement. Video clips often show frameshift and residual motion. Ringing and ghosting artifacts show up, too.
Samsung Galaxy S21 5G (Exynos), indoor video
Conclusion
Samsung's dominant place in the market means the Galaxy S21 5G (Exynos) will be on the shortlist for many people considering a new, fairly high-end Android phone. Most mobile photographers will probably be satisfied with the S21's nice color and accurate exposures, despite higher-than-ideal noise and the occasional clipped highlight.
Pros
Accurate stills exposure in all conditions
Neutral white balance and natural skin tones
Wide depth of field for group photos
Accurate depth estimation and nice blur effect in portrait mode
Large ultra-wide field of view
Wide dynamic range in video
Accurate and stable exposure in video
Fast and reliable video autofocus
Cons
Exposure instabilities in stills shooting
High noise in stills, especially in low light
Stills detail sometimes low, especially in portrait scenes
Low detail at long zoom ratios
Noise high and fine detail low in videos
Video color often desaturated indoors and in low light
In low light, shadow detail lost in videos
Editor's note: Firmware versions
We started the test of the Samsung Galaxy S21 5G (Exynos) using the latest firmware version available at the time. However, Samsung released new firmware versions between the start of testing and the publication of this review article.
We therefore decided to check our test results against the latest firmware versions available now to ensure that there are no major differences and that results and scores remain valid.
To perform the checks we partially retested the S21 5G (Exynos) using firmware version G991BXXU2AUBB. This was the latest version available on March 3rd, the day we started the checks.
For the primary camera we observed slightly improved texture but also an increase in noise, so overall the texture/noise tradeoff is very similar between the firmware used in this review and the new firmware, and therefore has no impact on the score.
We also checked the zoom performance and could not find any differences between the output of the two software versions.