Smartphone front camera image quality is crucial to social media users, vloggers, travelers, and other types of selfie shooters. At DXOMARK every year we test the image quality of front cameras in a large number of devices from different brands and in a range of price categories. If you want to find out about a specific model's overall camera performance compared to the competition, you can simply check our DXOMARK Selfie ranking. For those who prefer shooting still images over video clips, or vice versa, it's best to dive deeper and have a closer look at the sub-scores as well. And that's exactly what we've done in compiling this article. So without further ado, here are the best smartphone front cameras for Photo and Video in 2020: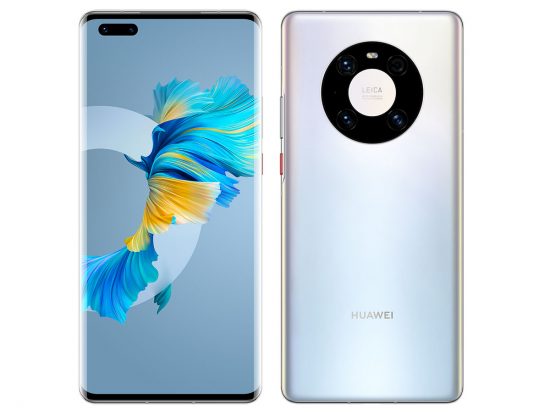 In comparison to the complexity of its rear camera setup, the Huawei Mate 40 Pro's front camera looks rather simple. It uses a 13 MP 1/2.8″ sensor coupled to a fixed-focus lens and a time-of-flight sensor that helps with depth-sensing in bokeh mode. However, Huawei's engineers have managed to squeeze an awful lot of image quality out of the front camera module and the Mate 40 Pro not only takes the number one spot in our Selfie overall ranking, but also leads the pack for Photo with 110 points, thanks to class-leading performance across many attributes, and very few obvious flaws.
In our testing, the camera delivered good face exposures down to low light levels and also offers a wide dynamic range. The latter is particularly useful in backlit situations, where the background is brighter than the subject, and in other high-contrast scenes. We also found colors to be mostly nice, with good white balance in low light.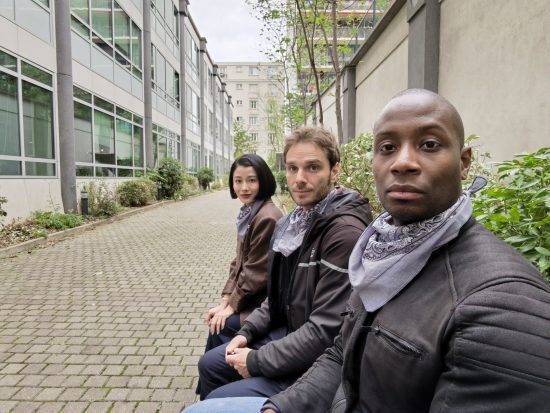 Mate 40 Pro selfie images show good detail and exposure, but despite a wide
depth of field
, people in the back are slightly out of focus because of the fixed-focus lens. For images in which multiple faces are detected, the camera automatically switches into a super-wide mode.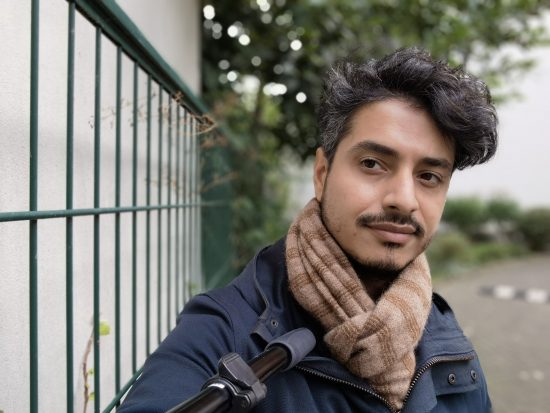 The simulated bokeh effect in portrait mode looks nice, but some depth estimation
artifacts
are visible on closer inspection.
The simple fixed-focus solution worked very well in our tests as well. A very wide depth of field means subjects are well focused in closeup shots and when captured at arm's length. Detail is a little lower at 120 cm selfie-stick distance, though, as well as on subjects at a longer distance from the camera and on the background. There is also a reduction of detail in low light, but the camera still holds up pretty well in dim conditions. On the upside, image noise is very well under control in all shooting conditions.
In very dark conditions the Mate 40 Pro's display flash provides good exposures, and in portrait mode the camera is capable of creating people pictures with a mostly nice-looking simulated bokeh and blurred background. Depth estimation errors are visible along the edges of the subject, though, despite the dedicated time-of-flight depth sensor. So at least on close inspection, it's obvious the effect is a computational simulation rather than the real thing.
Other areas for improvement include a few image artifacts, such as face rendering artifacts, anamorphosis instabilities, and color quantization, as well as some white balance casts and skin tone inaccuracies that can occur in some light conditions and flash shooting. Those are all fairly minor flaws, though, and overall the Huawei Mate 40 Pro is our current number one pick for Selfie photo capture.
Also consider: If the Mate 40 Pro isn't quite what you want for a smartphone, there are a whole bunch of alternative models that all provide excellent Selfie photo quality. Huawei's own P40 Pro is the number two in our ranking at 108 points, and the Huawei Nova 6 5G follows closely at 105. If you prefer other brands, the Asus ZenFone 7 Pro with its unique swivel-camera and the two Samsung models—the S20 Ultra 5G and Note20 Ultra 5G (Exynos)—all come in at an excellent 104 points.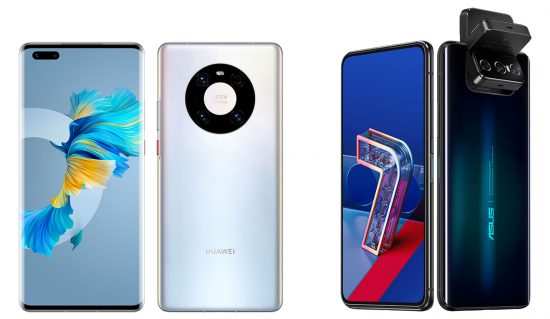 The Huawei Mate 40 Pro is again the number one in the Selfie Video category, but this time it shares the spot at the very top with the Asus ZenFone 7 Pro. Both devices achieve an outstanding 96 points for Selfie Video in our testing.
The Mate 40 Pro achieves the best results at 4K resolution and 30 frames per second. Selfie video clips shot with the Mate 40 Pro have good face exposure in most conditions and nice colors with accurate white balance. The camera records good detail in bright outdoor light and under typical indoor illumination alike. There is some loss of detail in low light and noise is visible in indoor and low-light video clips, but the lens's wide depth of field helps keep subjects in focus at a range of distances.
The camera's video stabilization works very effectively, too, keeping things steady when hand-holding the phone or when walking while recording, giving you an almost cinematic effect. Our testers did observe some video artifacts — for example, color quantization in low light, and some moving texture artifacts, but overall the Huawei Mate 40 Pro is one of the very best current options for vloggers and other Selfie video shooters.
Huawei P40 Pro, front camera video
The Asus ZenFone 7 Pro is capable of recording even 8K video on its swivel-camera. However, its sweet spot—where video image quality is best overall—is at 4K/ 30 fps. At these settings, the camera gives you excellent texture and detail rendering. Exposure in very low light, something that many other front cameras struggle with, is good as well. As with still images, the Asus captures natural skin tones and generally nice colors in video mode, and there's very little image noise visible on faces.
Like the Mate 40 Pro, the ZenFone 7 Pro hasn't really got any glaring weaknesses in video mode. However, its more limited depth of field produces more background blurring, which can make for a more cinematic effect in some scenes, but is not ideal if you want as much background detail as possible. And while the stabilization system works well overall, it could be a bit better at stabilizing walking motion. Overall, though, the Asus ZenFone 7 Pro is a top choice for selfie video capture.
Asus ZenFone 7 Pro, front camera video
Also consider: If you're looking for other front camera video options, the alternatives are pretty much the same as for still photography. The Huawei P40 Pro, the Samsung Galaxy S20 Ultra and Note20 Ultra 5G all offer great Selfie video quality as well.