Please note: In September 2019, we updated the DXOMARK Mobile test protocol to cover ultra-wide-angle performance and renamed the protocol DXOMARK Camera. We also expanded our low-light testing and created the new Night sub-score, which incorporates the previous Flash score. We have retested this device using the new Wide and Night test protocols and updated the scores in this review, but we have not changed the text from the original review. For more information, please see the articles about our new Wide and Night test protocols.
103
camera
Xiaomi Mi MIX 3 camera review (originally published Oct 25, 2018)
Announced today, the Xiaomi Mi MIX 3 is the Chinese manufacturer's latest high-end smartphone. The device is powered by Qualcomm's top-end Snapdragon 845 chipset, and features camera hardware that is identical to some previous models, such as the Mi 8 or Mi MIX 2S, both of which were launched earlier this year.
The rear camera comes with a main 12Mp wide-angle camera, featuring a 1/2.55″ image sensor, an f/1.8-aperture lens and optical image stabilization. The secondary tele-camera is not optically stabilized and offers a roughly 2x zoom factor and a slightly slower f/2.4 aperture. A dual-LED flash unit helps light your subjects in dim conditions. Read our full report to find out how the Mi MIX 3 performed in our testing.
Key camera specifications:
Dual camera with wide-angle main and secondary telephoto lenses
OIS on the main camera
Phase detection autofocus
Qualcomm Snapdragon 845 chipset
Test summary
Achieving an overall DxOMark mobile score of 103 points, the Xiaomi Mi MIX 3 is an extremely capable device for smartphone photography. It excels for still photos, with an excellent DxOMark Photo score of 108 points, putting it among the best devices we've tested. Sharing the same camera hardware as the Mi 8, the Mi MIX 3 shows improved results in a few areas, thanks to some fine-tuning of its processing algorithms and software. While the Mi MIX 3 is certainly stronger for stills, it remains a good performer for video, too, achieving a DxOMark video score of 93 points. Again, it shares many of the same characteristics as the Mi 8, but improvements to color, and notably to video stabilization— with smoother results on indoor movies — have helped improve the Mi MIX 3's video score.
The Xiaomi Mi MIX 3's key strengths for still photos are exceptional color in all lighting conditions, but especially shooting outdoors; fast and accurate autofocus performance; and outstanding flash pictures, which are among the best we've tested. The Mi MIX 3 offers accurate white balance and bold color in almost all conditions, with well-rendered blue skies and powerful greens in outdoor images, and nicely saturated hues in indoor images, too.
The Mi MIX 3's powerful LED delivered excellent flash pictures in both our flash-only and mixed lighting tests, with no noticeable flash fall-off, good detail, well-controlled noise, and accurate white balance. The red-eye effect is slightly visible in many portraits, but otherwise the Mi MIX 3 delivers excellent results, with good exposure and color.
The Mi MIX 3's autofocus performed exceptionally well in our benchmark lab tests, with fast, accurate, and repeatable performance in all lighting conditions. Defocusing the device between each test shot, then waiting either a short (500 ms) or long (2000 ms) delay before requesting focus, the device snapped sharp in just a few milliseconds and delivered an in-focus image each and every time.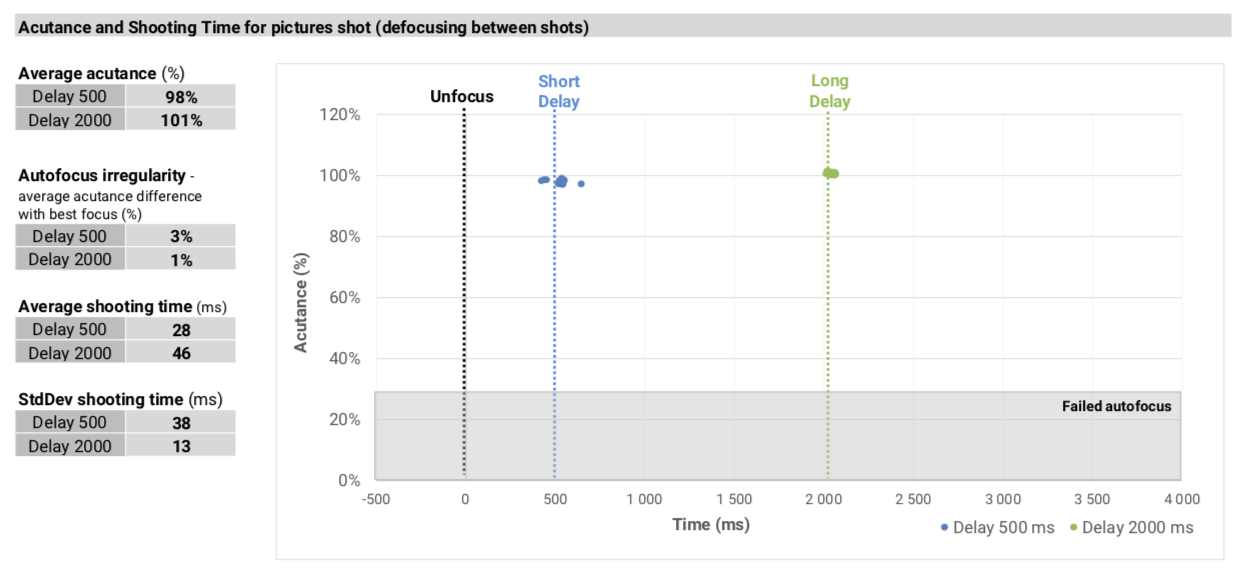 In our benchmark lab autofocus test, the Xiaomi Mi MIX 3 was not only exceptionally fast to find focus after defocusing between shots, but it consistently delivered a sharp picture on every frame, even in low light (20 lux).
Overall exposure is very good with generally accurate target exposure, good dynamic range and pleasant contrast, especially in outdoor images. In lower light conditions exposure remains excellent too, especially on indoor shots and it's only when the light levels drop very low (10 lux and below) that slight under exposure is evident.
Shooting tricky high-contrast scenes, the Xiaomi Mi MIX 3 uses frame stacking in its default shooting mode to help improve dynamic range. The results are good, with well-preserved highlights, although detail is often lost in the darker shadow areas, and overall, the HDR effect isn't as strong as with many of its flagship competitors.
Shooting our high-contrast backlit portrait scene, the Xiaomi Mi MIX 3 did an excellent job of accurately exposing the face. While the Huawei P20 Pro does a better job preserving the highlight detail in the sky, the Mi MIX 3's exposure of the buildings is improved compared to the iPhone X's, and the Mi MIX 3 records the best exposure of the face of the three devices. We did notice some color banding in the shadow areas of our backlit portrait, however, which was probably a result of the very short exposure times and the frequency of the indoor lighting.
The Xiaomi Mi MIX 3 also offers a very good compromise between detail preservation and levels of noise compared to some of its key competitors. When shooting relatively static scenes, sharpness is very good, even in low light, with recorded acutance of around 70% even in very low light (10 lux), and over 80% under indoor (100 lux) and outdoor (1000 lux) lighting conditions. So the level of detail is usually high, with good edge definition. Shadow areas in high-contrast scenes are an exception, however. Loss of fine detail in these image areas is evident, and the level of noise is notably higher than usual. In low light, texture and noise are very good, however, with more defined edge detail and less noise compared to the Apple iPhone X, and with comparable results to the Huawei P20 Pro, one of the best performing devices in low light we've tested.
Overall, Mi MIX 3 zoom shots aren't quite as impressive as on the best-in-class, but as it packs a tele-lens on the second camera, the Xiaomi remains competent, especially at short-range zoom. In good light, the device maintains good levels of detail on short- and medium-range zoom shots, but fine details are often lost at long range, and an increase in both luminance and chromatic noise is visible in all conditions. At 2x magnification, the loss of detail becomes noticeable in indoor shots, but results remain acceptable. Good results at 4x magnification are possible in bright light, but are a challenge in any light condition when shooting 8x magnification.
The Xiaomi Mi MIX 3's bokeh simulation effect is pleasant. Depth estimation is fairly good, with reasonably accurate masking around complex areas of your portraits, and the shape of the spectral highlights is nice. Blur gradient is smooth as well.
Although the Xiaomi Mi MIX 3's strengths certainly lie with stills, its performance for video remains very acceptable. For the most part, it shares similar strengths and characteristics to the Mi 8, which we reviewed back in May. The most notable advance is its stabilization system, which is now more effective in low light. Combining electronic (EIS) and optical (OIS) stabilization, the Xiaomi Mi MIX 3 has reduced the number of blurry frames captured in low light, and while it's still not perfect, it's a welcome improvement.
Conclusion
Packing the same camera hardware as the Mi 8, Xiaomi's latest smartphone has managed an improvement in its photography capabilities with modifications to its software and image processing algorithms. For still photos, it's up there with some of the best devices we've tested, with good color, dynamic range, texture, and flash performance. Video performance is very similar to the Mi 8's, although improved stabilization gives the Mi MIX 3 an advantage when shooting low-light movies. In short, the new Xiaomi is an excellent all-rounder.

Pros
Fast, accurate, and repeatable autofocus
Accurate white balance with bright, vivid colors
Wide dynamic range in outdoor and indoor shots
Excellent flash performance
Pros
Smooth and accurate autofocus with good tracking
Good dynamic range
Vivid and pleasant color
Well-controlled noise
Cons
High level of noise in high-contrast scenes
Inconsistent bokeh in Portrait Mode
Color banding visible in some indoor scenes
Cons
Visible noise in low light
Autofocus errors with scene changes
Exposure steps visible during convergence
In the Press