Introduction
Here is a first review based on the specifications and our first impressions about this new Canon flagship camera. We are really looking forward to getting a production sample in our lab to be able to test it.
Full-frame 22-megapixel sensor: the new generation
Between the 21Mpix of the Mark II and the 22.3Mpix of the Mark III, there has been a lot more progress than meets the eye (given how nearly identical the two iterations seem to be on the surface).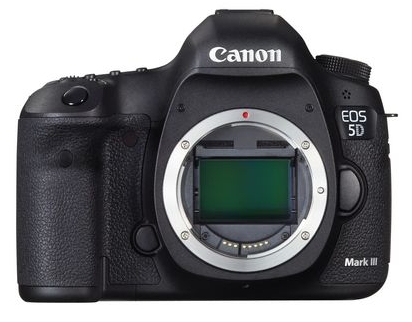 But as a matter of fact, nearly 4 years have gone by since the release of the Canon EOS 5D Mark II, and for the Canon EOS 5D Mark III, Canon has integrated a new-generation CMOS full-frame sensor which is characterized by two important developments:
The mesh network is different, thanks to borrowing the EOS-1D X's gapless microlens sensor technology that uses bigger photosites than those of the older generation. As the 5D MKIII's photosites will potentially receive more light than those of its predecessor, it will be very interesting to see if its low-light performance will be better than that of other full-frame cameras of the same generation, such as the Nikon D800.
Each photodiode is equipped with an underlying transistor that provides initial noise processing at the instant of signal transmission. This means that the EOS 5D MK III can achieve a nominal sensitivity of 25,600 ISO, extendable up to 102,400 ISO in H2 mode. According to Canon, an image shot at 25,600 ISO should be completely usable. (We will certainly not fail to verify this in our tests for noise!)
To avoid overheating while shooting in Live View and video modes, Canon has exploited the potential of heat dissipation via an exothermic body.
New Digic 5+ processor and bursts
Treating the EOS 5D Mark III with all the dignity due a camera outfitted with a demanding autofocus, with an iFCL meter, and especially with a new 22-megapixel sensor, Canon has endowed it with a new processor, the DIGIC 5+. The "plus" here is important, because while the DIGIC 5 is 17 times more rapid than the DIGIC 4, the DIGIC 5+ is 3 times more rapid than the DIGIC 5. Still…
Even if it can't come close to catching the shadow of the EOS-1D X's 14 fps burst frame rate, the Canon EOS 5D Mark III can still shoot in bursts at 6 fps, a medium speed that starts to become interesting for certain kinds of action photos. In RAW, the burst duration is limited to 18 consecutive photos when using a CompactFlash UDMA-7 card. In JPEG, burst shooting is essentially unlimited (i.e., one can take several hundred consecutive photos).
Silent mode and silent shutter
Canon is starting to encroach on Nikon's territory, events photography. The Canon EOS 5D Mark III has a new shutter and a new, carefully-worked and quiet mirror mechanism that will be praised for its silence (and we can confirm this). In classic mode, it is already nearly noise-free. In silent mode, the sound is completely suppressed, going from 60 dB to 50 dB — a technical success. Naturally, when shooting bursts in silent mode, the rate is reduced to 3 fps, because to achieve this level of noiselessness, the EOS 5D Mark III slows down the mirror action. The shutter, by the way, has been tested through 150,000 cycles.
The Canon EOS 5D Mark III incorporates the EOS-1D X's autofocus
In the same way that Nikon put the autofocus of its D4 camera into the D800, Canon has put the high-density (61-collimator) reticular autofocus of its EOS-1D X camera into the hands of 5D MKIII buyers, with a few limitations. This autofocus module offers very strong detectivity in its center, with 41 collimators in a cross array and the 5 ultra-central collimators arrayed in a double cross. Unlike the 1D X, however, it loses the coupling of color measurement to exposure.
The range covered by the Mark III's autofocus in the viewfinder (8x19mm) represents a big step forward with respect to the EOS 5D Mark II.
The Mark III also brings with it a well-thought-out ergonomic innovation for its autofocus: a simplified set of parameters in a very visual menu and the ability to store settings for six different use cases according to the subject's type of movement — e.g., regular, erratic, etc.
Following the subject is predictive just as it is with high-end reflex analog cameras: with AI Servo, the autofocus anticipates the subject's movement in order to adapt the focus to the distance at which the subject will be when the photo is actually taken, in order to compensate for the slight delay between triggering the shutter and the actual shot.
To facilitate its entrance into the agencies whose photography pools frequently change cameras and lenses, the EOS 5D MKIII can couple the microadjustments of the autofocus (i.e., back focus / front focus) to the lens series number. So a reflex calibrated for a 70-200mm F2.8L IS USM II, for example, can store and use the settings specific to this particular 70-200mm F/2.8 lens.
Full HD Video
The Mark III features the Full HD video mode that was such a big surprise success for its predecessor, in 24p, 25p, and 30p. For certain needs, such as for super-slow-motion, a 60p mode is available in 720p. The integrated microphone is mono, but one can use an external microphone for stereo recording, controlling the sound level via the meter on the screen, or even better, via headsphones — because just like the Nikon D800 and D4, the Mark III offers a headphone jack. Video can be shot at high sensitivities at (announced) unparalleled quality and if the claims hold true, it's on these grounds that the 5D MK3 will be able to challenge its competitors by offering direct access to 12,800 ISO and even to 25,600 ISO.
The video stream is encoded in H.264, leaving the choice of compression to the user:
LL-I: all images are intracoded, meaning higher quality, but heavier compression.
IPB: One out of 10 images is coded, with one control image out of 3 so as to reconstruct missing image frames a posteriori. Lighter compression, but lesser quality.
And if you're wondering… no, the Canon EOS 5D Mark III does not offer video output via HDMI nor RAW video recording. And no, the 5D Mark III doesn't offer full-time AF in video, just like the 5D Mark II.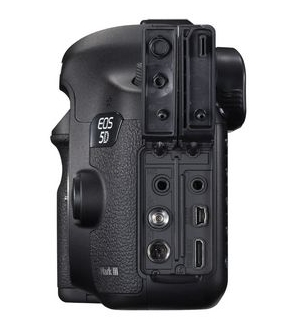 Videos are stored in a file allocation table (FAT) with a limit of 4 GB per file (around 12 minutes on average). However, the HDSLR stores the video and creates a new file every 4 GB without interrupting the recording.
Some DNA from the EOS 7D
This is what the "Canonistas" have been waiting such a long time for: the third-generation EOS 5D has finally borrowed some of the refinements that have made the the EOS 7D so attractive, to wit:
Its viewfinder with 100% coverage, a new pentaprism, a magnification of 0.71x, and an eyepoint of 21mm. As a means of being able to use the EOS 5D Mark III more quickly, it's a success — as pleasant to use as a EOS 7D, and with a full-frame sensor to boot. Canon has integrated an LCD screen that delivers more information to the viewfinder such as the base (virtual horizon) and the vertical tilt of the camera.
Its double-layer iFCL exposure meter, with each layer measuring the brightness of a duo of colors.
Its construction in magnesium alloy with an exothermic design, tropicalization, and O-ring seals. The method of fitting the housing together is likewise borrowed from the 7D: the faces are not attached to one another directly, but rather by using a nested gasket. The EOS 5D Mark III is anti-runoff, further earning its chops as a pro reflex camera. Its finish is a significant leap forward in quality.
Canon uses the same battery for the EOS 5D Mark III as it has for the 5D Mark II and the 7D, the lP-E6 — good news for those already thus equipped. The autonomy of the Mark III increases by 100 images with respect to its predecessor for a total of 950 images per charge.
New ergonomic features
The Canon EOS 5D Mark III's user menu interface has been revised: it seems simpler and should provide much quicker access to desired functions and settings.
There is a new Live View activation button.
The activated collimator can switch by itself when one shoots in portrait orientation and one can also program in the orientation change point to save a little time.
In video mode, recording is triggered by using the shutter button, which permits the use of a wired remote.
Embedded editing: certainly very practical in the field, the EOS 5D Mark III provides a "rate" button for initial star-rating of photos while they are still in the camera. But that's not all: one can also take advantage of the camera's large 3.5-inch, 1,044,000-point screen to compare two images side-by-side, to zoom in, to compare histograms, and to compare the histogram of a selected part of a photo and that of the photo as a whole.
Even though this is a resolutely professional camera, the EOS 5D Mark III still offers an automatic mode with scene detection (iA+).
The shooting mode ring is locked via a pushbutton in its center.
A touch-key allows direct access to image styles, to HDR, and to multiple exposures.
The optional new grip incorporates an additional joystick.
Finally, the EOS 5D Mark III offers dual memory card slots, one for CompactFlash and another for SD/SDHC/SDXC with various storage options— by format (RAW or JPEG) and by content type (photos or videos)… in duplicate so as to keep data safe or for use as a backup when the first card is full.
Canon EOS 5D Mark III: price and availability
The 5D Mark III is now ready for launch; it seemed as if Canon had been waiting to see what Nikon was going to do in this market segment. The EOS 5D Mark III will be available the beginning of April, and — no joke — on April Fool's Day at that. Its price will be confirmed in the course of the day, but it is expected to cost $3500. The Mark II will continue to be sold until the end of 2012 and can be found for under $2000.
New accessories
The release of the Canon EOS 5D Mark III is enhanced by a complement of new accessories:
The new optional BG-E11 grip (but significantly, the reflex still uses the same LP-E6 battery).
Two new Speedlite flashes: 600EX and 600EX RT (radio frequency triggering), with a guide number of 60.
A Wi-Fi WFT-E7 module (802.11 a/b/g/n with Ethernet) operates with a LP-E6 battery (just like the 5D MKIII itself). The transmitter is Bluetooth-compatible as well as compatible with the EOS 7D (if updated). This module lets the camera interact with computers and smartphones or tablets via their browsers.
GP-E2: this new GPS receiver connects to the accessory shoe in place of the flash and adds geotagging information to photo and video EXIF metadata. It can also function in log mode, and can record your journey to within two seconds. In addition to longitude and latitude, it also records the azimuth.
In a few weeks, Canon and Nikon will start delivering the first samples of their new professional full-frame cameras. Spring 2012 has seen a completely new generation of 24×36 bodies: the Canon EOS-1D X and EOS 5D Mark III, and the Nikon D4 and D800.
Among these, the Canon EOS 5D Mark III was the last to have been announced. Now that the whole family is together at last, let's compare the 5D Mark III with its predecessor, the EOS 5D Mark II, to see what kind of progress there's been, and then see how the 5D Mark III stacks up against its big brother, the reporter's dream camera, the EOS-1D X. We will also pit the 5D Mark III's results against those of its direct Nikon competitor, the D800.
Canon EOS 5D Mark III vs Mark II

Canon EOS 5D Mark III
Canon EOS 5D Mark II
Resolution
22,3 megapixels
21,1 megapixels
ISO latitude
100 to 12 800 (expendable to 102 400 ISO)
100 to 6 400 (expendable to 25 600 ISO)
Autofocus
61 focus points
41 are cross-type points and 5 double cross-type points
9 focus points
Exposure metering
63-zone iCFL with a coupling based on 2 groups of 2 colors
TTL 35 zone SPC metering with 4 variations
Video
1080/30p with a mic-in and a headphone jack
1080p Full HD mode up to 30 fps
Full-time AF in video
No
No
Processor
Digic 5+
Digic 4
HDR
Yes
Yes
Viewfinder
100% – magnifiction 0,71x
98% – magnifiction 0,71x
Screen
3,2" / 1 044 000 point
3" / 921 000 point
Frame rate
6 fps (4 fps in silent mode)
3,9 fps
Silent mode
Yes
No
Built-in flash
No
No
External flash sync
Yes
Yes
Storage
Double slot : Compact Flash and SD
Compact Flash
Weight
0,950 kg
0,810 kg
Battery life
950 photos
850 photos
Weather sealing
Yes
No
Price
$3,499
$2100
If, during the evolution of the EOS 5D into the EOS 5D Mark II, Canon retained its initial design —that is, using a large full-frame sensor in a light-weight body — in coming up with the EOS 5D Mark III, Canon has fully answered the expectations of photographers who have been waiting for a "Full-Frame EOS 7D." Ultimately, the 5D Mark III turns out to be a baby-EOS-1D X, from which it draws so much of its inspiration. (In this regard, Canon utilizes the same approach as Nikon.)
The EOS 5D Mark III displays several important advances:
The adoption of a new and presumably more efficient sensor with a nominal sensitivity ranging from 6400 ISO to 25,600 ISO.
A professional body with a reinforced magnesium alloy build and with all-weather tropicalization.
A viewfinder at 100% (finally!).
The latest-generation DIGIC 5+ processor, announced as being up to 17 times faster than the Digic 5 (which itself was 3 times faster than the EOS 5D Mark II's DIGIC 4).
Burst shooting that goes from 3.9 to 6 i/s.
A professional autofocus inspired by that of the EOS-1D X, with 61 collimators, of which 41 are in a cross array (with the central five in a double cross array), and which covers a larger field in the viewfinder (8x19mm).
As with the Mark II, the Mark III still has Full HD video, but now offers a choice in terms of compression mode (ALL-I vs IPB), a headphone jack, and a viewmeter for controlling sound as well as access to high sensitivities (12,800 ISO, extendible to 25,600 ISO).
A 63-zone, 100,000-pixel iFCL exposure meter with color measurement.
All this means that the EOS 5D Mark III is a much more serious reflex camera than its predecessor. What really marks it as a truly professional reflex camera is its uniformity, a quality that the 5D Mark II lacked (along with a suitable finish, autofocus, and viewfinder, all of which reduced the impact of the 5D Mark II's overall good image quality). The EOS 5D Mark IIIl appears to have made progress in all these areas as well as in autonomy, offering 100 more shots per battery charge. (Happily, the EOS 5D Mark III works with the same batteries as the EOS 5D Mark II and the EOS 7D).
So again, this spring Canon is launching a more professional camera, more robust, more responsive, and more efficient. As for the EOS 5D Mark II, it will continue to be sold through the end of 2012 at a price that is 40% less expensive than the Mark III (a pretty good deal for a full-frame camera, by the way).
Now, some photographers may accuse Canon of stagnation for using a sensor with essentially the identical resolution as the 5D Mark II's that came out three years ago. At the time, Canon was emphasizing resolution, whereas Nikon focused more on sensitivity in low light. Astoundingly enough, these roles have been reversed this year with the unveiling of the Nikon D800 and the 5D Mark III. Nikon is betting more on resolution, whereas Canon claims that it has completely redesigned its sensor such that it should permit a gain of 2 EV over the previous model, thanks to a better microlens array that is supposed to greatly improve the "fill factor"— that is, the percentage of the sensor surface allocated to capturing light. The higher the fill factor, the better the photonic signal-to-noise ratio. We will wait and see if all the DxOMark scores verify such stellar promises!
Canon EOS 5D Mark III vs Canon EOS-1D X

The DxOMark comparison is available here: Canon EOS 5D Mark III vs Canon EOS-1D X
We've already said that the EOS 5D Mark III can be considered a baby-EOS-1D X, because it utilizes some of the same up-to-date technologies, such as 61-point autofocus and measuring exposure via a 100,000-pixel, 63-zone iCFL color sensor. But a baby-EOS-1D X is not an EOS-1D X: the EOS 5D Mark III's autofocus, so close to that of its big brother, is not as fast (a double Digic 5+ processor for the former versus a single DIGIC 5+ processor makes a big difference), nor does it couple color measurement to exposure, as does the EOS-1D X's.
Although the EOS 5D Mark III has nothing to be ashamed of in terms of its burst shooting rate (6i/s) when compared to its predecessor or to the Nikon D800, the EOS 1-D X still claims the lead with burst shooting at 12 i/s (and even 14 i/s without exposure meter or autofocus, mirror raised).

And while the sensor definition is fairly close for the two cameras (i.e., 18 and 22 megapixels, respectively), one can quite naturally assume that the EOS-1D X's sensor has the upper hand. Short of surprising test results, the EOS-1D X will most likely further cement its position as an excellent camera for reportage, for field work, and for quality photos in low light.
Finally, the finish, the tropicalization, and the overall robustness of the EOS 1-D X are still a notch above those of the EOS 5D Mark III, despite the progress Canon has made with its third generation of 5D cameras. More professional, the EOS-1D X retains certain exclusive features in the Canon reflex line that allow it to insert itself better into one's workflow — for example, its RJ45 ethernet port.
Still, the EOS 5D Mark III has quite a few things in its favor, including portability and discretion (when in silent mode), its greater affordability, and a headphone jack for video mode — an important refinement, especially if shooting video is a priority for your work.
Canon EOS 5D Mark III vs Nikon D800

The DxOMark comparison is available here: Canon EOS 5D Mark III vs Nikon D800
With Canon EOS 5D Mark III, the Nikon D800 has finally met its match! The Nikon D700 was never really in competition with the Canon EOS 5D Mark II (which did not impede it from being an amazing commercial success), given that the latter really had nothing to offer other than the quality of its sensor, which broke all the records for definition for full-frame cameras at the time. But now things have changed, and in many respects — except for their sensors — the two rivals are on par: tropicalization, viewfinder at 100%, an efficient autofocus based on that of a pro reflex, Full HD video with headphone jack, advanced exposure metering (63-zone iCFL for the one, and a 91,000-pixel scene recognition sensor for the other), etc., etc., etc.
Sensors: definition vs sensitivity
The duel between the Nikon D800 and the EOS 5D Mark III would most certainly take place except that the different sensors each one has adopted makes it difficult to do a head-to-head comparison. Both sensors offer different advantages —in principle, sensitivity for the Canon and definition for the Nikon. With its 36 megapixels, the Nikon D800 clearly has concentrated its efforts on fine detail reproduction (and reinforces this position with its unfiltered model D800E).
For its part, the Canon EOS 5D Mark III chose to make a grand compromise: with its 22 megapixels, it offers both higher definition and in theory, higher sensitivity.
One is tempted to think that it will be easier to use certain lenses on the Canon when similar lenses might have problems handling the Nikon D800's 36 megapixels.
But with respect to this last point, given the same pixel pitch and technology with which we are already acquainted (thanks to the D7000), our DxOMark tests will ultimately tell us whether the Nikon D800's high definition show a noticeable and measurable gain in sharpness over the 5D Mark III in the images it produces.
In any event, our tests will certainly shed a lot of light about what is real and what is fantasy about the Nikon D800's sensor. And given its claims of having worked on optimizing its sensor image quality, Canon may yet have some surprises in store as well.
Video
Its video gave the EOS 5D Mark II a big boost. After coming out with a D700 without this "must-have" feature, Nikon bounced back in a beautiful way by equipping its new offering with these cutting-edge features: Full HD, 30p progressive scan, a microphone jack and headphone output with a view meter, all exactly like the Canon EOS 5D Mark III (although Canon claims to have considerably improved the moiré in its videos in this new iteration). As for the Nikon D800, it is the only camera to offer the possibility of recording uncompressed video flow via HDMI output, a feature that may certainly prove seductive to certain studios and broadcast media.
First conclusions (before test results)…
The gap between the two rivals has closed considerably in terms of body characteristics and features, finish, viewfinder, etc. But as ever, these cameras differ most in their underlying design philosophies.
Our DxOMark comparative tests for these two reflex cameras and their sensors will definitely measure and determine the veracity of these two principal claims:
The gain in resolution that the Nikon D800's 36-megapixel sensor should provide.
The gain in sensitivity for the Canon EOS 5D Mark III (we're betting on this).
The match will be exciting!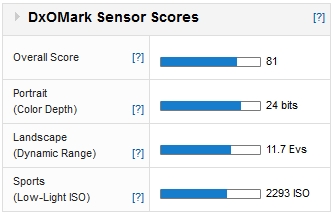 With a DxOMark Overall Score of 81, the Canon EOS 5D Mark III achieves the best Overall Score of all Canon's full-frame sensors, one point ahead of the Canon 1Ds Mark III, which had been leading the brand's camera ranking with a DxOMark Overall Score of 80, and two points ahead of its predecessor, the Canon EOS 5D Mark II, at 79 points. The Canon EOS 5D Mark III comes 10th in the DxOMark Overall Score ranking.

DxOMark progress for Canon Full-Frame sensors since 2002
The Canon EOS 5D Mark III delivers very good performance in low-light (2,293 ISO), placing it in 5th position in the DxOMark Sports Score ranking. Canon had announced improved sensitivity for its 22.3 megapixel sensor thanks to a new gapless micro lens array, claimed to better capture the light. The performance meets expectations there with almost ½ Stop more than the 5D Mark II, and the Canon EOS 5D Mark III proves its mettle for shooting concerts, sports events, or in extreme low light conditions.
A dynamic range on a par with the 1Ds Mark III
The dynamic range of the Canon EOS 5D Mark III's sensor is on a par with that of the 1Ds Mark III. With a score of 11.7 EV, the Canon EOS 5D Mark III comes 49th in the DxOMark Landscape Score ranking. This means that the manufacturer has made very little progress since the appearance of the 1Ds Mark III and the 1D Mark IV, the best-rated Canon cameras in this category.
Canon EOS 5D Mark III vs. Canon EOS 5D Mark II: marked improvement in dynamic range at high sensitivity
Canon EOS 5D Mark III nearly ½ Stop better in low light conditions
This is the most significant improvement in the 5D Mark III (2,293 ISO) compared to its predecessor (1,815 ISO) – i.e. virtually ½ Stop. The DxO Mark Sports Score is the maximum ISO for which the three criteria (SNR ≥ 30 dB, DR ≥ 9 EV, CS ≥ 18 bits) are still met (for more details, see our Sensor scores section). With these three criteria met in your RAW images, you're guaranteed final image quality amply sufficient for most of your prints.
Greater dynamic range – but only at high ISO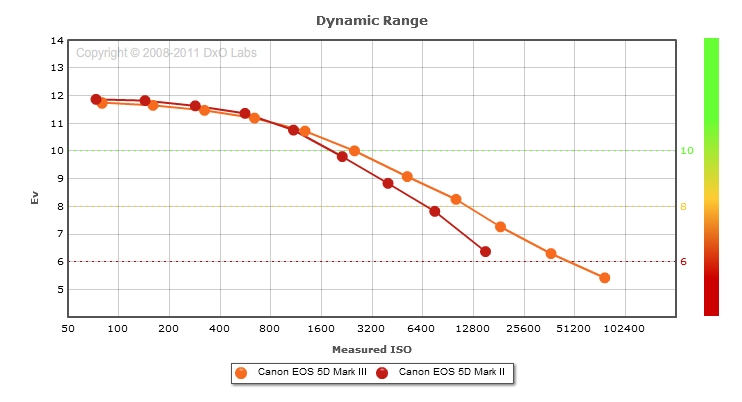 Canon EOS 5D Mark III vs 5D Mark II (DR): ½ Stop better at ISO 3,200, 1 Stop at ISO 12,800
The dynamic range measurement shows improved performance behavior at high ISO, but is disappointing for the limited dynamic range at low ISO. No improvement was measured between the Canon EOS 5D Mark III and the 5D Mark II for the range ISO 100 to 800.
The complete comparison is available here: Canon EOS 5D mark III vs. Canon EOS 5D Mark II
Canon's EOS 5D Mark III Stumbles Against Rival

The Canon EOS 5D Mark III, left, and Nikon D800 go head-to-head in DxOMark's image quality and sensor performance tests.
Camera heavyweights Canon and Nikon have traded punches over the past few decades, with Canon delivering a near knockout in 2008 with the wildly popular and industry changing EOS 5D Mark II – a camera that created millions of instant film makers through its use of hybrid technology that married impressive high definition video with a quality digital SLR camera.
The 5D MK II padded Canon's double-digit market share in the DSLR sector, especially since its combination of video and DSLR won over legions of Nikon users.
But Nikon has slowly crawled its way back into the ring in recent years. And in February, the company unveiled the D800, which also combines video capabilities and strong image quality.
Canon, not to be outdone by its chief competitor, announced on its 75th birthday and only weeks after the D800 debut, the release of the highly anticipated EOS 5D Mark III.
So will Canon retain its heavyweight title in the full-frame camera category?
Only time will tell, as consumers weigh the differences between the two camera titans.
However, at DxOMark, we have determined a clear winner – at least in regards to RAW image quality – after putting both cameras sensors under the scrutiny of our objective RAW-image based laboratory tests.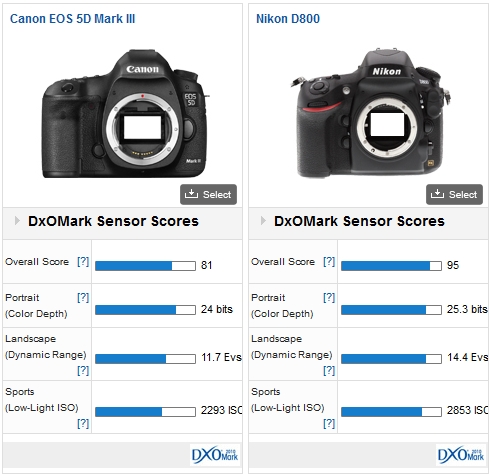 The D800 trounced the 5D MK III by 14 points, 95 to 81, in our overall score that combines our results for color depth, dynamic range, and low-light ISO. This widens Nikon's image quality lead over its chief rival in the lucrative flagship DSLR category.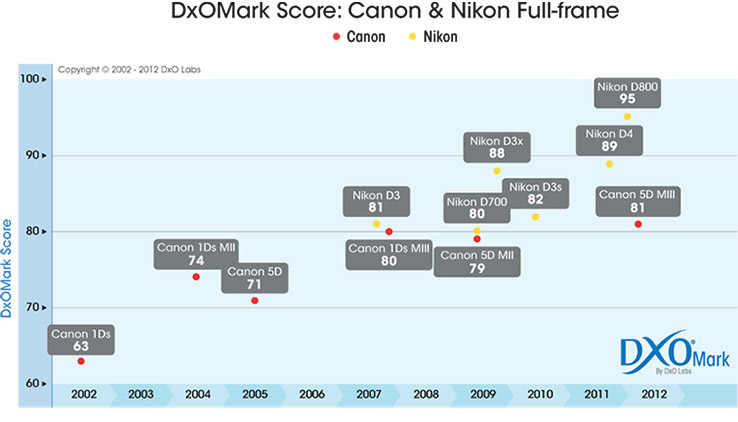 Canon and Nikon have been trading positions over the past decade as image quality leaders. The D800, however, seems to set a new high bar for not only Nikon and Canon, but the entire camera industry.
Dynamic Range: Dynamically Different Between Models
The most compelling difference between the D800's 36.3-MP sensor and the 5D MK III's 22.3-MP sensor came in our analysis of dynamic range, which corresponds to the ratio between the maximum and minimum brightness a camera can capture. The 5D MK III scored 11.7 EVs (exposure value) compared to the D800 score of 14.4 EVs. Both reached their maximum EV score under low ISO settings of between 50 and 100 ISO. It was interesting to note that Nikon's dynamic range continued to improve between ISOs 50 and 1000, while the 5D MK III's performance began to stagnate. The one bright spot for the 5D MK III was that it inched ahead of the D800 when the ISO's were measured above 3200.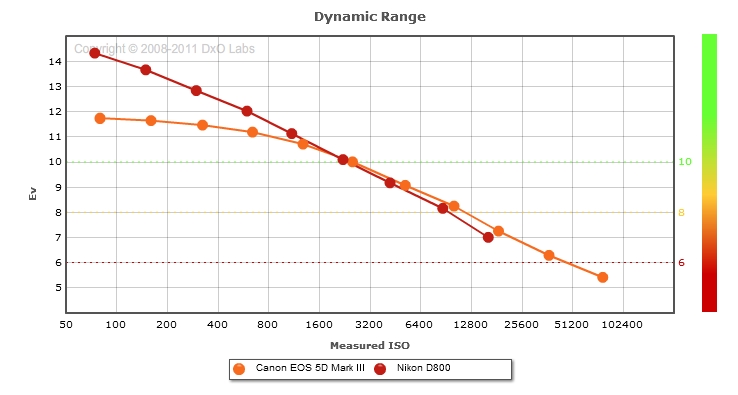 Canon EOS 5D Mark III vs Canon D800: Dynamic range comparison.
Another interesting observation in DR was that the 5D MK III changed very little from its 3.5-year-old predecessor, the 5D MK II. Our measurements actually revealed a regression by two-tenths of a point—although this is within our margin of error.
The D800, on the other hand, bested its sibling, the D700, by 2.2 EVs during about a four year span.
Now why does dynamic range (DR) matter? DR is particularly important when an image has both shadows and extreme brightness. For example, DR compensation will allow for the dark details of the iconic Eiffel Tower's metal frame to be observed on a sunny day—even if those details are cast in shadows. Within the same image, good DR will also limit some of the burnt highlights that are sometimes found in popcorn shaped cumulus clouds or light colored buildings. If a sensors DR is poor or limiting, it can record inaccurate data, especially in the shadows. In the photo world, the latter is known as that unpopular quality we call noise.
Low Light ISO: Comparing Apples to Apples
Sports and entertainment photographers looking for a recommendation on the best performing low-light camera might find this comparison a draw. Both cameras performed similarly in their ability to push the limits of good image quality recorded at a high ISO setting. The D800 is given a slight nod with reaching a threshold of 2,853 ISO. The 5D MK III's score was a negligible 1/3 stop lower, with a low-light score of 2,293 ISO.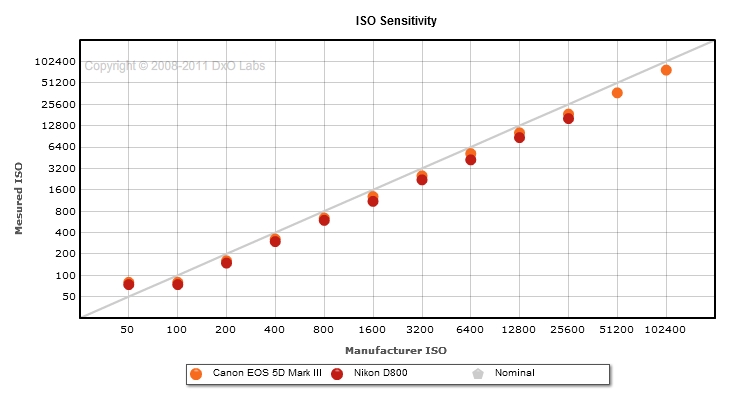 Canon EOS 5D Mark III vs Canon D800: Iso sensitivity comparison
Full SNR: Canon in the Dark
In our full signal-to-noise ratio (SNR) tests, which inspects how well sensors collect data from black (.01%), white (100%) and shades of gray (everything in between), the 5D MK III's sensor stumbles when assigned low ISO settings. This is evidenced by looking at the full SNR graph for the 5D MK III.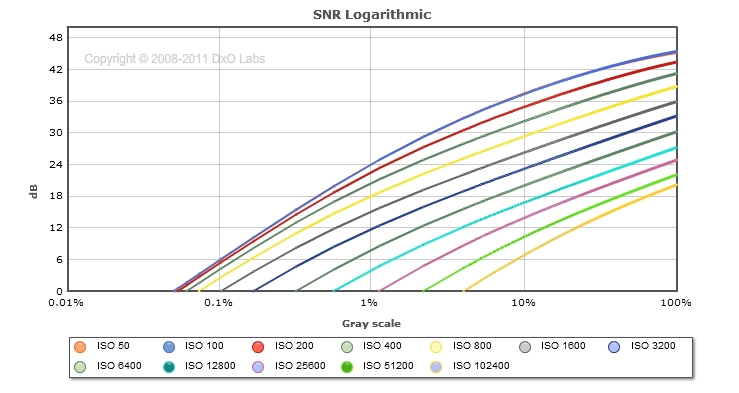 Canon EOS 5D Mark III: Full SNR
Here, you can note three of the 5D MK III's low ISO settings (ISO 100, 200, and 400) begin at nearly the same point on the gray scale. This indicates that these ISO values on the 5D MK III have little improvement over one another when collecting dark color values and the small details found within them. These results explain the 5D MK III's weak performance in the dynamic range test against the D800, at least when comparing low ISOs.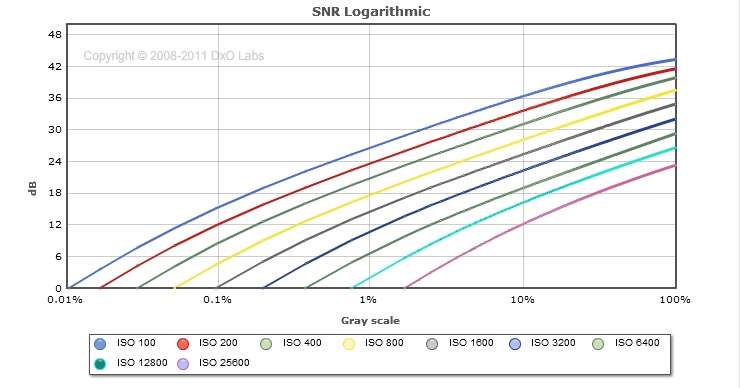 Nikon D800: Full SNR
Interestingly, Nikon's recently launched and high-end DSLR the D4, had similar results to the 5D MK III in our full SNR tests. We're not certain if the D4 included Nikon's own sensor, or followed in the D800 footsteps, which relies on a sensor from Sony. But we are certain the D800 outperformed its bigger sibling in nearly every category, the exception being low-light ISO conditions.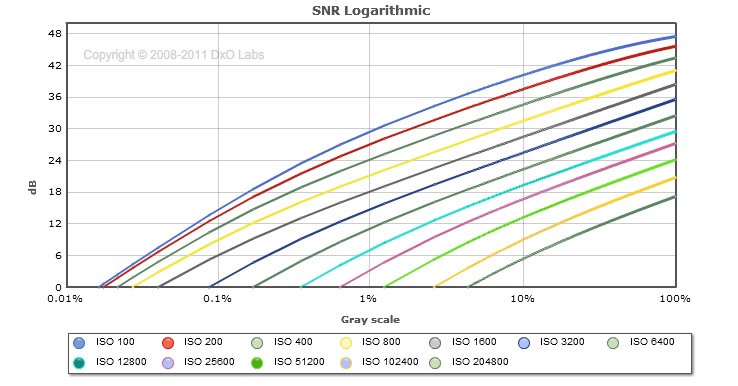 Nikon D4: Full SNR
Color Sensitivity: Nikon is Golden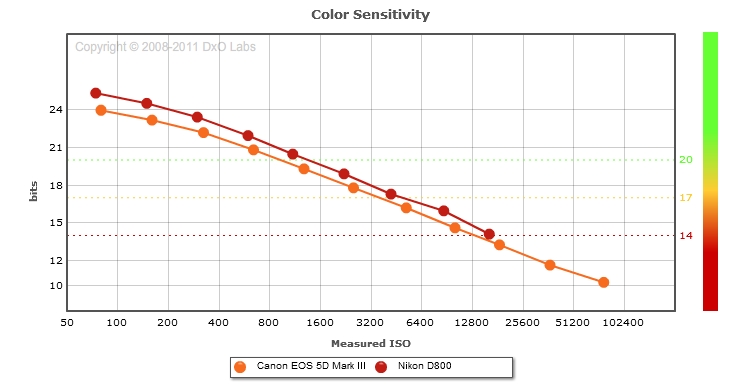 For photographers addicted to color, the D800's color depth score proved to be golden when going head-to-head with the 5D MK III. In this matchup, which measures a camera's color sensitivity, the D800 topped the 5D MK III with 25.3 bits compared to 24 bits. This 1.3 bit difference was observed in the lower ISO range. This is worth connecting to the 5D MK III's weaker performances in our dynamic range and full SNR tests, which indicate the camera's sensor – while still good – does not perform as well as the D800 in lower ISO settings.
It is also worth noting that the 5D MK III did move within striking distance of the D800 in our color depth tests at around 800 ISO, where their separation shrank to just half-a-bit.
Conclusions: Nikon Gaining Ground
In our DxoMark tests, the Nikon D800 proved to be a formidable adversary against Canon and its 5D Mark III. The D800 swept the 5D Mark III in every DxOMark image quality category – no easy task given Canon's already stellar sensor. The D800 has set a high benchmark not only for Canon cameras, but for the entire camera industry, having scored a personal best for our DxOMark RAW image quality and sensor performance tests.
But do not think for a second that Canon is throwing in the towel. To the contrary, they're probably devising a plan to use that towel to clean up the competition.
It's this competition that is hallmark to the historical legacy between Canon and Nikon – one camera maker manages to leapfrog the other in quality and innovation.
In the end, we all win as consumers and photography enthusiasts.