Oppo was one of the first out of the starting block in 2021, with their premium mid-range Reno5 Pro 5G available since early January. Upgraded from last year's Reno4, the Reno5 Pro 5G uses the MediaTek mt6889z Dimensity 1000+ processor (8 GB RAM / 128 GB ROM), seen as an alternative to the powerful Snapdragon 865 chip. Other notable features include a 6.5-inch FHD+ 90 Hz display, fast 65W charging, and a rear quad camera.
The main camera is built around a 64 MP 1/1.73-inch Quad Bayer sensor with 0.8µm pixels, which bins down to a final 16 MP output and supports HDR. This module comes equipped with a standard-wide 26 mm-equivalent f/1.7-aperture lens with an 81° field of view and PDAF autofocus. The second camera is an 8 MP ultra-wide shooter whose f/4-aperture lens we measured at a 16.6 mm-equivalent focal length. There's also a 2 MP depth sensor and a 2 MP macro camera, both linked to their own f/2.4-aperture, 89° FOV lenses. (Regular DXOMARK readers will be familiar with the caveat that we don't currently test macro camera modules, so its performance doesn't impact the score.)
For video, the Oppo Reno5 Pro 5G captures 4K 2160p at 30 fps, or Full HD 1080p movies at 30/60/120 fps. We tested the device at 1080 at 30 fps, which provides the overall best video quality.
Let's see how this suped-up Oppo Reno smartphone looks under the spotlight of our DXOMARK Camera analysis.
Key camera specifications:
Standard-wide: 64 MP 1/1.73-inch Quad Bayer sensor with 0.8µm pixels, 26 mm-equivalent f/1.7 mm-aperture lens with PDAF
Ultra-wide: 8 MP sensor with 1.12µm pixels and 16.6 mm-equivalent (measured) f/2.2-aperture lens
Macro: 2 MP sensor, f/2.4-aperture 89° FOV lens (not covered by the DXOMARK test protocol)
Depth: 2 MP sensor, f/2.4-aperture 89° FOV lens
LED flash
Video: 2160p/30 fps, 1080p/30/60/120 fps (4K/30 fps tested), gyro-EIS & HDR
About DXOMARK Camera tests: For scoring and analysis in our smartphone camera reviews, DXOMARK engineers capture and evaluate over 3000 test images and more than 2.5 hours of video both in controlled lab environments and in natural indoor and outdoor scenes, using the camera's default settings. This article is designed to highlight the most important results of our testing. For more information about the DXOMARK Camera test protocol, click here. More details on how we score smartphone cameras are available here.
Test summary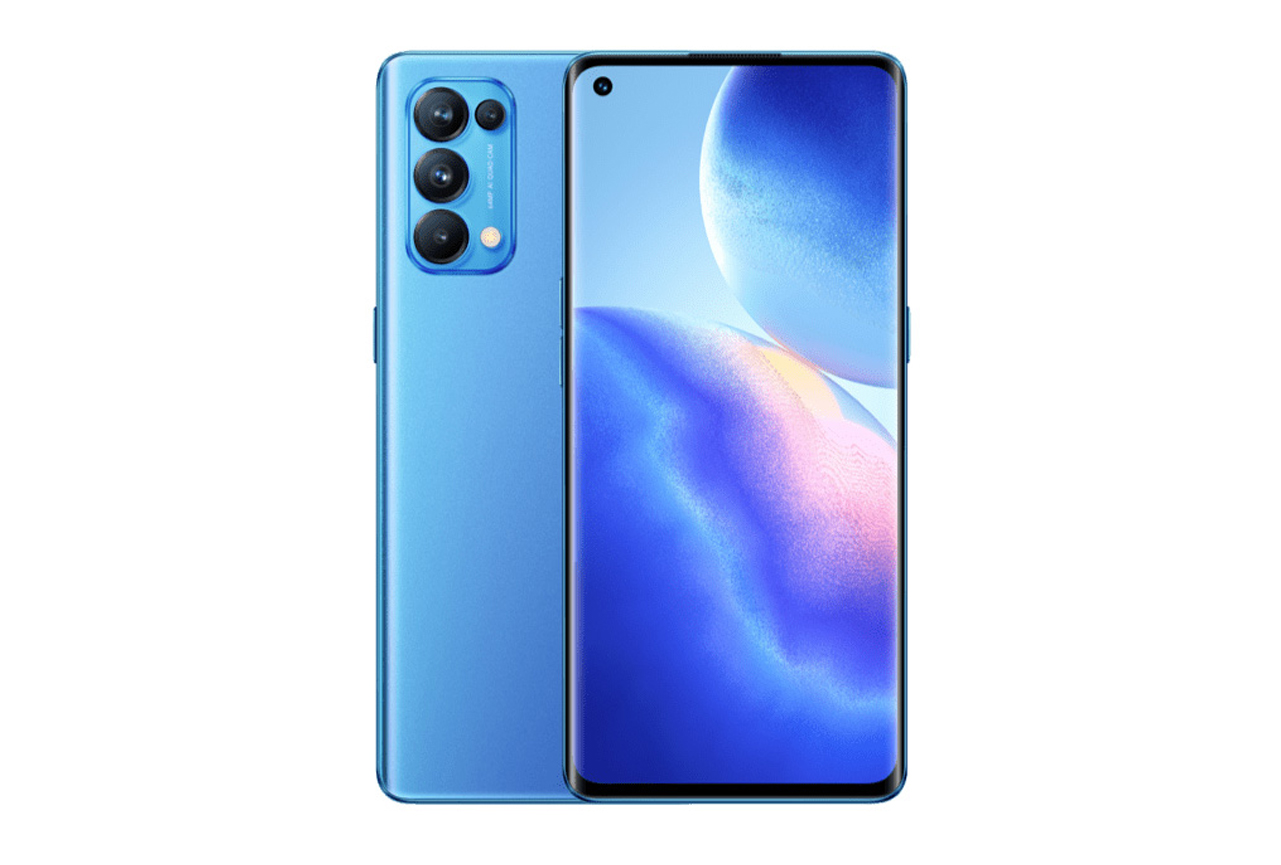 Oppo Reno5 Pro 5G
100
camera
With a DXOMARK Camera overall score of 100, the Oppo Reno5 Pro 5G lands in the second tier of our Camera ranking, settling in between the slightly less expensive Xiaomi Mi 10T 5G at 98 and Apple's iPhone SE (2020) at 102. Surprisingly, this refreshed Oppo device is several points behind last year's Reno4 Pro 5G in our database, with slightly lower scores in most, but not all, test categories.
The camera achieves a Photo score of 107, only a couple of points behind its predecessor at 109, and displays a noticeable improvement for noise control. Target exposures can be accurate on the Oppo Reno5 Pro 5G, but exposure instabilities are also visible over consecutive shots. Dynamic range is fairly wide, especially on indoor images, but often at the expense of low contrast, and some highlight clipping is visible in outdoor images.
The main drawback is inaccurate color rendering, with yellow/green color casts often noticeable, as well as unnatural-looking skin tones. On the plus side, the device boasts wide depth of field for focus, so portraits at different distances display good detail and backgrounds are pretty sharp. Autofocus is also reliable and accurate, consistently hitting the focus sweet spot in our benchmark tests, but it's a little slower to lock on than the best devices.
Despite accurate focus and wide depth of field, overall detail was limited. Our texture measurements were around 80% acutance in most simulated lighting conditions, which is pretty good. But in our perceptual analysis, we found fine details weren't very well defined, and the device struggles for good definition on moving subjects, with some ghosting and fusion artifacts present. Noise control can be good, but it's also inconsistent, with instabilities evident over a series of images and a high level of luminance noise visible in some examples.
When it comes to night shots, the flash fires accurately for night portraits, and while exposure and detail on the subject are good, backgrounds are very underexposed. In auto flash mode the flash tends to fire pointlessly on nightscapes, and the end results are somewhat underwhelming, with fairly dull exposures, seriously clipped highlights, course luminance noise, and that same yellowish color cast.
Images in portrait mode are a little better, with bokeh shots displaying a nice depth-of-field effect, a good quality blur gradient, and realistic noise uniformity across blurred and sharp areas. Depth estimation errors, slight motion blur on moving elements, and underwhelming color in some conditions call for continued development in bokeh rendering.
Unlike last year's model, the recent Reno5 Pro 5G doesn't have a tele-lens module, which accounts for the Zoom sub-score of 37, compared with 60 for the Reno 4 Pro 5G. Digital zoom is usually better at close range when the image isn't cropped too aggressively, and that's the case here. Stick to about 2x magnification in bright light, and texture holds up reasonably well, but in lower light or at greater magnifications, detail is very low, with fusion artifacts visible and a coarse luminance noise in very low light. Using the same sensor for tele shots, exposure and color are broadly the same, so expect to see that yellowish color cast again, especially in outdoor images.
The ultra-wide camera doesn't provide the widest field of view we have seen. We measured it at a 16.6 mm-equivalent focal length after internal distortion correction and cropping by the device. It is sharpest at the default field of view, with overall image quality comparable to the Reno4 Pro 5G. Target exposures and detail are generally a little low, though, with slight color casts evident, as well as luminance noise and artifacts such as hue shift and fringing often visible.
The Reno5 Pro 5G scores 91 for Video, which is again some ways behind its predecessor at 101. Exposure is one of its stronger aspects, with mostly accurate target exposures and wide dynamic range in test videos. Despite this, contrast and color are affected by unnatural rendering and a yellowish-green white balance, with unnatural rendering and the same yellowish green white balance.
Video autofocus is a nice strength, though, with fast, accurate, and stable performance tracking subjects in all lighting conditions. The Full HD clips we captured also display consistent texture and detail across most lighting scenarios. It dips a bit in very low light (as you'd expect), and generally details aren't as defined as in 4K video files, but across indoor and outdoor movies it's consistent. Noise is reasonably well controlled, too. The tradeoff with texture could be handled better indoors and in low light, but outdoor videos are clean.
We tested video at 1080p/30 fps in its AI mode, which uses the sensor's built-in HDR capabilities and delivers the best results overall. The camera's gyro-EIS stabilization system has little effect. Residual motion as well as deformations and a jello effect are often visible. There's also a noticeable difference in the sharpness between frames and distracting frame shifts are common.
Oppo Reno5 Pro 5G, outdoor video: accurate autofocus and wide dynamic range are nice strengths, but contrast is low and colors look unnatural.
Conclusion
A power boost from the new chipset, fast charging, a large screen, and quad rear camera refreshes the Reno5 Pro 5G nicely for the 2021 market.
Its main camera provides pretty good exposure, with wide dynamic range in fair to good conditions, and autofocus is accurate if a little slow. Low contrast and inaccurate color are concerns, however, and instabilities with exposure and noise, in particular, mean you don't always get the best results the camera is capable of.
Autofocus, exposure, and color as you zoom in are consistent, but the level of detail is low on zoom shots — as it is in all photos. The ultra-wide is something of a bonus when you need a greater field of view but exposure is unstable and details are low.
Video continues to offer good autofocus, exposures are mainly accurate with extended dynamic range, and noise is well controlled in outdoor videos. HDR video processing flattens contrast, though; video color continues to look unnatural, and the gyro-EIS has little effect. In summary, the Oppo has good things to offer but also lags behind the competition in some areas.
Pros
Good exposure and dynamic range on photos and videos
Wide depth of field keeps backgrounds sharp.
Accurate autofocus on zoom photos and videos
Natural-looking bokeh photos
Well-controlled noise in outdoor videos
Correct flash activation and exposure on night portraits
Cons
Inaccurate color in photos and videos
Strong noise with inconsistent behavior in photos and videos
Exposure instabilities on photos
Low detail in most photos
Limited dynamic range in ultra-wide photos
Ineffective video stabilization
Visible artifacts in videos
In the Press