Please note: we will update this article soon to include the Huawei nova 6 5G which is the new number one in our DXOMARK Selfie ranking.
Just like we've done for smartphone main cameras, we've had another look at all the smartphone front cameras we tested in 2019 and have picked our favorites in several categories for you (note we will still test a number of smartphone front cameras before the end of the year and update this list accordingly if necessary). We launched DXOMARK Selfie back in January and have since used the new protocol to test the front cameras of 25 smartphones, from entry-level to flagship devices.
As it is for the main camera, the overall Selfie score is a great indicator for the all-round performance of a front camera. However, it also makes sense to dive deeper and have a closer look at the sub-scores as well in order to make sure you find the right device for your specific requirements. We've done some of that work for you and picked our favorites for a range of front camera use cases. So without further ado, here are our favorite smartphone front cameras for 2019: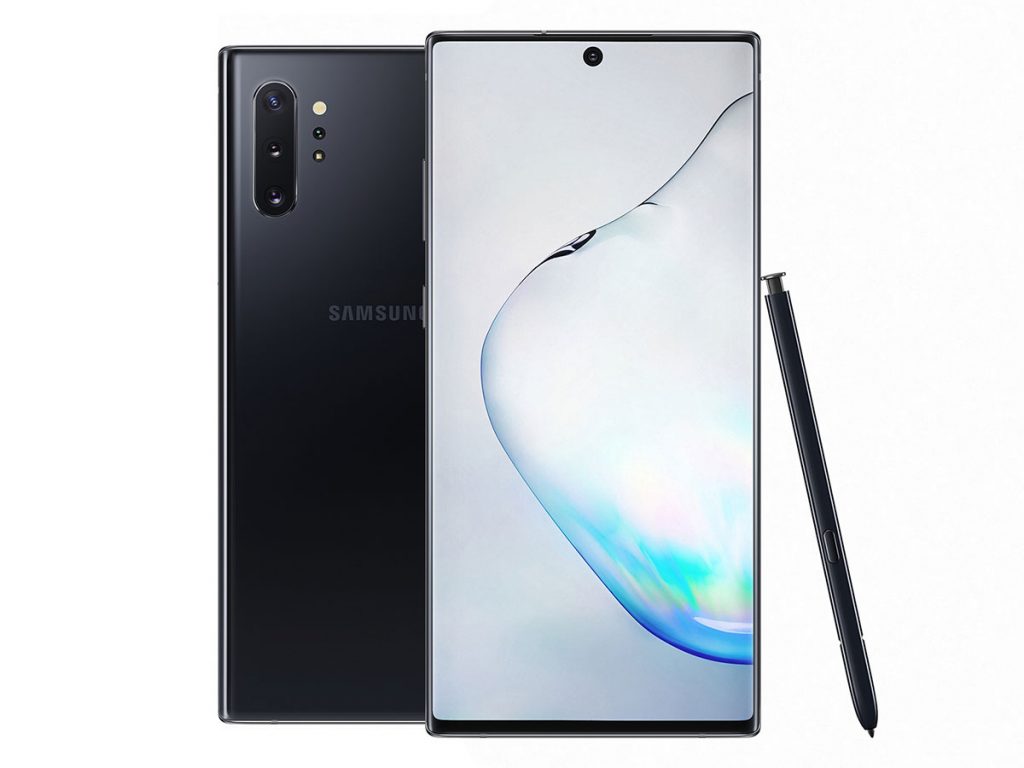 Samsung Galaxy Note 10+ 5G
With an overall Selfie score of 99 points, the Samsung Galaxy Note 10+ 5G is the current leader in our DXOMARK Selfie ranking for smartphone front cameras. Excellent performance across pretty much all test categories makes it an ideal choice for most types of selfie shooting under most light conditions.
Selfies captured with the Samsung's front camera show good exposure on faces down to very low light levels, and a wide dynamic range means that highlight clipping in difficult high-contrast scenes is fairly well under control. We also like the Samsung's skin tone rendering and color in general; saturation fades a little only in low light. Although not up there with the very best in the category, image detail is good, and noise is very well controlled, making for very clean images in most situations.
The Samsung also does very well in flash mode, with with consistently good results when shooting both in complete darkness and in low ambient light. Further, the camera's artificial bokeh mode creates images with good subject isolation and an overall pleasant blur effect.
Unlike some competitors, the Note 10+ 5G's front camera comes with an autofocus system, which means that selfie subjects are rendered sharp from closeup to selfie-stick shooting distances. A relatively wide depth of field means that backgrounds still show good detail, which is useful when taking selfies in front of tourist sites or when capturing a group. If you prefer Selfie videos, the Samsung will serve you just as well as for still images (see Video section below).
Just as with pretty much all smartphones, the Note 10+ 5G's overall front camera performance still lags behind the main camera, but if the front camera is your priority, the Samsung is currently as good as it gets.
For more information, detailed test data, and image and video samples, read our full review:
The Asus Zenfone 6 performs on a very similar level to the Note 10+ 5G in many categories, but there's a crucial difference. Thanks to its unique swivel-design camera, the Asus uses the same camera hardware for front and rear camera duties. The image sensor is a lot larger than on most front cameras, which means depth of field is narrower than on the Samsung, and the background is more blurred. On the other hand, the bigger sensor records better detail and lower noise in most situations.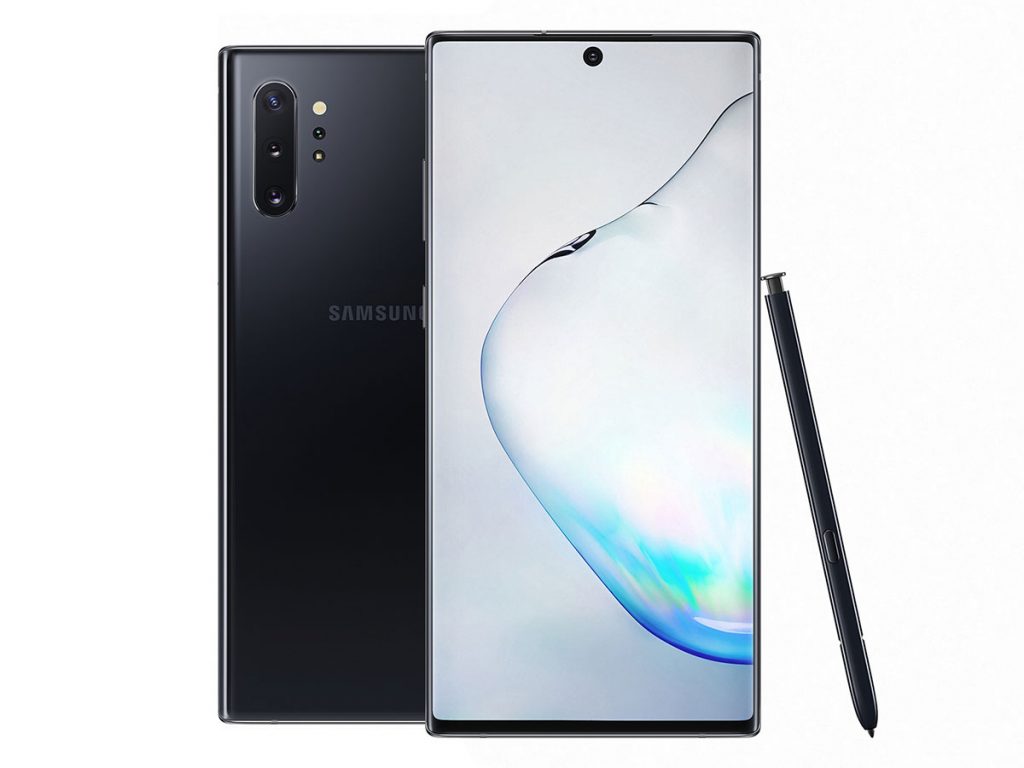 Samsung Galaxy Note 10+ 5G
The Samsung Galaxy Note 10+ 5G isn't only the best choice for still images, it's also the number one for Video in our Selfie ranking, with excellent results across all video test categories. Thanks to 4K resolution, the Samsung is among the best devices for video texture, with excellent detail in bright light and under typical indoor conditions. Some fine texture is lost in low light, but the Note 10+ 5G is still better than most competitors in dim conditions.
Despite the high resolution, noise is still well-controlled in most conditions, with some luminance and chroma noise creeping in only in low light. Samsung has also done a very good job in terms of video stabilization, which is still very efficient in both indoor and outdoor conditions, despite the higher 4K pixel count that the algorithms have to deal with. It efficiently corrects for both walking motion and for camera shake when holding the device still, making for smooth and stable video output in most situations.
Areas to improve include occasional exposure instabilities and stepping, as well as white balance casts that can be visible, especially in low light. Those minor shortcomings aside, the Note 10+ 5G's video performance is excellent overall.
Samsung Galaxy Note 10+ 5G outdoor video, walking
Samsung Galaxy S10 5G outdoor video, walking
For more information, detailed test data, and image and video samples, read our full review:
Once again, this time for video, the Asus ZenFone 6 is also our number two choice and very close to the Samsung Galaxy Note 10+ 5G. Like for stills, the Asus's larger image sensor records even better detail and lower noise, but a shallower depth of field can make shooting with important background elements a little more tricky.
Best for travel: Google Pixel 4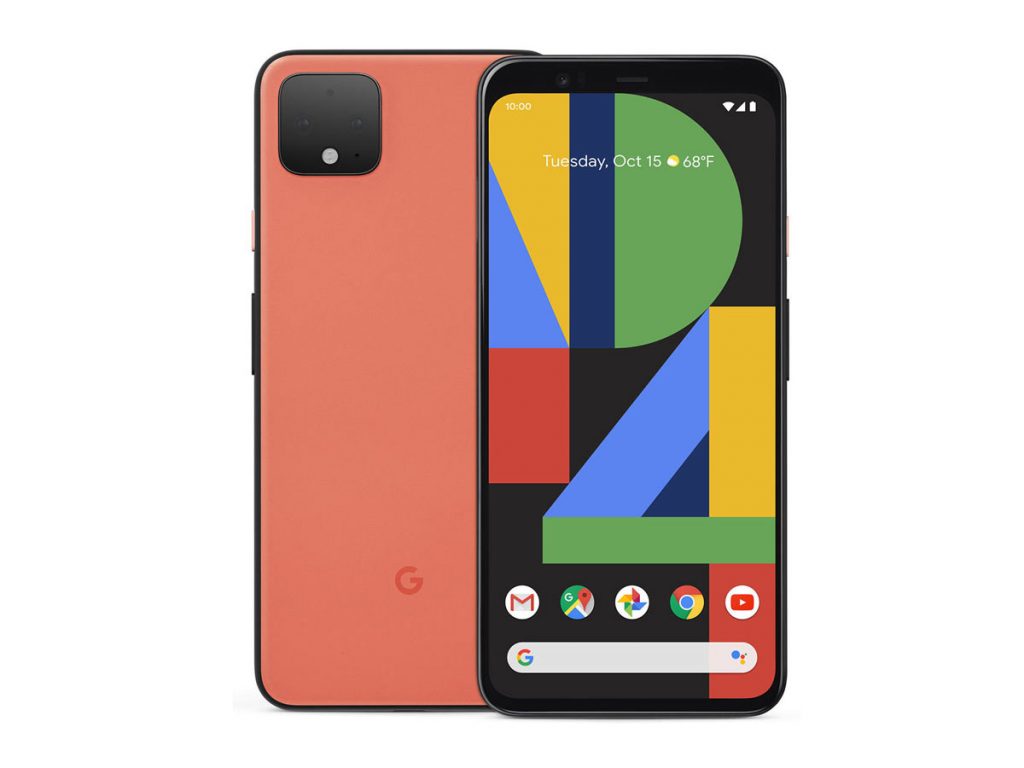 When taking Selfie images while traveling, you want a front camera that performs well in all areas. However, some criteria are more important than others for typical travel selfies. For example, when recording selfie photos or videos in front of a tourist site, a wide depth of field helps maintain good sharpness in the background. Cameras with a narrow depth of field will blur the background, so in some cases they will lose the details on important elements in the image.
Often the background may be sunny while the face in the foreground is in the shade, so a wide dynamic range is paramount, as is good color—after all, we want the skin in our faces to be rendered naturally and landscapes in the background to show good saturation and pleasant color.
The device that combines all those characteristics in the best way is currently the Google Pixel 4. It offers a very wide depth of field with excellent detail on background elements. Exposure on the Pixel 4 is generally very good in all light conditions, even down to low light, and the camera is capable of recording a wide dynamic range, capturing good highlight and shadow detail in difficult high-contrast scenes. Pixel 4 selfies also show overall good color rendering and accurate white balance in the lab as well as in real-life scenes. Our testers have seen color casts in some situations, but the Pixel 4's rendering is very nice overall.
In addition to the the specific criteria mentioned above, the Pixel 4 performs well in pretty much all other test areas as well, including an excellent video mode, making it an ideal choice for selfie travelers.
For more information, detailed test data, and image and video samples, read our full review:
The Note 10+5 G is our currently top-ranked front camera and as such, it is almost by default an excellent travel companion. Its depth of field is slightly more limited than the Pixel 4's, but should still be wide enough for most users, and it delivers good image quality in almost every other respect as well.
Best for close-up portraits: Asus ZenFone 6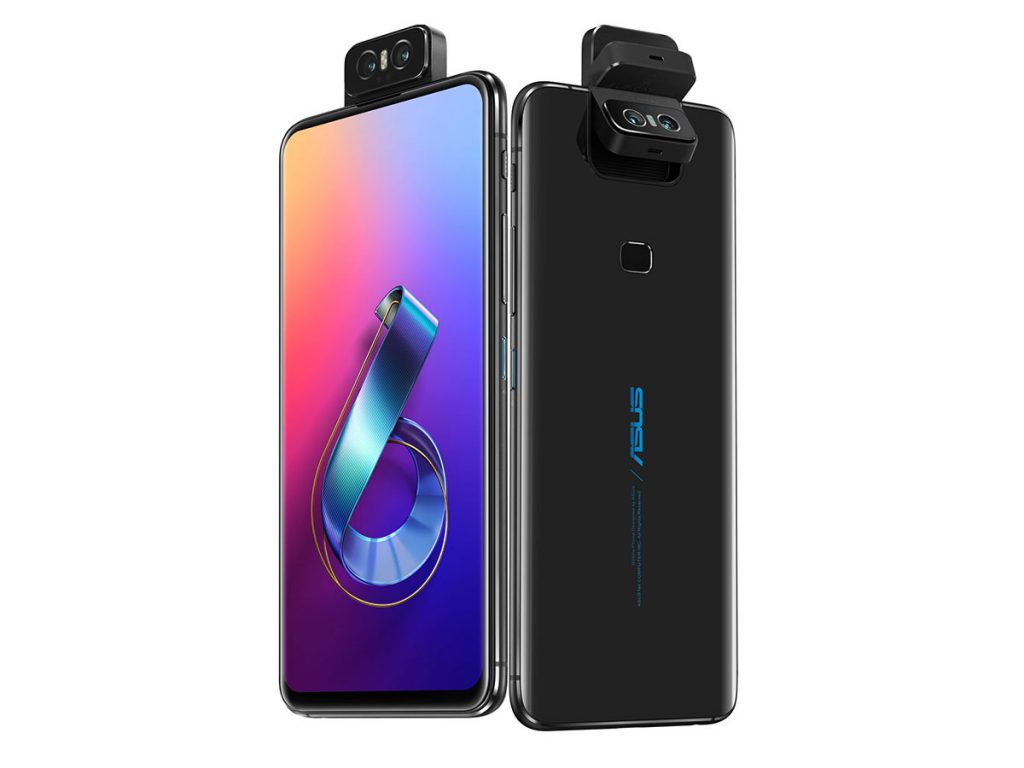 Many smartphone front cameras use a fixed-focus lens with the focus optimized for shooting at around 50 or 60cm—or roughly at arm's length. This isn't deal for close-up portraits, though: to fill a large proportion of the frame with your face, you'll have to hold the camera closer on most cameras.
This is where front cameras with an autofocus system have a clear advantage. They can adjust the focus from very close to selfie-stick shooting distances and produce good sharpness in all situations. The Asus ZenFone 6's unique swivel-camera uses an autofocus system and also offers some other characteristics that make it ideal for lovers of closeup selfies. Thanks to its large sensor, it's capable of capturing very good detail in textured parts of the face, such as hair or eyelashes, and applies just the right amount of beautification for a natural look. Our testers also liked the natural skin tone rendering, making for excellent selfies in most situations and especially at close distances.
The ZenFone is no slouch in any of the other test categories either, and is one of our best-performing devices for video as well. Just be aware that its depth of field is quite narrow, which means that it is not the ideal choice for those who prefer good detail in the background.
For more information, detailed test data, and image and video samples, read our full review:
You really cant go wrong with Samsung's latest flagship, and the Note 10+ 5G is an easy recommendation for closeup selfie shooters, too. Thanks to its excellent autofocus, it's capable of focusing at close distances and renders nice skin tones, too. Just don't expect quite the same high level of detail and texture rendering as on the Asus.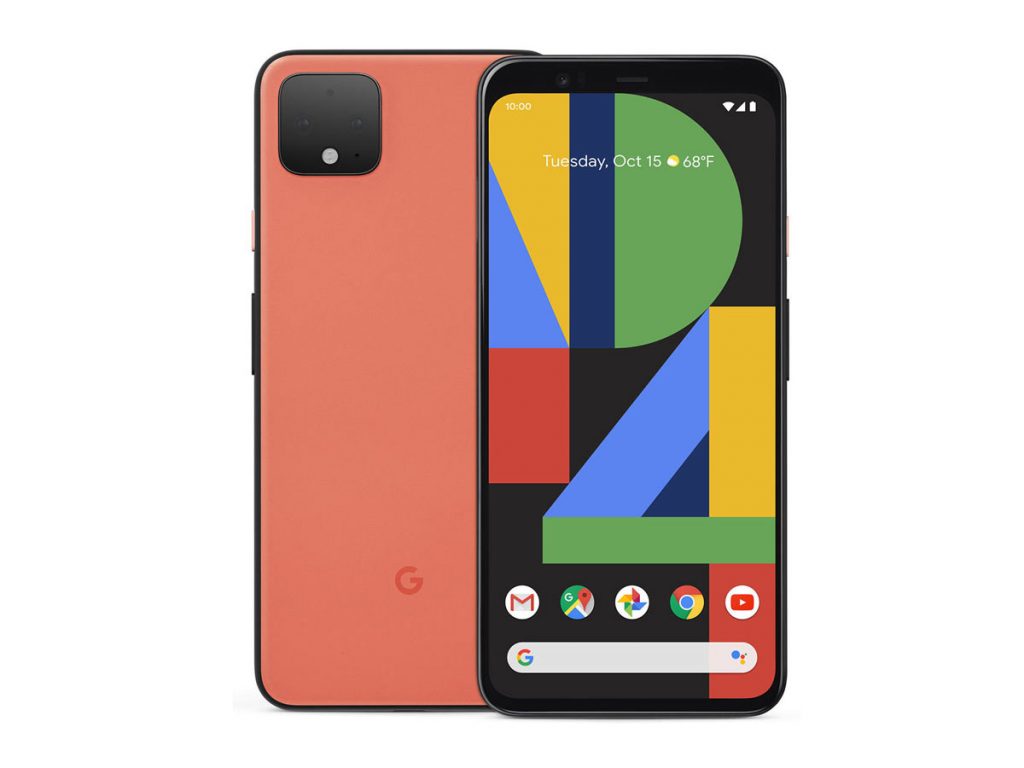 If solo-selfies are not quite your thing and you prefer to capture yourself with a bunch of friends or family members in a group selfie, you need to make sure you are using the right tool for the job. First, you need a front camera with a wide angle of view so that everybody fits into the image without your having to use cumbersome selfie-sticks or other accessories. Ideally, the camera also offers a wide depth of field, so that people at the back of the group are just as nicely in focus as the subjects in the front. Other criteria to look out for are good skin tone rendering and well-controlled anamorphosis (face deformation close to the edges of the frame).
Among the phones we have tested to date, the Google Pixel 4 meets these criteria best. At 21mm, it offers one of the widest fields of view among front cameras, making it easy to squeeze even relatively large groups into the frame. Thanks to the wide depth of field, subjects at the front and back are in focus, and color rendering is nice across a wide range of skin tones. It corrects for anamorphosis and brings it generally pretty well under control; however, the correction system can be a little unstable and results can vary between shots. That said, the Pixel 4 is a great choice for group selfie shooters overall.
For more information, detailed test data, and image and video samples, read our full review:
If the Pixel 4 does not tickle your fancy, the ZenFone 6 might be worth a closer look. At 26mm, its focal length is not quite as wide as the Pixel 4's, but it is still wider than that of many competitors. It's also capable of capturing natural skin tones and good detail, but a narrower depth of field means that it will likely render subjects at the back of a group slightly soft.